A little box showed up today from B&H Photo. Low and behold, the brand-spanking new Canon EOS 80D. Three years later, and Canon finally decided to give us a sequel to the iconic 70D DSLR.
The 80D is a mid-range DSLR aimed at "prosumers" interested in stills, and, especially, video. I've been shooting with a 70D professionally since 2013 so I was eager to unbox the thing and give it a quick run. What follows are brief, initial thoughts after spending an hour or so with the 80D, and comparing/contrasting casually with the 70D.
80D Handling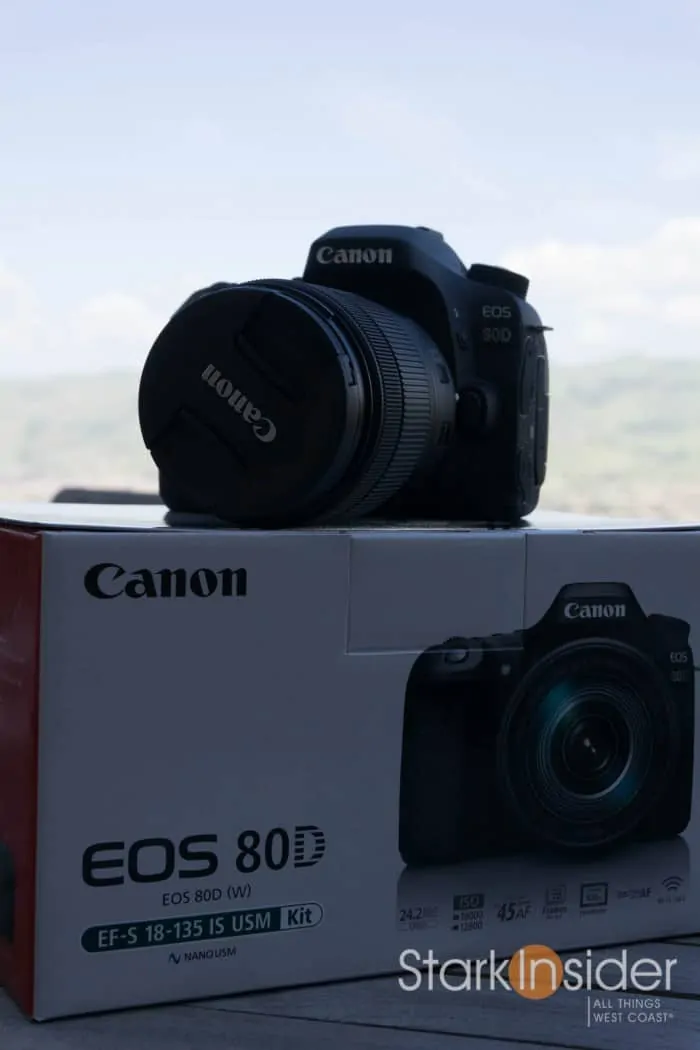 Long-time Canon shooters will feel right at home. Take the 80D out of the box (the packaging is very Canon, very familiar) and your hands and fingers immediately fall into all the right places.
Right index finger gravitates without a moment's thought to the shutter — a short hop away is the standard wheel that I use to adjust shutter speed. Right thumb can reach any number of controls on the rear including record start/stop, quick menu, play, settings dial, among others.
Left hand naturally comes under the lens, with the thumb able to reach AF/MF and stabilizer settings on the lens. Flip-out LCD is as you'd expect, and can articulate as before. Battery (EP-6) and memory slot (MicroSD) look to my eyes to be identical positions and build to the 70D.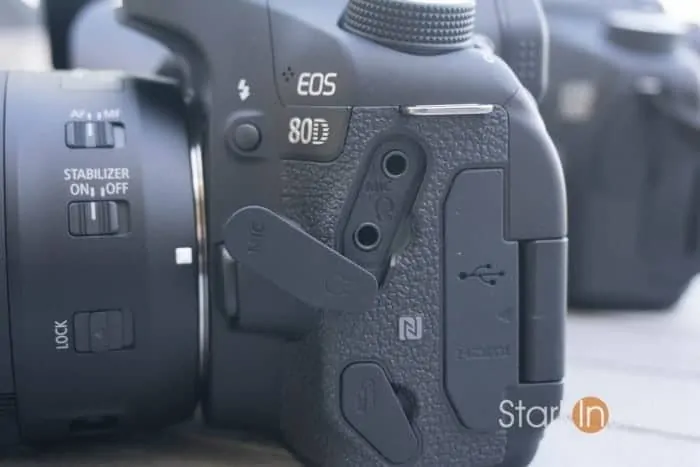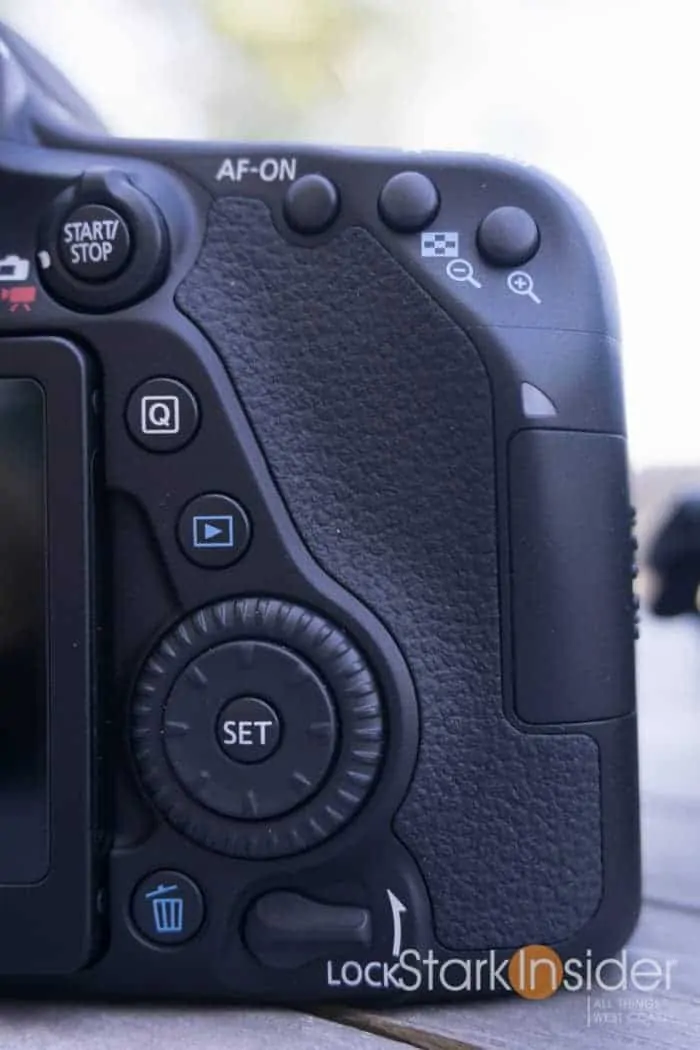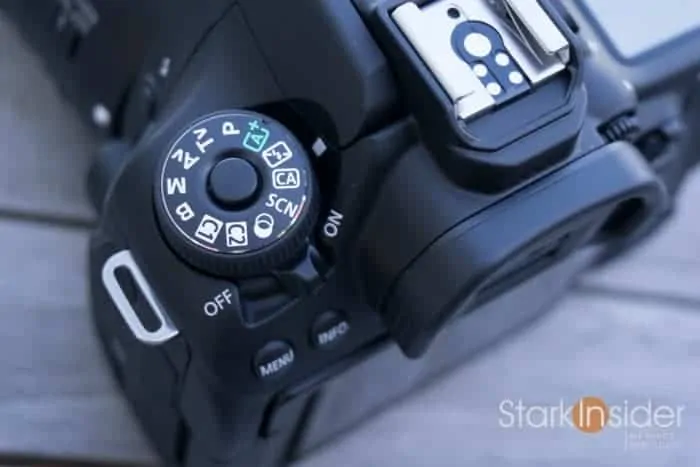 Overall, handling the 80D feels like just about any DSLR in Canon's line-up. Build is robust, controls are well-labeled and there's ideal tactile feedback. Canon has worked this layout for years, with various minor tweaks across the range, and you can instantly feel decades of experience at work here. Muscle memory shooters should like what they see (and feel). For a run-and-gunner like me, the wheels, buttons and dials are critical, as I often don't have time to look at what I'm doing as I follow a subject, for example, along a dark hallway in a theater in San Francisco.
Videographers will appreciate that newest member on the left side flip-out panel: headphone jack. Yes!
New 18-135mm Lens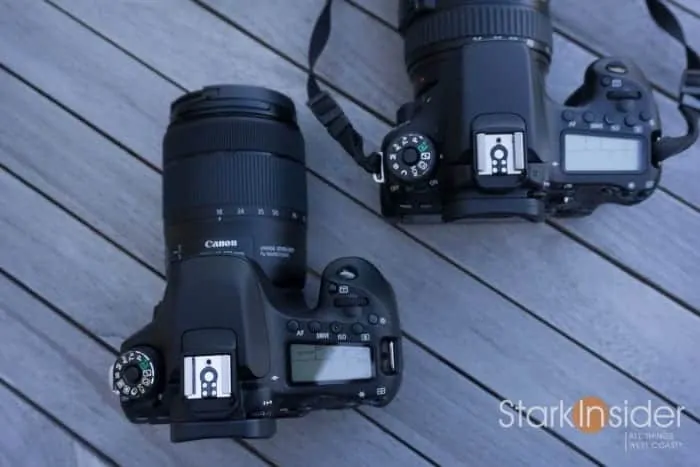 At first glance the 18-135mm kit lens looks every bit the same as the previous gen one that shipped with the 70D. Look closer and you'll get a sense that everything's been buffed a little. Edges found along the slider switches (AF/MF, stabilizer, lock), for instance, are now ever so slightly rounded. Fonts are more subtle too, less traditional Canon white.
One annoying thing about the lens upon first unboxing the 80D kit: Canon doesn't provide a hood. I double-checked. Sure enough, nothing there. Bugger that. Seems a little chintzy for an $1,800 kit. No worries, I thought, I'll just use the one off my 70D's 18-135mm lens. Alas, that one (EW-73B) doesn't fit — again, very annoying. Why, Canon, why?! Just to make another $30 or so on a lens-hood add-on? Oh well, I need to buy an ND filter (67mm) so might as well add on the hood while I'm add it. Just something to be aware of, it could be worse I suppose.
80D First Impressions: Performance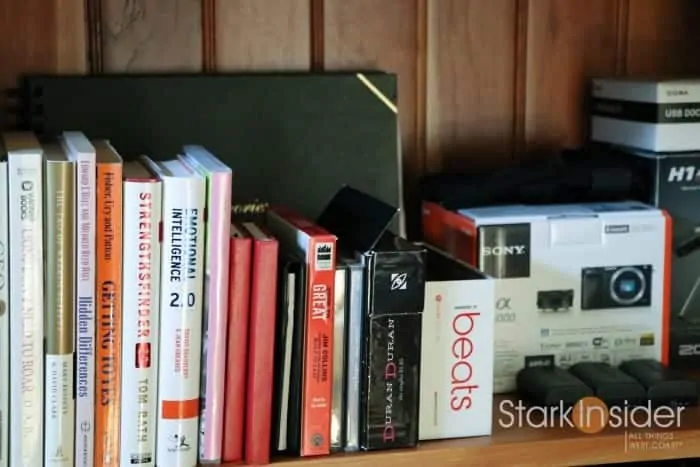 Obviously this is far from scientific. I just unboxed the 80D, popped in the battery (LP-E6) and spare SD card, and took some random shots. But, I can say that the speed of the 80D is instantly a noticeable improvement over the 70D. I never had complaints about the 70D with respect to response — well, aside from focus speed in low light — but the added performance is most welcome. Focus is snappy. The shutter action is crisper, and oh-so satisfying. Overall, I'd say it's kind of like the feeling you get when you have new tires put on your car, or maybe have the clutch replaced, or the engine tuned up. Everything just feels that much better. Not massively better, granted; but those who dig every little inch of performance in their DSLRs will appreciate the improved performance.
Canon DSLR Video
with Clint Stark
You can see some of my test 80D photos in the gallery below.
I'll be taking the camera on a shoot tomorrow in San Francisco. The 80D will be a "B" cam to my Canon C100 II "A" cam. I'll be interested to see how video focusing performs, and how the image quality will look. I'll be using the new 18-135mm STM lens on the 80D and the good old all-rounder Canon 24-105mm on the C100.
80D Test Photo Gallery
Untouched quick test shots of the EOS 80D with 18-135mm kit lens. Straight out of camera (JPG). Used Lightroom just to resize for the Web.
You can buy the Canon EOS 80D via Amazon. Highly recommended.
Until next time,
Happy shooting!