It has the look of a traditional analog timepiece. But it has the smarts of a smartwatch.
With the Bold Motion ($695), Movado takes a decidely different approach to wearables. And in this nascent industry no doubt many be will be watching closely to see if consumers gravitate towards a watch that bridges both analog and digital worlds.
Teaming with HP, Movado is introducing the Bold Motion smartwatch with … no screen.
Instead, the idea is that notifications will relay to the user in the form of vibrations and subtle LED lights.
First generation smatwatches from the likes of Motorola (Moto 360), Apple (Apple Watch), Asus (ZenWatch 2), Huawei (Huawei Watch), and LG (LG Urbane), have opted for screens. Much like miniature smartphones on our wrists, these wearables pop up notifications, text messages, emails, and other bit-sized bits of information — hence, reducing our need to pull out a phone from our pocket or purse.
A calendar reminder on Android Wear pops up with all of the detail at a glance. Swipe it away and off you go.
With the Bold Motion this reminder would come in the form of specific blinking LEDs between the minute hand and the meeting time. To get the details, you still need to rely on your phone.
Movado partners with HP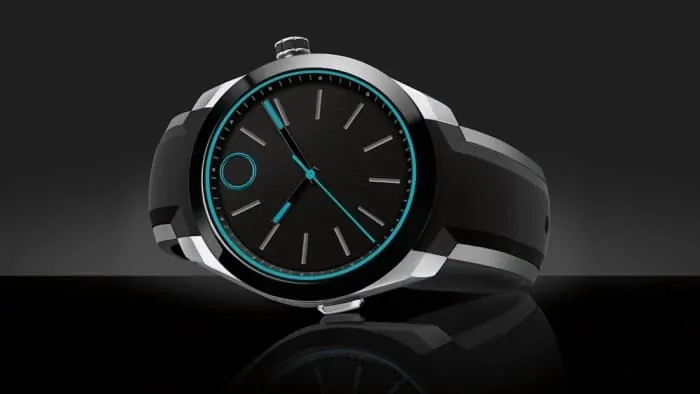 The product is the result of Movado's partnership with HP, who has provided the smarts ("Engineered by HP"). Instead of turning to Google's Android Wear platform, like up-market maker TAG Heuer recently did with its Connected watch ($1,495), Movado opted for a proprietary system from HP. This likely means no apps (how would they run with no screen?), and a much simpler approach.
The Movado Bold Motion runs on both Android and iOS, features a large 44mm stainless steel case (though the company is positioning it as unisex), and a silicone strap. Overall, the design aesthetic is clean, modern, elegant and speaks very much to the tradition of Movado.
At $695 (US), the Bold Motion isn't cheap, at least not my "traditional" smartwatches. The Apple Watch Sport starts at $349. The Moto 360 v2 is $349 as well, and the firstgen edition can be found online for only $149. Meantime, others like Asus are treating the market as a commodity (or accessory), having priced their latest, the ZenWatch 2 for only $129.
More Wearables on
Stark Insider
Time will tell, of course, if Movado's bold move pays off.
Meanwhile, Swiss luxury makers such as TAG Heuer are testing the pricing bounds of smartwatches by introducing premium offerings — ones that, they hope, will protect their upscale brand, and yet offer a new generation of consumer an avenue into the wearable hoopla.
Other companies are also thinking outside the box when it comes to smartwatch design.
Sony turned to crowdfunding for its FES e-paper watch.
Up-start Blocks also successfully used crowdfunding. Its Kickstarter for a modular smartwatch concept has raised over $1.5 million. The watch will sell for $285 when it hits the market in May 2016.
And My Kronoz Smart Watch apparently "makes a classic Casio look like it's from the stone age."
Will Movado's strategy work?
I'm not so sure about this approach. But, differentiation is key. In a world of cookie-cutter Android Wear watches (they all function essentially the same, with style and screen shape the key differences), the Bold Motion gives consumers an alternative.
The problem I see, however, is that the Bold Motion is neither a full-on smartwatch. For example, you won't be able to run apps, and you'll still rely heavily on your phone for notification details. And, it's also not a full-on classic timepiece. Meaning, the electronics, and HP engineering, is very likely to age quickly, like any other piece of consumer electronics technology, and render the watch eventually ineffective over time as smartwatch platforms (Android and iOS) advance.
Time will tell, of course, if Movado's bold move pays off.
For now, I'm not entirely convinced. Then again, here I am perfectly with the cheapest Android Wear smartwatch on the planet (Asus ZenWatch 2) and a ridiculously garish third-party orange band: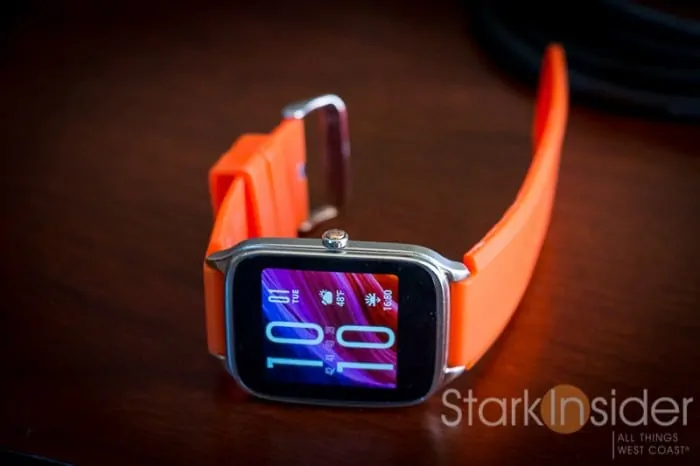 Style. It's oh-so personal.