Curator Meagan Doud laughs and tells me it's all thanks to some "obsession" and a "little bit of craziness." Well, today we're about to find out what it all means.
The day is coming when a single carrot, freshly observed will set off a revolution.
My west coast wanderlust adventure takes me to NOURISH. Guest curator Nancy Willis says when it comes to the shared dining experience — a place where time slows down — she wants to explore the unnoticed and the things often not seen. As she notes, it's "the labor, the attention to detail, or the visual artist who is contributing to this experience."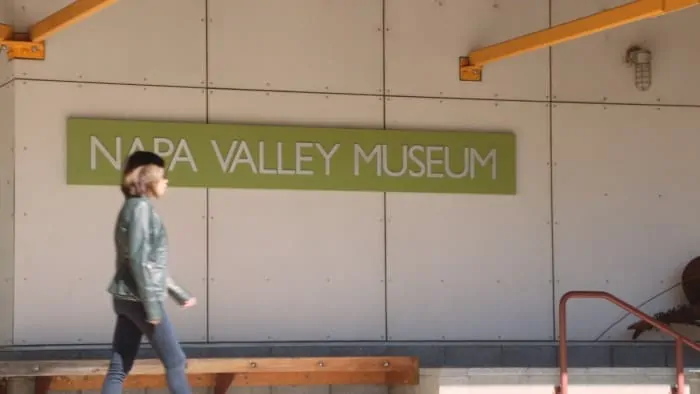 Join me in this special Stark Insider Video Feature as we head to the Napa Valley Museum. There I discover a colorful, thought-provoking, and unique exhibition. NOURISH brings together 25 artists, each with their own interpretation of what it means to artistically represent food, gastronomy, and sustainability.
"Apron Strings"
Massachusetts native Sue Bradford loves tactile surfaces. With the soaring "Apron Strings" she has created what could be the embodiment of a living, gastronomic version of a family tree. Here, hand-embroidered aprons featuring recipes in the cook's writing suggest the connection between family and food — and the heritage of handing down knowledge and aspirations from one generation to the next.
Nourish (transitive verb)

give food to somebody or something
support or foster something
help something develop
"Beloved for Generations"
Artist Katherine Vetne purchased some lead crystal stemware from someone who recently inherited the set, but no longer wanted it. However, you'll have to watch the video to see how they look today — perhaps unexpected! The result provokes discussion about the value of generational memory and what it means in this digitally connected age. Are heirlooms becoming less relevant?
"Mesa de la Tierra"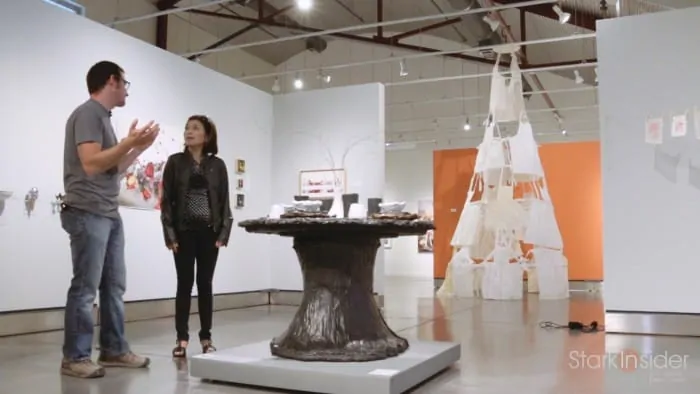 Will Callnan III and his wife Nikki Ballere Callnan have been working together with clay for 20 some-odd years. Their unmistakable works — large, hand-crafted and custom kilned tables — can be seen at high-end restaurants around the world, including here in Napa at The Restaurant at Meadowood, Clif Familiy Winery, and Silver Oak Cellars. "It's about the primal and raw nature of the material of clay," Will tells me as we discuss one of his dramatic wares. "And then refining it in such a way that it becomes functional and elegant."
Let's pull artists and chefs together and see what happens.
Plus there's a whole lot more to discover, including Safeway bags haphazardly strewn about. What do they mean?
RECENT Stark Insider Video Features
Plus Mr. Coffee machines as you've never seen them before ("Dominus" by Lucy Puls), soaring views of an iconic French museum ("Déjeuner avec Delacrois à D'Orsay" by Nancy Willis), an intriguing glitter ice cream cone ("Cone" by Luka Fineisen), a tasty array of colorful foodie panels ("Yes, Chef!" by an artist collective), and a dystopian view of Costco that might leave you slightly haunted ("Members Only" by Debbie Miller).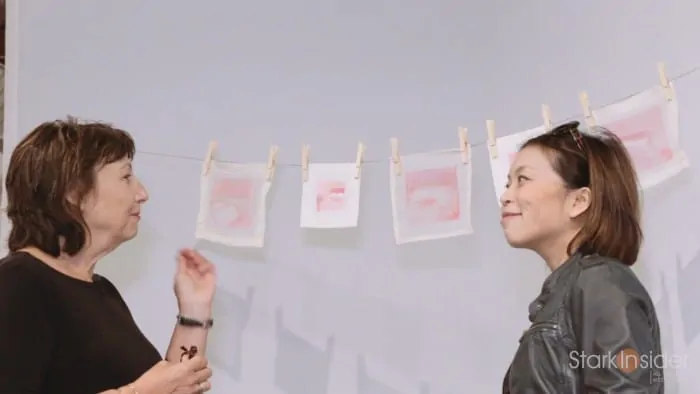 Have you ever enjoyed a fine dining experience, only to find that your napkin is lipstick-soaked? "Hostess After Party," also by Nancy Willis is a whimsical interpretation of something we all experience (women mostly I suspect).
There's few surprises along the way as we explore NOURISH, but I can't tell you about them. Or, well, they wouldn't be surprises, yes?
The dinner table is a social landscape. You don't really know what's going to happen.
Last, but certainly not least, our host on this occasion, Nancy Willis. Dual professions afford her a unique perspective: working both in the hospitality industry, and also as a painter/printmaker informs her work. What you see on display at the Napa Valley Museum (located right next to the Lincoln Performing Center in Yountville) allows us to dig beneath the surface. As she says, learning about life when we "pull artists and chefs together and see what happens."
Indeed, let's head to the Napa Valley Museum in Yountville, California to see what happens…
WATCH: NOURISH at the Napa Valley Museum