Chris Mann is The Phantom, and Stark Insider has an inside look at the epic Broadway show making its way across the country.
Perhaps no Broadway show in history has impacted audiences the world over as dramatically as The Phantom of the Opera. Lavish sets. Gorgeous costumes. That classic Andrew Llloyd Weber music! And, of course, at its hear a timeless love story.
The show has been smartly re-imaged. In this modernized, efficient edition the Phantom is younger, yet as decidedly mysterious and brooding as ever.
Many will recognize leading man and Kansas native Chris Mann from the television show The Voice, where he teamed up with Christina Aguilera. He brings a charismatic, youthful spin to the masked "Erik," our most unlikely protagonist/antagonist.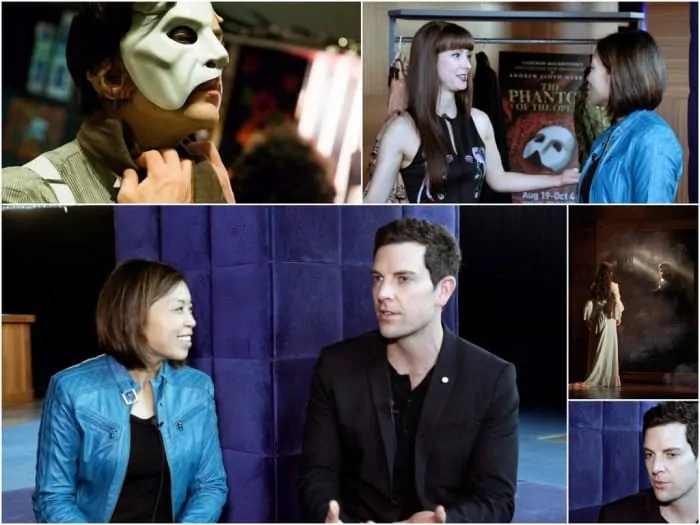 "I grew up with the Michael Crawford recordings," says Mann in an interview with Loni Stark of Stark Insider. "And I loved the twenty-fifth anniversary with Ramin Karimloo as the Phantom. But I really didn't try to emulate anybody. I just let my voice do what it needed to do."
Indeed it is doing all the right things. Early critical and fan response has been very favorable.
ALSO SEE: Broadway San Jose Preview: 'The Lion King' with Rafiki (Video)
Fortunately Chris Mann was able to take time from his busy schedule and sit down with Stark Insider to talk about stepping into one of Broadway's most famous roles.
Also: Katie Travis talks about the joy and workload of taking on the role of Christine. Plus, watch as Loni tries on perhaps the most expensive piece of wardrobe ever seen on a Stark Insider video!
The Phantom of the Opera is now playing the SHN Orpheum in San Francisco through October 4, 2015
WATCH: BTS Phantom of the Opera ft. Chris Mann & Katie Travis
With Loni Stark in San Francisco.