"It is a full, physical workout, this show."
It takes actor Bryce Ryness only about 15 minutes to transform — warts and all — into that most likable of an evil headmistress, Miss Trunchbull. But, removing all that makeup, glue, and effect pieces, well… that takes considerably longer.
Perhaps most impressive of his performance: the ease with which he handles the physical demands of the role.
For those who have yet to see Matilda the Musical (review), now touring across the country, know that this headmistress has a certain, let's call it, Full Metal Jacket streak — one that requires her students to be in tip, top shape.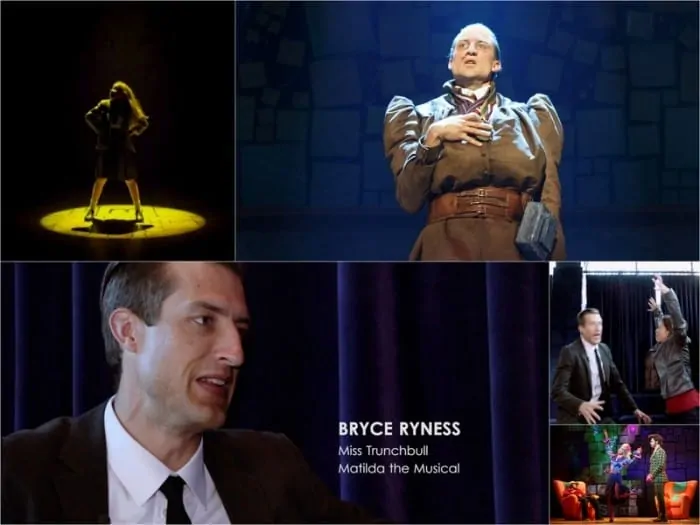 So, backstage Broadway once again we go.
This time, to the SHN Orpheum Theatre in San Francisco.
There I might up with Bryce, who is based out of Danville just north of Silicon Valley and brings his family — including three children — across the country on tour. Watch the above video as I get to know the actor, and the challenges of bringing a Roald Dahl novel to the stage.
"It's one of the most interesting roles that exists in theater right now. It's so left of center."
Of course, it wouldn't be full-on Stark Insider if I didn't at least checkout some of the backstage magic. Thanks to wardrobe supervisor Megan McGilvery, I get an up-close look at some of the colorful, whimsical costumes and see some of the techniques used to facilitate rapid-fire wardrobe changes.
Plus, learn some tips on how to use physical presence to take control of a room (or stage).
Bookworms unite!
WATCH: Backstage at Matilda the Musical with Miss Trunchbull (Orpheum, San Francisco)