The votes are in. Organizers say Room was named the overall audience favorite at this year's Mill Valley Film Festival.
Directed by Lenny Abrahamson, the film is a dark, yet uplifting (and unique) look at childhood as told through the eyes of a 5-year old boy (Jacob Tremblay). His "Ma" (a superb Brie Larson) must help him escape the confines of a 10-by-10 space to ultimately discover the outside world. It's an emotional ride, and, as those we talked to at MVFF — which ran Oct. 8 through 18 — agreed. No doubt, a memorable film-going experience.
Other films receiving nods of approval from festival-goers (MVFF is non-competitive):
Newsroom drama Spotlight (review) that delves into Boston's Archdioceses sexual abuse scandal of 2003 – directed by Tom McCarthy, with mega-ensemble including Michael Keaton, Rachel McAdams, Mark Ruffalo, Liev Schreiber, Stanley Tucci and John Slattery.
James Vanderbilt's Truth – another newssroom expose, this one chronicling the 2004 60 Minutes report on President George W. Bush's military record. Starring Cate Blanchett and Robert Redford.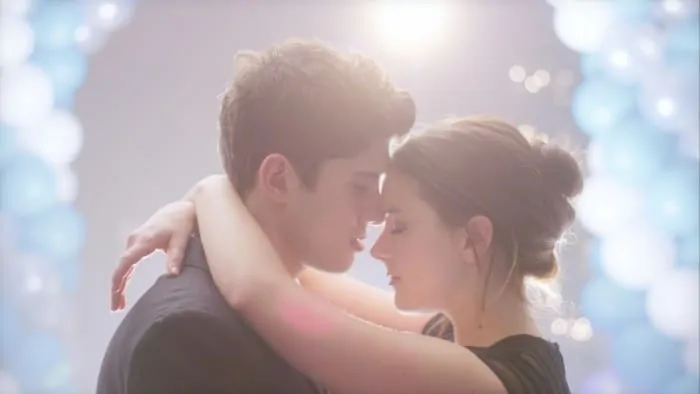 Other domestic films receiving praise: A Light Beneath Their Feet (dir. Valerie Weiss) and The Automatic Hate (Justin Lerner).
On the world cinema front, John Crowley's immigrant love story Brooklyn came out on top, among a particularly strong field at this year's edition of the Mill Valley Film Festival.
Other strong showings: Rememember (Atom Egoyan), The Passion of Augustine (Léa Pool) and Under the Same Sun (Mitra Sen).
Surviving Skokie (Eli Adler, Blair Gershkow), an intense look at the 1970s neo-Nazi march in Skokie, Illinois, won the audience award for favorite documentary.
Sarah Gavron's closer Suffragette featuring strong performances from strong female leads including Carey Mulligan, Meryl Streep and Helena Bonham Carter, won a top award. The period piece exploring the famed suffrage movement of the early 1920's was one of several memorable highlights from Zoe Elton's well received "Mind the Gap" program that explored women in film (both behind and in front of the camera). Interview with Carey Mulligan and Stark Insider here:
See below for the complete list of audience favorites.
Perhaps interesting, some of this year's top billings did not receive mention, including opener The Danish Girl (Tom Hooper), with a strong performance by Eddie Redmayne. Sarah Silverman gave a searing, memorable performance for her most tortured of mothers in an unforgettable I Smile Back.
Stark Insider On Location: MVFF
Then there was Son of Saul (review). I could see why this would not win an "audience favorite" vote. Yet this Holocaust film is superbly crafted — an unrelenting and devastating, and wholly original, look at what it was like to be trying to survival amongst the death and chaos of a concentration camp. A must see, but a wicked shot to the heart.
And perhaps the charming, personal Taxi (review) should've received some recognition.
There you have it. Another memorable edition of MVFF in Marin (located just north of San Francisco across the Golden Gate bridge).
Mill Valley Film Festival 38

Audience Awards

MVFF Overall Audience Favorite 2015
ROOM
Lenny Abrahamson

MVFF Audience Favorite, Gold Award – 2015 US Cinema
SPOTLIGHT
Tom McCarthy

MVFF Audience Favorite, Silver Award – 2015 US Cinema
TRUTH
James Vanderbilt

MVFF Audience Favorite, Gold Award – 2015 US Cinema Indie
A LIGHT BENEATH THEIR FEET
Valerie Weiss

MVFF Audience Favorite, Silver Award – 2015 US Cinema Indie
THE AUTOMATIC HATE
Justin Lerner

Brooklyn

MVFF Audience Favorite, Gold Award – 2015 World Cinema
BROOKLYN
John Crowley

MVFF Audience Favorite, Silver Award – 2015 World Cinema
REMEMBER
Atom Egoyan

MVFF Audience Favorite, Gold Award – 2015 World Cinema Indie
THE PASSION OF AUGUSTINE
Léa Pool

MVFF Audience Favorite, Silver Award – 2015 World Cinema Indie
UNDER THE SAME SUN
Mitra Sen

MVFF Audience Favorite, Gold Award – 2015 Valley of the Docs
SURVIVING SKOKIE
Eli Adler, Blair Gershkow

An Act of Love

MVFF Audience Favorite, Silver Award – 2015 Valley of the Docs
AN ACT OF LOVE
Scott Sheppard

MVFF Audience Favorite, Special Mention – 2015 Valley of the Docs
A NEW COLOR: THE ART OF BEING EDYTHE BOONE
Marlene "Mo" Morris
PENNY
Elizabeth Sher

MVFF Audience Favorite, Gold Award – 2015 Children's FilmFest
THE AMAZING WIPLALA
Tim Oliehoek

MVFF Audience Favorite, Silver Award – 2015 Children's FilmFest
SHANA: THE WOLF'S MUSIC
Nino Jacusso

MVFF Audience Favorite, Gold Award – 2015 Mind the Gap: Women | Work | Film
SUFFRAGETTE
Sarah Gavron

MVFF Audience Favorite, Silver Award – 2015 Mind the Gap: Women | Work | Film
THE DRESSMAKER
Jocelyn Moorhouse

MVFF Audience Favorite, Doc Award – 2015 Mind the Gap: Women | Work | Film
MAVIS!
Jessica Edwards

MVFF Audience Favorite, Gold Award – 2015 Active Cinema
CODE: DEBUGGING THE GENDER GAP
Robin Hauser Reynolds

MVFF Audience Favorite, Silver Award – 2015 Active Cinema
DOGTOWN REDEMPTION
Amir Soltani, Chihiro Wimbush

MVFF Audience Favorite, Silver Award – 2015 Animation
ANOMALISA
Charlie Kaufman