Hard to believe, but it was only less than a century ago that women first earned the right to vote (on the same terms as men).
In England, as depicted here in the film Suffragette, thanks to the Representation of the People Act, in 1928.
And, in the U.S., with the 19th amendment, in 1920.
Carey Mulligan swung by San Francisco recently to talk about the strong women who led the suffrage movement in England, which, at times required militant activism.
"The effort was always to protect human life", she said on the red carpet in advance of a spotlight award in her honor at the Mill Valley Film Festival. "No one was ever harmed by the suffragettes. In a way, you can't compare it to modern day action. These women were reacting to forty years of campaigning very peacefully and politely and getting nowhere with it. This came out of that relentless struggle."
We burn things cause war is the only language men listen to.
— Maud (Carie Mulligan) in 'Suffragette'
"It showed how hard-fought the vote was and feels so important today when we're still fighting for equality", director Sarah Gavron told me in this special Stark Insider video feature (watch above). "But it's also important to show how far we've come."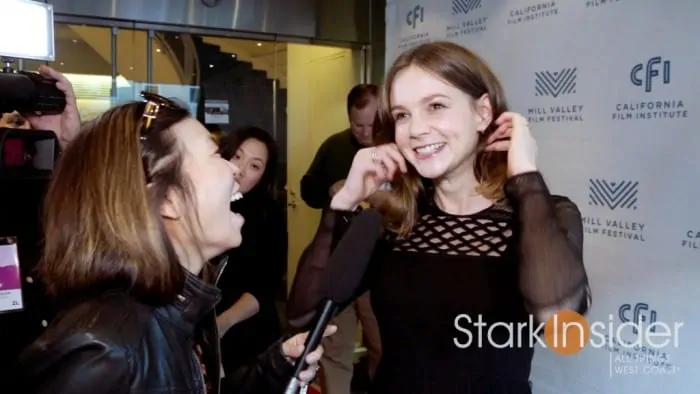 Suffragette screened as part of closing night at MVFF. Fittingly enough. Programming director Zoe Elton had emphasized a strong female component in this year's line-up of films and panels. With "Mind the Gap" (a term borrowed from subway gaps between track and curb in the London Tube), the festival, now in its 38th year, wanted to emphasize the success of women in Hollywood – yet to also shed a light on the challenges that remain. On opening weekend, for instance, esteemed director Catherine Hardwicke, brought her new film Miss You Already to town, as well as hosted an enlightening panel on what it takes to direct indie and big budget films alike, including her mega-blockbuster Twilight — which, in 2008, was the highest grossing female-directed film of all time.
"This film is so overdue," said Mulligan, emphatically, surrounded by an enthusiastic mix of fans, journalists and film industry reps.
Earlier the assembled press had thought she might have become overcome with emotion upon arrival at the Rafael film center. Then we learned she was experiencing allergic reactions (hello, California) and was taking quick breaks behind the curtain so her assistant could help wipe away tears. Still, emotion — and celebration — lit up this particular evening. Zoe Elton moderated a spirited and entertaining chat with Gavron and Mulligan, who was presented with a special MVFF award for her stellar career accomplishments (already!).
This film is so overdue.
Carey Mulligan's performances have been praised, from television (The Walker) and high profile films (Drive with Ryan Gosling, and The Great Gatsby with Leonardo DiCaprio) to the Broadway stage (Skylight).
Watch as I catch up with the London-born actress to get a glimpse into what it takes to build such a successful career, and how a film like Suffragette can help raise awareness of such an important moment in our history.
WATCH: Carey Mulligan Interview – Suffragette at MVFF