A preview of some of this year's gems at the Mill Valley Film Festival begins with 'Taxi' ('Taxi Tehran'), a banned film shot on the streets of Tehran.
Jafar Panahi stars in his own film, as a taxi driver. When a rider recognizes the famed Iranian director — even in that beret! — he asks Panahi to stop, so he can sit up front, and strike up a conversation about film. It's one of several magical moments in a film that sneaks up on you, that eventually transforms into an incredible journey.
Putting cameras in taxi cabs is nothing new of course (one rider mistakes it for a "cool" security device). But, here, as Panahi — who is known for making films that portray realistic windows into Iranian society — drives across the streets of Tehran, the people he picks up are fascinating characters.
MORE INDIE FILM ON STARK INSIDER: 'Under the Skin' with Scarlett Johansson (Review)
Subject matter runs the gamut. In one dramatic scene, he stops at the scene of accident. A distraught wife enters the cab carrying her bloodied husband. She cries desperately. He gasps, apparently dieing, and asks for another passenger in the front to pass some paper so he can write his final will, before also asking him to also take a short final video of him in his wife's arms. This was one of the most traumatic and disturbing scenes I've ever seen in any documentary. A calm Panahi waved the fee for that ride.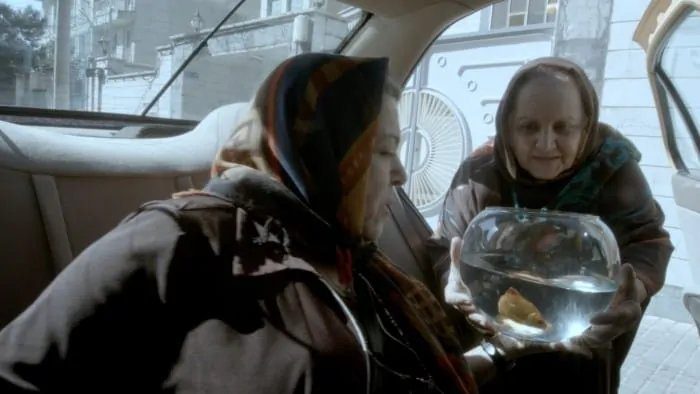 Then I read the press notes, and learned this film is banned, and that Panahi had been arrested twice by the Iranian government.
Apparently he was condemned to a twenty-year ban on filmmaking and screenwriting. A court also ruled he was not allowed to give interviews or travel outside the country. Hence, Taxi, and his previous three films, were made without authorization. Obviously, given his masterful body of work, this is a crying shame. Though, perhaps, it augments the allure.
Cinema as an art becomes my main preoccupation.
— Filmmaker Jafar Panahi
At times Taxi is quiet, other times loud and unexpected; and even delightfully good-natured and humorous (save the goldfish!). But it's always riveting. A film like this reminds us that colorful and interesting stories are all around us. And that — with all the talk of the Iranian nuclear deal — we are all, in the end, people confronted with the joys and sorrows of everyday life, regardless of ethnicity.
Fortunately, Taxi has been playing the film fest circuit — including earlier this year at the Berlin Film Festival where it won a Golden Bear, and the Toronto International Film Festival. You can catch Taxi at one of two screening in Marin at this year's Mill Valley Film Festival. Highly recommended.