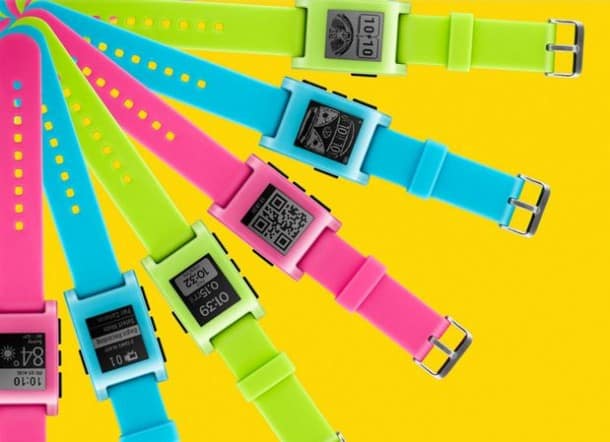 If you thought the standard black Pebble was a little too drab, you're in luck. Pebble today announced its popular, affordable smartwatch is now available in three limited edition colors: fresh green, hot pink, and fly blue. The company is also rolling them out with a social campaign using the hashtag #FreshHotFly. Clever that!
Don't expect muted, laid back colors. These are of the bright, eye popping variety. Wardrobe matching is sure to follow. More serious smartwatch connoisseurs looking to make more of a business statement would do well to wait for the upcoming Moto 360.
At $150 the Pebble is half the price of the recently released Android Wear based smartwatchs made by Samsung (Gear Live) and LG (G Watch). While those feature color touch screens, nifty voice recognition courtesy of Google Now, and deep integration with Android, the Pebble still trumps them on a few key features, most notably battery life. The Pebble will run for about 5-6 days on a single charge. Android Wear-based watches, at least the early batch, require daily charges. Pebble also wins when it comes to outdoor readability – thanks to an e-ink display even full-on sun does little to diminish legibility.
MORE STARK INSIDER: Life with Pebble – There's no going back
Based on a proprietary operating system, Pebble also supports both the Android and iOS platforms. Regardless if you use an iPhone or a Nexus, or just about any other phone, Pebble is likely compatible. Meanwhile Android Wear, as you might expect, only works with Android phones. And if, as widely expected, Apple releases an iWatch it would be a safe bet to expect that to work only with iPhones.
You've to hand it to Pebble. They're having some fun with this marketing campaign. Here's the video made apparently by their interns to promote the new colors:
Cool cats!
Given its low price point, broad selection of apps and watchfaces, we think the Pebble is still the best smartwatch out there. That could change as Android Wear matures, and better devices hit the market. For now, though, if you're looking for some summer fun it's hard not to dig what the folks at Pebble are doing with their world-beating smartwatch.
[Pebble]