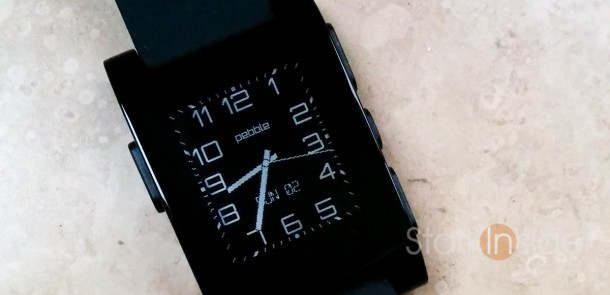 If you like variety, man have I got a watch for you. A smartwach in fact. Pebble, hands down, surely has the largest number of watchfaces available on planet earth. Really? Really. (And don't call me Shirley)
Silicon Valley has a new dynamic duo: Tesla + Pebble. If you have one you should have the other. Well, maybe. So far I've only got a Pebble. And a Prius. Close enough. In Silicon Valley, Pebble may very well be the new icon of Kickstarter cool. Or tech geekiness. Or digital tomfoolery.
I admit I waxed poetic, gushed like a little (geeky) kid about Pebble. It wasn't love at first sight as I wrote in my review of Pebble, but now I find the smartwatch incredibly useful. Notifications are extremely handy when I'm otherwise preoccupied and neither have the time nor safe ability (driving is a good example) to check an incoming text on my Nexus 5 – just a quick glance at Pebble on my wrist is all it takes. Very convenient.
Pebble is also, remarkably, a watch. Let's not forget that. Yes, it can tell time. And, as I pleasantly discovered, it can tell time in a variety of fanciful, entertaining, bizarre, inane, complicated and nostalgic ways. That's because there's a veritable cottage industry of developers–casual and amateur alike–creating all manner of digital watch faces. Pebble has 8 slots to store apps and watchfaces. You can easily cycle through the various watchfaces on Pebble by simply using the up and down buttons on the right side of the watch. I much prefer this approach to what Sony has done with their SmartWatch 2; you need to navigate to settings screen, choose a watchface (from a very limited selection), and then hit home.
There's plenty of silly watchfaces in the Pebble app store. Many put a smile on my face – there's no shortage of creativity in this world. After playing around for a few weeks a few percolated to the top of my list. These are all free, and available on the Pebble app store (iOS and beta Android).
So, here are 5 great watchfaces that deserve rotation on your Pebble.
1. 59 dub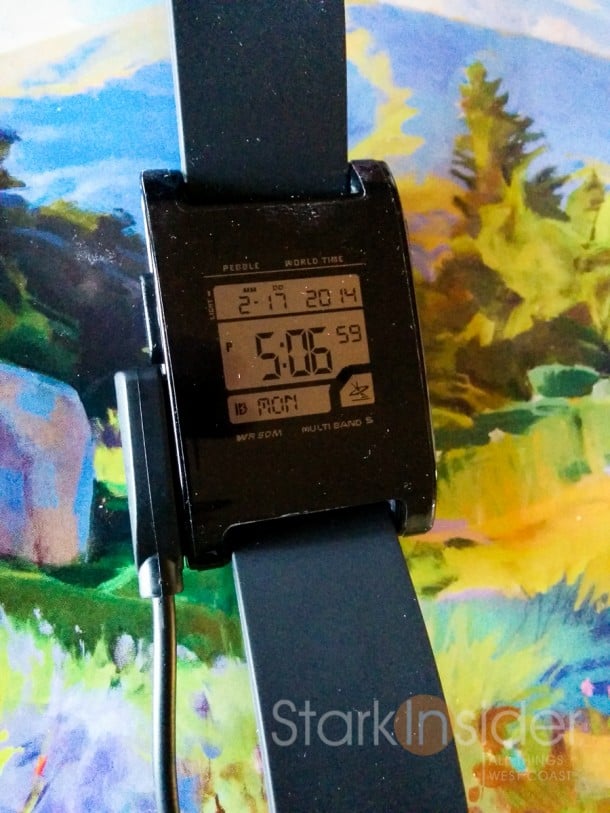 Get used to some unusual watchface names. 59 dub is an excellent example of the many Casio-inspired watchfaces available for Pebble. I never thought I'd like these. But, something happened. Maybe chalk it up to 80's nostalgia, whatever the case, I love this one. Has everything you need: date, day of week, batterystatus, bluetooth, and seconds (perfect for timing espresso shots!).
2. Modern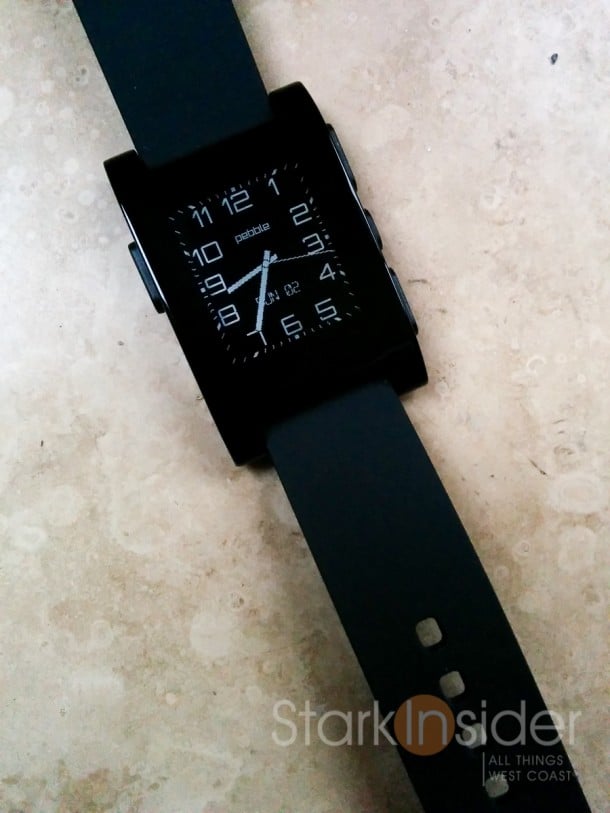 Analog watchface. Configurable (via "settings" on the Pebble smartphone app) to vibrate on the hour and display weather C/F (most watchfaces have this option too). The second hand can be turned off. I like the look of this one a lot. Along with 59 dub, probably the two I use most on my Pebble.
3. Brietling
Check that baby out. It might not show well in photos (tends to look blocky as do a lot of closeup shots of the Pebble), but never mind that. Brietling. For only $150! This is the pinnacle of Silicon Valley style. Say no more.
ALSO SEE: Life with Pebble – There's no going back (REVIEW)
4. YWeather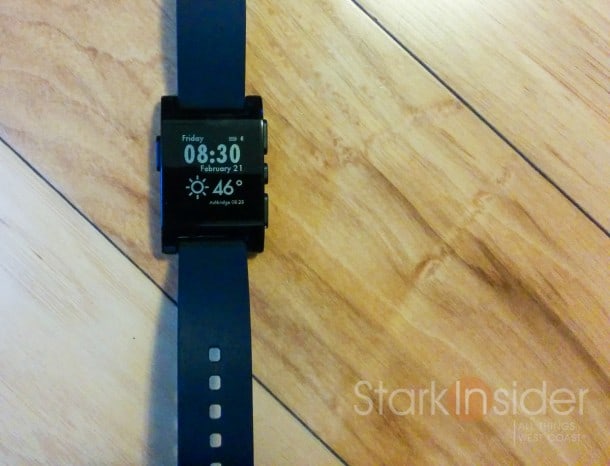 Weather fanatics will love this one. YWeather pulls weather from Yahoo and features a nice weather icon. Plus you get day of the week, battery and bluetooth status, and the date. More function than style, but it's a good one.
5. Futura Weather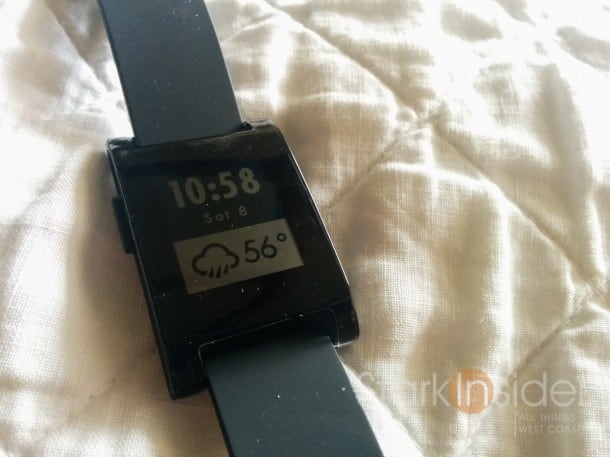 Another weather-centric watchface. This one less cluttered than YWeather. I like this one too. So many watchfaces, so little time!
These five watchfaces are just a tip of the iceberg. Pebble has done phenomenal work building a loyal and talented developer community. Conseuqently, when it comes to depth of apps and watchfaces, Pebble is beating the pants off the competition. Oh, and never mind those who complain about the e-paper display. It readable in sunlight for goodness sake already. Plus, unlike the short battery life on the Sony Smartwatch 2 and the really, really short battery life on the Samsung Galaxy Gear, Pebble will go for days without a recharge thanks to its energy efficient display. BTW- did I mention the nifty wrist-flick that turns on the backlight? It's the coolest trick in town. Sadly, my wife is seemingly less and less impressed each time I demonstrate it for her.
See you next time, and don't forget to check out my full review of Pebble.