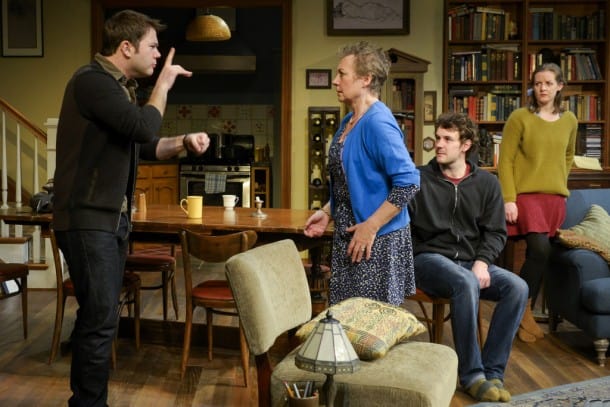 The buzz in the air around the thrust stage at the opening of Tribes, a play by Nina Raine, was positively palpable. A day or so before, the Berkeley Rep announced that they were adding additional shows because Tribes sold out before it even opened. Folks in the audience knew they were on to something good.
Tribes is more than good. If you're really lucky, at least once in this life, you'll see something that opens your heart in such a way that the piece lives a life of its own after the curtain falls. These are the characters you worry about and wonder how they are doing. Tribes is one of those shows; it's so powerfully drawn that the characters will take up residence in your head – and that's a good thing.
If you find yourself avoiding this play because you're not into another yet another work about deafness, get over it. Unlike The Loudest Man on Earth, a show recently produced by TheatreWorks, which focused exclusively on deafness, Tribes focuses on where you belong and what price that belonging exacts. While deafness is inextricably tied to the play, the drama is convincingly drawn about other issues.
ALSO SEE: San Francisco Street Walk, 'Palo Alto' SFIFF screening (Video)
If you're really lucky, at least once in this life, you'll see something that opens your heart in such a way that the piece lives a life of its own after the curtain falls.
Nothing was left to chance with this production, be it the titles on the bookshelves to where the shadows fall. The show begins with a theatrical equivalent to a palate-chaser; you're plunged into a darkness so deep that the stage lights sear your eyes when they come up. Whatever you leave behind is exactly that – left behind.
I suppose everyone in this audience had a different way into this material. For me, the hook was the set. It looked exactly like my living room, only minus the cats and with a better piano. The gemütlich mélange of books, wine bottles, more books, oversized pillows, still more books, and a MacBook Pro thrown in on chair was instantly recognizable. In this work, it's a marker of the tribe whose psychic defenses are as overwrought as the groaning bookshelves.
This set is home to Christopher (Paul Whitworth), Beth (Anita Carey) and their three adult children, Daniel (Dan Clegg), Ruth (Elizabeth Morton), and Billy (James Caverly).
Of these, adult daughter Ruth may not be the sharpest, but she's the least ambiguous. She knows exactly what she wants and how comically far she is from getting it.
Adult son Daniel is a mix of bluster and vulnerability. He holds his own in arguments with his father while trying not to be distracted by the voices in his head.
Billy is the deaf son. Brought up to represent a style of thinking and way of living that didn't include wearing his deafness on his sleeve, he doesn't sign. This has worked up to a point. We see him intensely there – and then suddenly remote.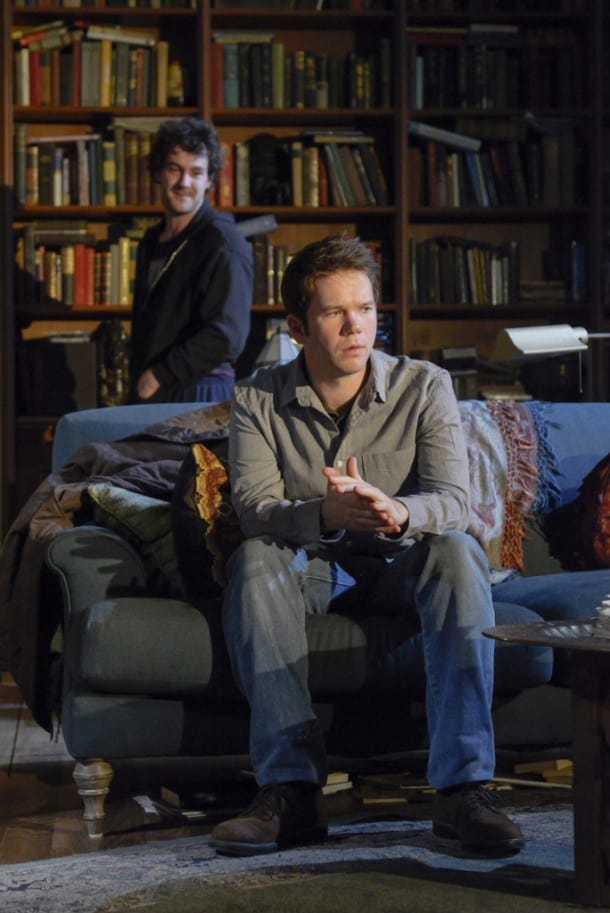 It could be argued that Christopher (sire of this brood) is the only character who's a bit of a caricature, but then he would no doubt argue with that observation. Willfully disconnected, he intellectualizes everything. We keep waiting for a softening, even a tiny hint of self realization – which never comes. However, we all know people like that – whose self-realization doesn't come.
Wife Beth awkwardly balances not losing herself to this tribe while playing peacekeeper as she negotiates rows between her argumentative husband and offspring, and amongst the offspring themselves.
The family dynamic is rattled when Billy falls in love with Sylvia (Nell Geisslinger), who grew up the child of two deaf parents who sign. Sylvia is Billy's conduit to the Deaf* community, which is almost entirely foreign to him.  Like Billy's family, this community is as flawed as the urban intellectual enclave from which he sprang.  Motivated by her own inner tension, Sylvia's as aware of the issues within her tribe as Billy is with his.
MORE STARK INSIDER: Stark Insider TV: Wine cave drilling looks a lot like 'Alien'
Part of what makes this show so strong because a lot of what's on stage right now isn't exactly emotionally resonant. For example, Hound of the Baskervilles is a funny, brilliantly done show, but Sherlock Holmes is supposed to be cold. The same could be said for Wittenberg, a smart witty play currently at the Aurora. Both are light years apart from Tribes with respect to the overall tone. This production supplies the warmth that's missing from both of these.
Seeing this powerful production brings you closer to your own tribe – and more conscious of where you belong and the limits of that belonging.
* As per the program, uncapitalized, "deaf" is an adjective. Capitalized, it refers to the Deaf community.