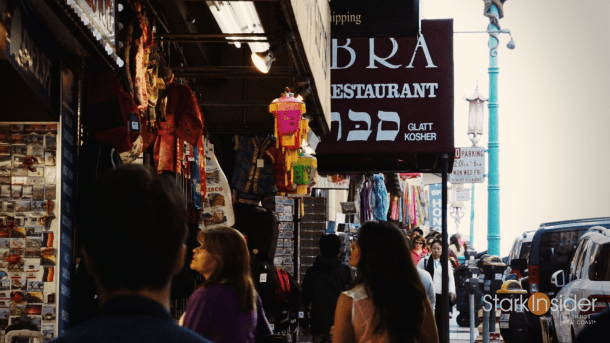 We're back on the streets of San Francisco. And are they packed or what these days? Seems like just as highway 101 is a barometer of the overall economy, so too are the throngs of humanity moving in and around our favorite City.
I've been shooting segments for Stark Insider, once again with trusty Canon EOS gear. Though I'm mighty tempted these days by the Super 35 and 4K cameras, as was seen in hearty supply this year at NAB, there's something about taking a garden variety (and mighty fine) DSLR such as the EOS 70D and just hitting the streets to see what will happen.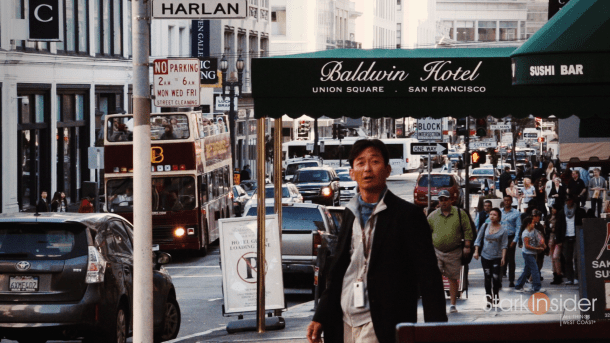 Along with Napa, San Francisco is one of my favorite places to shoot. It's potpourri of the unexpected. And the energy, like New York City, is wonderfully palpable. When they say things like "heartbeat of the city"you truly get every sense of the expression as you're walking across Union Square on a balmy spring evening. Hoodies, Suits, Elvis Costumes. All blend in seamlessly–though not without occasional controversy–in the City by the Bay.
Once again, we're scheduled to shoot a bunch of food, wine, arts, and film segments in San Francisco in the coming weeks and months ahead. If I had my druthers I'd cut a video, write a story every day here, but it's not humanly possible – I'd need far more espresso to ever entertain the idea.
Last night we attended a press screening of PALO ALTO. It's a gritty coming-of-age film by first time writer-director Gia Coppola. Safe to say, cinematic talent runs in the family. Based on James Franco's book of short stories, this is high school unfiltered. And layered. The ending is pitch perfect. And Gia's eye has a 70s vibe to it which I absolutely love. The film will be a "centrepiece" at the upcoming San Francisco International Film Festival (SFIFF), a great choice. If you go, note how the two leads resemble a young Anne Hathaway and River Phoenix. And, yes, that's Val Kilmer. Also, keen eyes will spot a subtle (and funny) homage to Fast Times at Ridgemont High – though, PALO ALTO likely owes more to something like Rebel Without a Cause then it does a rollicking stoner comedy. In the video below we offer commentary on the film as we depart the Variety Club on Market.
Press screening for Gia Coppola's directorial debut PALO ALTO w James Franco. #SFIFF @StarkInsider pic.twitter.com/K4AyGn3DV0

— Clinton Stark (@clintonstark) April 16, 2014
As for the packed streets and highways here in Silicon Valley? The last time it was this frothy was in 1999. I was a bachelor. I was driving a sports car, hanging at the Faultline in Sunnyvale enjoying pints with friends after work, and reading Red Herring magazine. Every single IPO? Hot. Red hot.
WATCH: San Francisco Street Walk – After PALO ALTO screening at the Variety Club