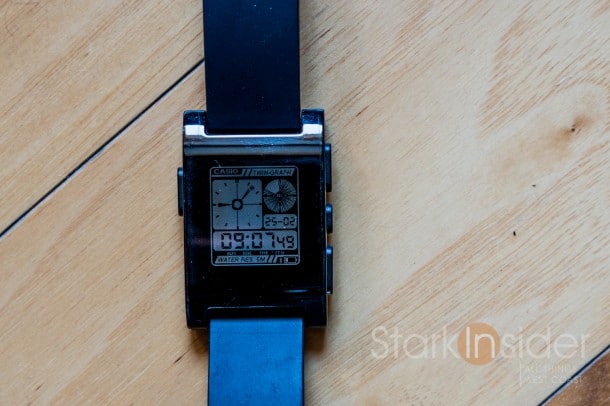 There's many David and Goliath stories in Silicon Valley. Sometimes being small isn't bad. Just ask WhatsApp. Facebook scooped up the 50-employee start-up for the princely sum (or if you're Mark Zuckerberg maybe's that's a princely discount) of $19 billion. That's about $380 million of value per headcount. A lot of people came out peachy in that one.
But after yesterday's announcements from Google about its upcoming Android Wear platform for smartwatch makers I immediately thought:
What about Pebble?
Can a tiny Palo Alto start-up (under a hundred employees so far as I can tell) backed by Kickstarter and with a little over a year of first mover advantage survive against the likes of Google? And, not to mention that deep bench of partners that include LG, Samsung, HTC and Motorola (Lenovo).
ALSO ON STARK INSIDER: Life with Pebble – There's no going back (Review)
Can Pebble win in the new wearable world of Android Wear?
If Android Wear (not to be confused with Andre Ware) does anywhere as well for smartwatches (and other wearables) as Android did for smartphones and tablets, we can expect one thing: domination. Once again Google will freely license to all comers. Given that Android is predominant platform today it stands to reason that a lot of potential wearables buyers will look to products that are compatible with their phones. If I like Google Now (and I do, it's brilliant) then why wouldn't I want that voice activation feature and its useful suggested/demanded cards also available on my wrist? It's perfect for times when, say, I'm driving, at the gym, or otherwise not within the immediate vicinity of my Nexus 5.
Pebble, unfortunately, does not have any sort of voice features. I'd imagine to build something like that would extend its resources well beyond reason at this point. Getting the recent 2.0 Pebble update and app store out the door for both iOS and Android surely was an incredible accomplishment in its own right. But, now, it gives me an uneasy feeling to think that Pebble can go toe-to-toe against the big guys.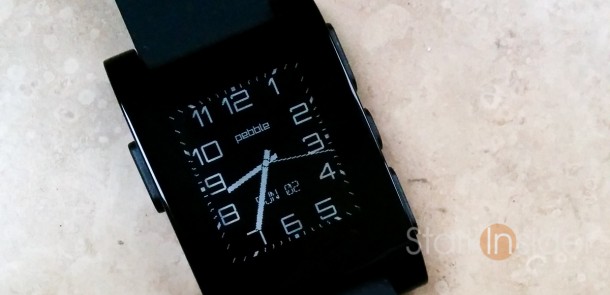 Another challenge facing Pebble is that of revenue.
Google reaps rewards from sales of apps and other content from the Play Store. Apple does too. Apps and watchfaces for Pebble are mostly free, however. And, unlike an Android-powered smartwatch (or an Apple iWatch) owning a Pebble doesn't lead me into a store where I might, by whim, buy the latest album by Pharrell Williams or the latest book on… Apple (Haunted Empire anyone?).
ALSO SEE: 5 great watchfaces for Pebble
At this point, an acquisition doesn't seem likely for Pebble. Google clearly is rolling its own with an army of partners. Apple is no doubt doing the same (I expect a surprise reveal this summer at latest).
Still, there's many reasons why Pebble could survive:
Price
Keep the Pebble value-priced. At $150 retail it's already affordable for many. If it needs to (and I think we'll see this before year end) the company can drop the entry model to $99, maybe less. The new "Steel" (a Pebble with nicer, slimmer build that's aesthetically closer in looks to a normal watch) would remain the premium model.
Apps
Pebble has a headstart when it comes to apps. The Pebble App store is quickly growing. Even tier one players are on board: ESPN, Yelp, Foursquare and Mercedes to name a few. When it comes to watchfaces and customization, Pebble takes the cake. How long it can sustain this lead against Google and Apple is dubious at best.
Consumers Value Choice
Fitbit, as my wife reminds me, is a good example of a smaller independent player surviving in a world of Googles and Samsungs. A lot of today's phones have health monitoring and pedometer capabilities built in. Yet, Fitibit does brisk business. Browse the mobile health section at Best Buy and you'll see it dominated by the Fitbit (you'll also find Pebble in wearables). Fitbit is simple, and is purpose built. Consumers appreciate that it does one thing and does it well.
I wear my Pebble 7/24. As I wrote in my review, after wearing Pebble it's impossible to go back. The ability to quickly read an important text without digging for my Nexus 5 is a huge win, not to mention all the interesting watchfaces, and other apps. Being a huge Google Now fan, though, it will be hard to resist the temptation to be first in line for a Moto 360 smartwatch.