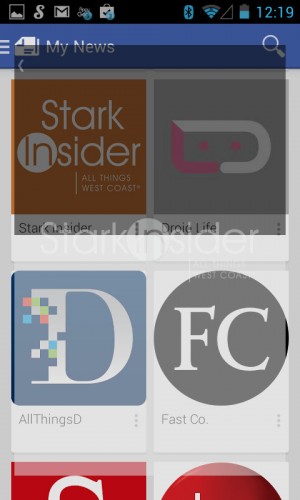 Google today launched its "new" newsstand app. Combining two apps–Google Currents and Play Magazines–into one, the new app better positions Google to take on Apple in the new media battle. I downloaded the new "Play Newsstand" app onto my tried-and-true Galaxy S2 (when I travel to the Baja I leave my Nexus 4 and other first line gadgets at home, lest the desert dust get to them!) and gave it a quick spin.
Overall, the new app is quite good.
As you'd expect to find at a real newsstand, you can find all the latest newspapers and magazines on offer. Further–and this is something I really like–the new app also integrates RSS feeds. So now, you can read, a la Flipboard, articles from your favorite web sites, as well as from your favorite traditional magazine and newspaper type sources.
"One place for all your news"
Offline mode is of particular to me. Until airlines offer more ubiquitous wi-fi (and that shouldn't take much longer) I rely on apps that can download loads of content. There's nothing better than catching up on reading at 30,000 feet while enjoying the latest music from, oh I don't know, say Janelle Monae. It's blissful. And, please, let there never be cell phone conversations allowed in flight.
As I checked out the new Play Newsstand app, I realized Google is missing something. Granted, Apple is missing it too. And that is:
An all-you-can-eat subscription model
The world has changed. Very few of us now read a newspaper from front page to last. These days, we grab an article from here (The Verge), then jump over there for a bit of that (New Yorker), then click on over to there (Fast Company), before perhaps ending a reading cycle here (New York Time). Yes, consuming media in 2013 is a lot less like Masterpiece Theatre and a whole lot more like Whac-a-Mole.
I subscribe to Next Issue because it gives me access to a ton of magazines that I can read on my tablet without having to buy each issue individually.
Why doesn't Google offer the same?
I suspect they are planning to. It's only a matter of time before Apple and/or Google take magazines and newspapers down the path of music and movies. And that means a subscription model. We're willing to pay monthly for streaming music. We're willing to pay monthly for streaming movies. It doesn't take a monster leap to guess that we'd also be willing to pay for "streaming" mags and news.
For example, Google could offer something like this:
BRONZE: 3 Newspapers + 2 Magazines of your choice $7.99/month
SILVER: 5 Newspapers + 4 magazines of your choice $9.99/month
GOLD: 10 Newspapers + 10 magazines of your choice $19.99/month
Or something like that. You get the idea.
Then, say in 2015, we'll start seeing combo deals:
Streaming Movies + Streaming Music + Streaming News/Mags $39.99/month
Could it be that Google and Apple adopt a la carte and bundled pricing that we've seen from the likes of DirecTV and Dish of years past? It could be.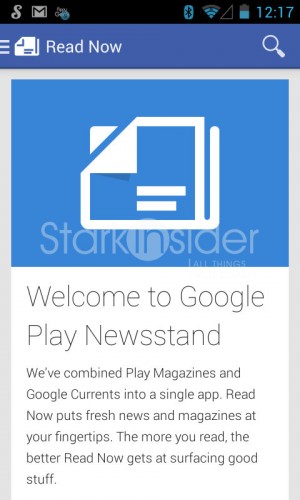 Currently I subscribe to Netflix (for movies and TV shows). And Google All Access (for music). And to Next Issue (for magazines). How long will it take before companies start bundling all these services, and cross-selling them to us?
The end game isn't so simple of course.
Hearst, News Corp, Conde Nast own the majority of today's top tier magazine titles. Meanwhile newspapers are in a world of hurt, and selling off assets, downsizing. Gaining agreement on revenue share won't be easy. And there's always Apple reminder. Steve Jobs essentially strong-armed the industry. Utilizing the (then) Apple monopoly on portable music players (iPods) he was able to get extremely favorable terms for iTunes. Likewise with movies. Amazon has done something similar with books and the publishing industry. It will be interesting to see if magazines and newspapers go down a similar path.