Next Issue for Windows 8 is now available on the Microsoft Store. Clinton Stark gives it a spin on a Surface Pro tablet to see if it can keep up with its Android and iOS peers.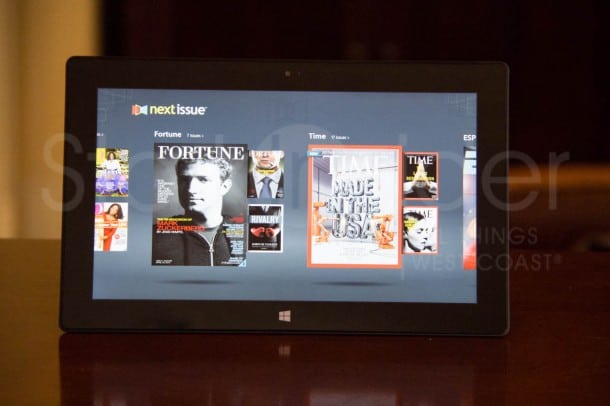 Tablets may well be the perfect cure for long haul flights. I can check and respond to email (thanks to the Gmail app they fire off when connected back on wi-fi), drown out noise with some background music, read some books (Lean In, but of course), and catch up on all those RSS feeds.
I also enjoy reading magazines.
One of my favorite apps for doing that is Next Issue (the other is Zinio). I've been using it for about a year on and Android-powered Galaxy Tab 10.1.
What I like about Next Issue is that, like Netflix, you pay a monthly subscription fee and have access to an all-you-can-eat assortment of content. In this case, Next Issue offers up a well-rounded collection of magazine titles including Car & Driver, The New Yorker, Wired, Fortune, ESPN, and Bloomberg Businessweek among scores of others. For $9.99 per month with the basic plan you get access to a catalog of over 70 titles. Jump up to the premium plan for $14.99 and 8 premium titles are made available–I'm a subscriber to this plan.
"What You Don't Know About Apple" caught my attention. Reading the piece on the Surface Pro was fluid and intuitive. In no time I was immersed in the "five truths."
I've written about Next Issue before. The early release was not entirely reliable, especially on Android. That's no longer the case thankfully, though I still prefer the iPad version.
Now Next Issue is available for Windows 8. I was able to spend some time in the Stark Labs giving it a good run through.
ALSO SEE: In Search of Digital Wine Magazines
In brief here's what I discovered: Next Issue on Win 8, particularly on a tablet such as the Surface Pro I used in my tests, is the best experience yet.
For one, the app is blazing fast, and silky smooth. Browsing titles is fun, because there's no hiccuping as you scroll horizontally across the large, colorful magazine titles.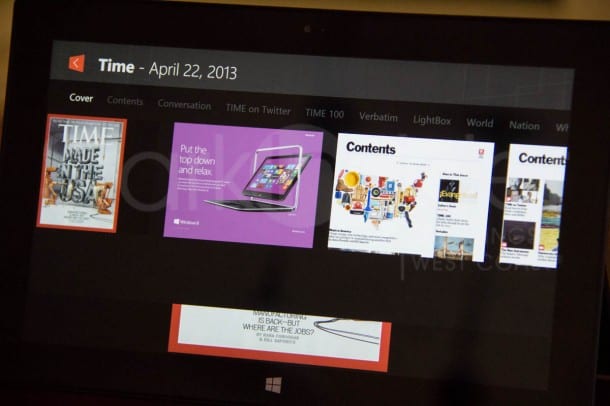 Loading issues is painless, and also snappy. When I clicked on the latest issue of C&D the cover popped up in less than 10 seconds. I was able to start reading while the entire issue downloaded in the background–which took about 9o seconds.
Standard Windows 8 gesture controls mean you can swipe up to access a menu. Depending on the context an issue navigator will pop up with thumbnails or options for pinning and auto-downloading issues will be made available. I particularly like that specific magazines can be pinned to the Windows start screen (Metro). It's a design feature of Win8 that really works well with this app. Swiping in from the right opens the "charm" menu where you can switch on notifications (to receive an email when new issues are available), edit account information, and manage storage.
"What You Don't Know About Apple" in the April issue of Fast Company caught my attention. Reading the piece (by Austin Carr) was fluid and intuitive. In no time I was immersed in the "five truths."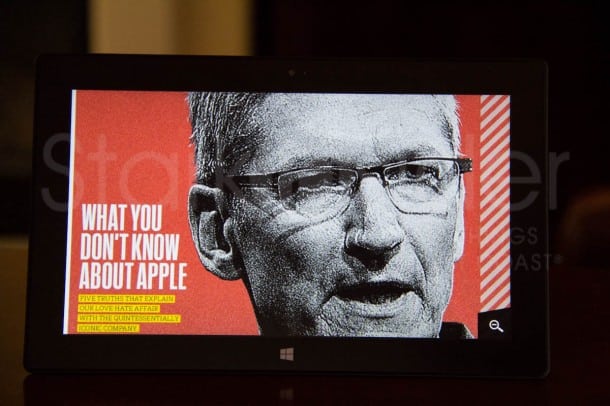 There's so much to like here that my quibbles seem minor by comparison. I'd like to see a more robust social aspect to the app so that articles, or at  least excerpts can be posted to Facebook, Twitter, Pinterest, etc. While reading there is a "Share" option on the charms menu. But it wouldn't let me do anything. "There's nothing to share now." it would tell me time and time again during testing. Not a huge deal, but something that could use some Flipboard-esque spice.
The other bugaboo, at least with the Win8 version of the Next Issue app is the screen ratio. With a 16:9 display, the zippy (and well made) Surface Pro I used is optimized for watching films (they look great on it). Consequently, as I read the the latest issue of Fortune magazine I had to deal with two black bars on top and bottom of the content. I should note this same problem "surfaces" when using the app on most Android tablets. The iPad, with its wider dimensions fares far better; content comfortably occupying the entire screen. On the Surface I found landscape, and a single press of the magnifying glass (floating in lower right) to be a far more enjoyable experience. Unlike iPads, Win8 tablets are designed to be used primarily in landscape mode.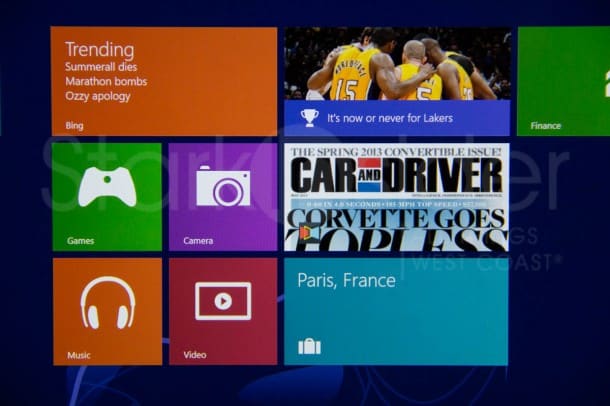 The developers at Next Issue Media (a consortium of Condé Nast, Hearst, Meredith, News Corp., and Time Inc) did a first rate job. Next Issue is easily one of the best looking, best performing apps for Windows 8 now available on the Microsoft Store. After spending time cross-testing Next Issue on an iPad (3rd gen) and my trusty Galaxy Tab 10.1 I can say that this one trumps them all in terms of performance, and flexibility (again, pinning issues to the start screen is very convenient, and a unique feature of the Windows 8 version). Now, what is it that I don't know about Apple…
Next Issue
Magazine app for Windows 8
4.5 out of 5 stars
Download from the Microsoft Store: Next Issue for Windows 8
IN PHOTOS: Next Issue for Windows 8