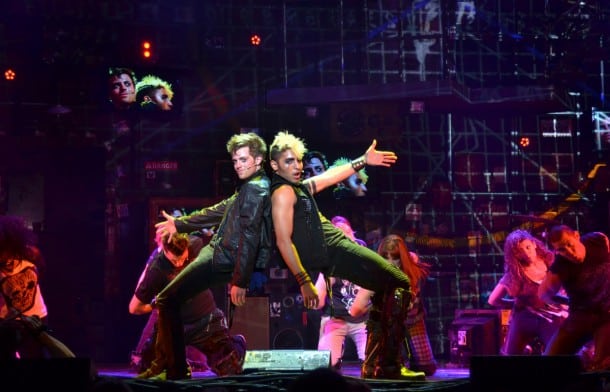 Sometimes local connections matter. Palo Alto High grad Alex Nee did the Bay Area proud in his performance of Johnny in American Idiot, which just opened at the San Jose Center for Performing Arts (Broadway San Jose). Given the relationship between American Idiot, which premiered in Berkeley, and the Bay Area, such connections resonate. Nee's physicality and crisp choreography were one of the highlights of the show. However, the differences between this production and the previous tour are so great that they raise significant questions.
The heart of American Idiot lies in its visceral visuals and music. The audience needs to be flayed by the intense rage against "nihilistic mind-fuck America" before it can be opened to the sweetness that's at the core of this play. Navigating the distance between these emotional extremes requires every iota of technical as well as artistic talent – and it was here that this non-Equity tour failed.
I spent the first half hour of the production wondering why elements that were overwhelming on the Equity tour two years ago seemed merely ordinary in this non-Equity production. The Equity tour was a theatre technician's dream, with effects that could mystify even an advanced student of technical theatre. This version lacked that. The scaled-back set with fewer flat screens packed less of a punch.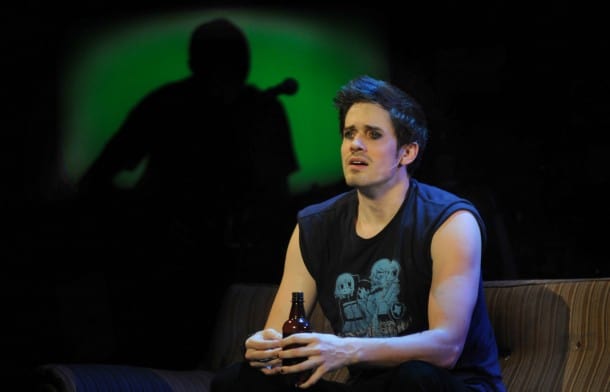 Since the set failed to overwhelm, extra attention was drawn to the musicians and the choreography. This remains some of the smartest music of any musical in the past twenty years or so – and the musicians of this tour left nothing to complain about. The choreography was interesting to watch and flawlessly executed. However, its canned, over-toured quality had the authenticity of pre-distressed jeans.
ALSO SEE: Terminus, Angel Heart for the stage
It is entirely possible that American Idiot is one of those ephemeral miracles that can't exist outside of a particular point in time. Since this show demands a level of personal involvement, how can that involvement be reproduced when the opening news segment is dated footage of George Bush? It begs the question as to why some shows effortlessly transcend time and others don't. It's worth asking whether this one can – or even if it should. Its strength lay in its immediacy – which only becomes attenuated over time.
This could be an altogether impossible demand to put on a show – one that we certainly don't demand of others. However, American Idiot touched audiences in ways that few shows do. While it's not ready for the time capsule yet ("Good Riddance (Time of Your Life))"  will be raising tears for as long as there are parents), we need to think about what gives some shows staying power – and why other equally excellent ones remain ephemeral.
More Bay Area Stage by Cy Ashley Webb