On the train into Berkeley, I found myself editing old lecture notes about Theodor Adorno. Adorno responded to the trauma of World War II, and intellectually took us into the post-war world. As a musicologist, he talked about what is going on in works of art and how they reveal the truth. When not writing about music, he examined the permeation of structures of oppression at all levels. He's very different from other 20th century political philosophers and historians who focus on Hitler, Stalin, and other leaders. Instead, Adorno examines the impulses of the rank and file.
This inadvertent housecleaning provided a place which which to begin framing a response to The Arsonist, which just opened at the Aurora in Berkeley. Written by Max Frisch in the late 1940's and motivated in part by the communist takeover of Czechoslovakia, the play examines the response of the upstanding Mr. Biederman and his wife Babette to a group of arsonists who move into their attic with the intent of blowing up the neighborhood. While Biederman blusters "I won't let strangers into the house," he remains locked in a 1950's politesse so blinding that he  finds himself giving matches to the arsonists. In many ways, he's an interesting extension of  Adorno's rank and file.
What I didn't count on was how laugh-aloud funny this translation by Alistair Beaton would be. At first, we're confronted by the guardians, firemen who are "well disposed to the well disposed." They act as a comically resolute Greek chorus in turnout gear, intoning "Woe is us. Woe is us."  Ever vigilant, they're the first to speak to what might happen if "flames rise to the point where nobody knows how to put out the fire."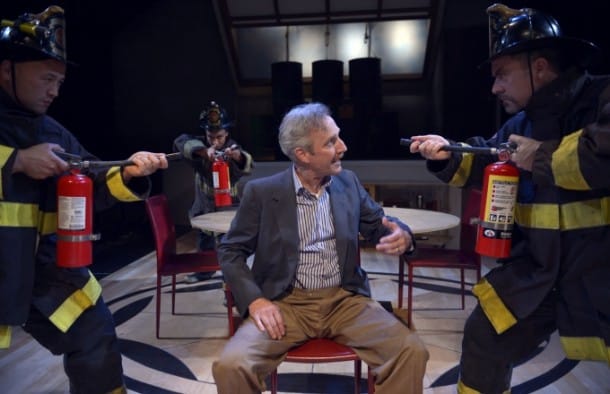 While press releases for this show suggest a dreary eastern European drama, nothing could be further from the truth. The comic timing of arsonist Michael Ray Wisely (Schmitz) is only topped by that of Dina Percia (Anna the maid) who does more with her eyes than others do with their entire body. Dan Hiatt walks a fine line to deliver a likeable Biederman with whom the audience doesn't get too impatient. He needs the audience's sympathies when he asks "in my place what would you have done and when?"
ALSO SEE: Totally Mod: 'Being Earnest' at TheatreWorks
Unlike many other cautionary tales  written in response to Nazi or communist regimes which stand at the edge of being dated, this work remains vital. The questions posed as to what happens when one becomes "so used to the odor of evil" are ever relevant as we, Adorno's rank and file, navigate a media in which political machinations are so omnipresent that our sensibilities dull.  Just totalitarianism of the 20th century depended upon a measure of complicity from the masses, complacency becomes complicity in the 21st century and brings its own consequences.