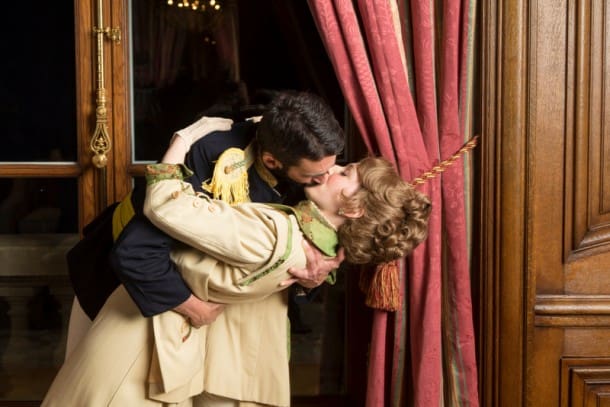 The Hillbarn Theatre production of A Little Night Music hints at the energy that inspired New York Times reviewer Clive Barnes to to describe the 1973 original as "heady, civilized, sophisticated and enchanting. It is Dom Perignon. It is supper at Laserre." If the Hillbarn can't quite deliver on the total package, it's important to remember that even Barnes was a little over the top in his review. So while this production may not be a mixture of Cole Porter, Gustav Mahler, Antony Tudor and just a little of Ingmar Bergman" as Barnes opined, if you close your eyes, you can easily see what prompted Barnes to proffer such superlatives. This alone is quite amazing, given that the story is produced on such a tiny stage.
The strength of this cast was evident from the very beginning as Leah Kalish (Fredrika Armfeldt) drank in the dancers, divining clues to adult life. Kalish was a delight throughout the entire production. Cameron Weston (Fredrick Egerman) and Lee Ann Payne (Desirée Armfeldt) were perfectly paired, drawing on the sophistication that of which Barnes spoke, while having fun with the ridiculousness of their situation.
William Giammona (Carl Magnus) and Alicia Teeter (Magnus' wife) were a wonderfully incoherent contrast to the urbane. Weston and Payne.  Giammona's performance as the humorless dragoon was laugh-aloud funny. Likewise, Teeter strategically leveraged her dispassionate control to pull off moments distinct passion. This injection of contradictory elements is unmistakably Sondheim; it leaves the audience feeling that they're watching something particularly smart – which indeed, they are.
Despite an excellent cast, the energy was uneven, making the first act overly long. Act two was stronger, moving faster toward resolution. While West and Giammona were invariably witty, they were not enough to carry the show. Part of the issue was the tiny set. While Hillbarn has pulled off miracles (such as their 2010 production of Chicago) in this idiosyncratic space, here it's easy to feel psychically spot-welded to center stage.
A Little Night Music runs through June 2nd. It marks the end of the 2012-2013 Hillbarn Season. Their upcoming season begins with Spamalot.