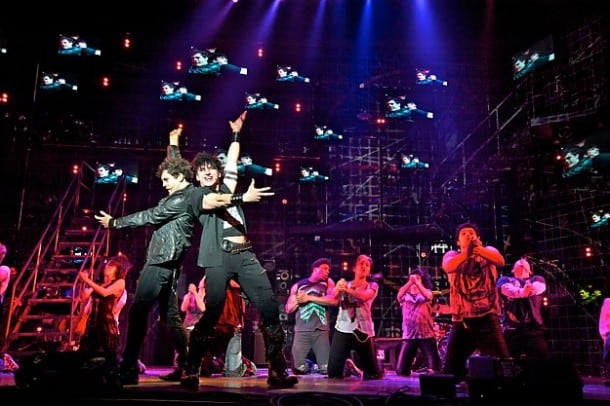 BONUS: Listen to a live track recorded this week from a San Francisco performance of American Idiot! (see end of article)
From the opening notes, American Idiot lashes out with an intensity and betrayal that doesn't stop until after the final curtain when the cast, en masse, offers up "Good Riddance (Time of Your Life)," leaving the audience in a proper state to leave the house. This was by far the most compelling performance I've ever seen at the Orpheum.
Shortly before he died in the early '80's, Francois Truffaut observed that film was important because politics had stopped being a source of meaningful social discourse. Extending the spirit of Truffaut's remarks to all the performing arts, his observations are even truer now, as our toxic politics turned into a game of mutual destruction that's soul-destroying for bystanders to be caught up in.  As always, the arts provide a better indicator of what is important – and nothing is more indicative of our current malaise than American Idiot.  Although Bush Jr. figures prominently in opening footage from the dozens of on-stage monitors, the material quickly transcends the political,  and offers a withering commentary on "subliminal mind-fuck America."
The direct lineage to Tommy is obvious to even a casual listener – both with respect to subject, and style. While Tommy will always be important because it was first, as opera, it's been eclipsed by its progeny. As much as Pinball Wizard yields up one generational anthem after another, it also denies entry with its coldness. While a comparison between Tommy and American Idiot would be an interesting exercise, such is beyond the scope of this review. Suffice to say, American Idiot is far more effective because it presumes that the audience are participants on some level. Tommy was cold; it didn't assume the audience was as isolated as the Pinball Wizard. American Idiot assumes that everyone is an American idiot. In this way, the anthem to alienation embraces us all.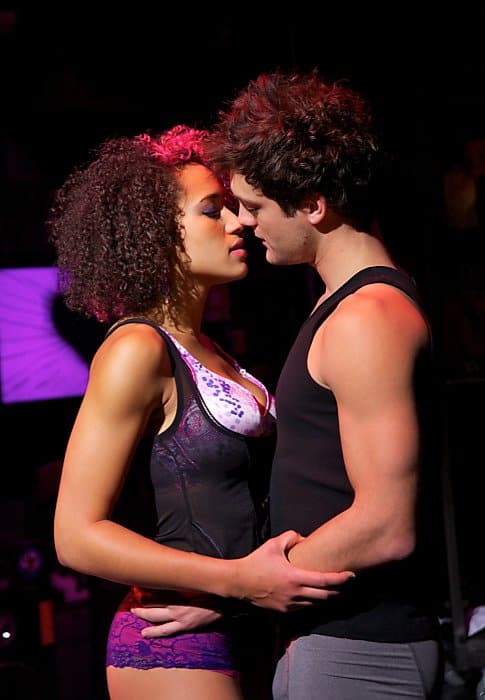 On another level, American Idiot is a theatre technician's dream, with effects that mystify even an advanced student of technical theatre. There's so much happening on stage that needs to be unpacked by the observer. Aided by stunning choreography, the effect overwhelms.  I immediately gave up trying to take it all in, choosing instead to focus intently on particular details. Because of this, it's entirely possible for two people to come away with very different visual experiences. Artistically, this could look like so much busyness, but such isn't the case here.  Because it's so well done, the show merits repeated viewings – which I'll be doing when I go back next week.
An astute observer noted that if you weren't a fan, it could be easy to miss the plot altogether. While there is truth in that observation, it's not as damning as it seems, especially when compared to other operas. Just how nuanced an understanding does the The Ring of the Nibelung yield up upon the first listen?  That said, the nihilistic intensity of American Idiot is as readily apparent as the destruction of Vahalla in the final scenes of Götterdämmerung. This is not to force non-existent parallels between Wagner and Green Day;  doing so would be a profound misunderstanding of both. However, as an opera, American Idiot can be taken just as seriously.
I'd long rued missing American Idiot when it first opened at the Berkeley Rep in 2009. this will be remedied when I return for a second take before this production at the Orpheum closes on July 8th.
LISTEN: Good Riddance (Time of Your Life)
The cast of American Idiot performs a surprise live encore at the SHN Orpheum Theatre.