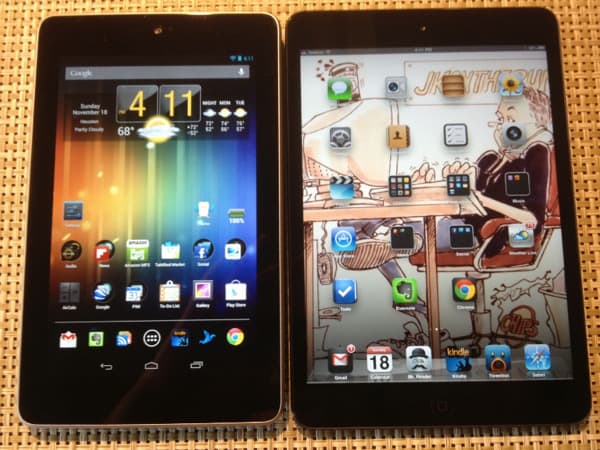 Apple and the iPad Mini have their work cut out for them. This summer Google is expected to out an update to its wildly successful Nexus 7 tablet. No doubt, it will come with a faster processor (Qualcomm), more memory, a better screen. And, in keeping with the ever competitive world of tech, we can also expect a price cut. Word is Google will slash the Asus-made Nexus 7 2.0 (Plus? Prime? Perfecto?) by 25% – that would make the popular tablet only $149, and the cheapest brand name tablet in the known universe.
Meanwhile the iPad Mini sells for $329. Though Apple has found moderate success–with some of it coming at the expense of its full-size sibling–Google's pricing strategy could put pressure on tablet competitors, most notably the Mini (which features a 7.9-inch display).
We've heard before about Google's "zero margin" strategy. Amazon, too, plays a similar game. Get a device into the hands of a consumer, eschew short-term profits for the potential for long-term ecosystem gains. For Amazon that means selling music, movies, books — tonnes of content. For Google that means selling content and, most importantly, ads; the more eyeballs the better, especially if mobile based.
I predicted we'd see $99 tablets by Christmas 2011. It didn't happen. I rode Moore's Law too aggressively on that call. Though far from official, it's not unrealistic to expect marquee tablets such as the refreshed Nexus 7 to hit the $149-159 range by summer. As the early mover, Apple could command a tablet premium in 2010. Since then, Android tablets have closed the gap, both in terms of range of feature set, and ease of use. What happens after early innovation becomes commoditized and early profits skimmed? Typically: price wars.
CLINT ON MOBILE

Facebook Home looks promising – How will Apple respond?

Google: Jelly Bean running on 1 in 4 Android devices
I'm in the market for a smaller tablet. My mother-in-law, it turns out, has discovered the addictive joy of a certain game called Angry Birds. It seems my Apple iPad is not only an iSitter for youngsters, but also a suitably fine companion for those who love reading Chinese news while vacationing in the Baja. Because I've always found the iPad a little too big for travel, I'm thinking of going small – maybe a Nexus 7 2.0, or an iPad Mini (with Retina?). Come summer, potentially being able to buy two Google tablets for the price of one Apple tablet makes that decision remarkably easy.