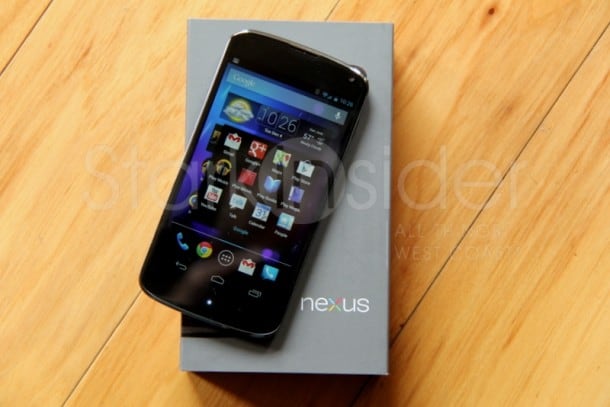 My Android experience forever changed when I made the move from the trusty (and extremely well built) Motorola OG Droid (2009) to the Samsung Galaxy Nexus (2011). Gaining an extra inch of screen (from 3.7- to 4.7-inch) was a major breakthrough for getting the most out of the phone- not to mention the improved processor, and slick Ice Cream Sandwich operating system upgrade. Hail Holo!
The bump last year from the GNex to the Nexus 4 wasn't quite as monumental; what LG had done with its first at bat with the Nexus felt respectable, but certainly far from jaw dropping.
One thing I came to really appreciate about my experience with the last two Nexus devices: the large screens.
After spending a few years with a 4.7-inch screen, using anything smaller feels cramped. It's like going back in time, when cell phone displays were not a whole lot bigger than postage stamps. Or maybe it feels like a bit like switching back to standard definition after being spoiled by HD.
Whenever I pick up my wife's iPhone 4S (invariably to perform software updates she ignores) I marvel at how tiny the thing is: "How can you live like this!!!?" I wonder.
ALSO: What's next for Apple?
I actually never thought I'd say this, but I hope the Nexus 5 comes with at least a 5-inch display. Even bigger would be better. 5.2-inch? Yes. Sounds great.
The latest N5 rumors, however, have the screen size going the other direction. That it will be smaller is gaining momentum amongst Android circles. It would mark the first time in the history of the Nexus brand, that a screen would get smaller with a new model:
Nexus One (early 2010) = 3.5-inch display
Nexus S (late 2010) = 3.7-inch
Galaxy Nexus (2011) = 4.7-inch
Nexus 4 (2012) = 4.7-inch
Nexus 5 (2013) = 4.5 inch? (please no!)
I'm not sure why Google would decide to reverse directions when it comes to size. One possibility that comes immediately to mind is the Apple iPhone. It's the best selling smartphone of all time (though the Samsung Galaxy S III recently overtook it for a few quarters last year). Nexus? Not so much. Despite the stock-outs at launch, the Nexus 4 has not sold in iPhone-like volume. Maybe the buying masses prefer the smaller 4-inch screen found on the iPhone. Hence the next Nexus should be smaller as well. But–the head scratcher–look at how well the 4.7-inch equipped S III is selling. No problems there.
If Google goes smaller, it would be bucking the trend. Both HTC and Samsung have gone bigger with their latest flagship Androids. The (gorgeous) HTC One has a 4.7-inch display, and the feature-laden Galaxy S 4 comes with a 5-inch HD beauty.
SEE: Interview: Steve Wozniak on the history of Apple, voice recognition and his post-industrial business card
Long-time Stark Insider readers know I'm a smitten Android user. Android notifications are (by far) the best in the business. Home screen customization is also tops. And just about everything about the OS feels more modern, powerful when compared to the aging iOS. Nexus 4 is with me for work and pleasure 7/24. I do everything on it – schedule meetings, check up on social networks, review proposals, navigate Bay Area roads, follow the NHL (Sharks, wake up mes amis!), and even edit short documents. A bigger screen would benefit every single thing I do on the Nexus. I'd even be willing to sacrifice a minor bit of batter life in exchange for a screen 5-inches or larger.
If N5 comes it at 4.5-inches, I'll be skipping this round and probably looking at the S 4 or some other large Android, maybe even the Note III.