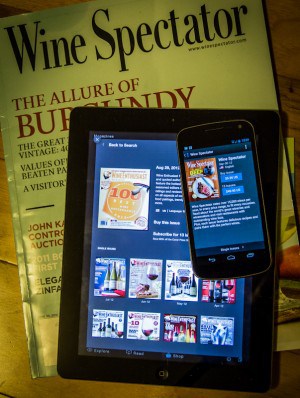 Tablets are great consumption devices. It does sound odd to use the word 'consumption' in that context. Really, no eating is involved. But for those who like to read — news, books, magazines, RSS feeds — they really are a boon. When I travel I can now take tomes of material never before possible, unless I were to check-in a hockey bag full of just reading material. I subscribe to the superb digital version of BusinessWeek, and am enjoying Next Issue. But what about wine? What's on offer, and is it worth your subscriber dollar?
I had one of the original Kindles, but there really is no comparison to the Apple iPad (unless you need to read outside on a sunny day) or even as I've discovered the surprisingly serviceable Galaxy Tab 10.1, and even its little brother the Tab 7. These are versatile devices and serve as more than just eReaders, of course, so there's no shortage of distractions … Wow a Twitter mention by Engadget! About James Bond no less! Drop everything! … as you try to stay focused on finishing one of those summer reads (the highly recommended love letter to San Francisco Season of the Witch by David Talbot which is taking far longer to finish thanks to said distractions).
When it comes to wine content, here's my initial wine hit list: Wine Spectator, Wine Enthusiast, Wine Advocate, Sommelier Journal (you have to be careful typing "Sommelier" – spell check insists on "Smellier"), and Decanter.
Of the lot, the only one I currently subscribe to is WS. I used to get WE but I believe it lapsed at some point and I never renewed, though I enjoy the magazine. WA I realize is a newsletter, but I've included it here to see what I discover in my online searches for digital editions.
Wine Spectator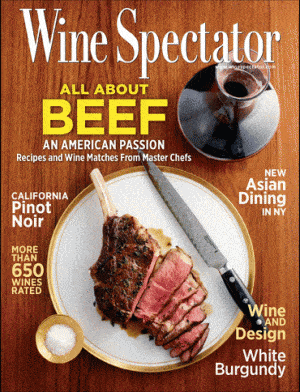 Even though I'm a Gung-ho tablet slinger, I appreciate the old school charm of WS and its atypical, large format. It just looks pretty that magazine. I'm not sure if the print edition is long for this world, but I still enjoy having various issues carelessly strewn throughout the house. And, yes, I admit, I'm a hopeless ginger and insist on skipping straight to the scores at the back when a new issue arrives. Guilty as charged… and loving it.
Decanter, have it be known, is a cheeky one. Robbie Williams in a tux with Harlan in one hand, and Nicole Kidman in the other… or something like that.
Here's the rub.
I subscribe to WS. But the digital version is separate, and requires a secondary subscription.
In their eyes, I'm not really a customer. Rather I'm a bit of a patsy, looking to be milked twice over. In the words of Def Leppard Love Bites… and so does Wine Spectator because they charge us wallflowers twice for the same content in a world that is increasingly moving digital and online. Yes, there's some lightweight paraphrasing going on there. Granted, Spectator is not alone in this antiquated approach – scores of others do it. BusinessWeek is not one of them. Neither is The Atlantic, Consumer Reports. Someone correct me if I'm wrong but I could find no way to enter my existing WS subscriber credentials and receive the digital version.
Zinio: $49.95 US (link – sans affiliate pimping) – available on iPad, Android, iPhone, Mac and PC.
Google Play Store: N/A (Google just recently unveiled its magazine section alongside the launch of the superb Nexus 7 tablet; look for more content over the coming months).
iTunes: N/A (WS does have an app, however, which you can read about here).
Verdict: No love for existing subscribers. With Spectator you need to choose print or digital. And if you prefer the latter, Zinio is the only game in town – but a very good one at that.
Wine Enthusiast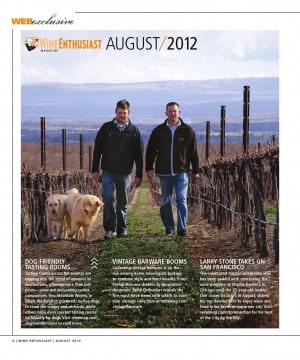 These guys are a bit like Avis. They definitely try harder. They're likable. They're relentlessly scrappy. Yet being #2 they walk in the shadows of others. I'm not sure I completely understand why. Spectator does have the heavyweight "brands" when it comes to marquee wine writers here in the U.S., but WE is respectable nonetheless. Maybe it's the incessant need to include the over-the-top ads for wine racks and those Vinturi-type gizmos; and the never ending need to direct us to their online store. I've met Adam and Sybil Strum on a few occasions here in the Bay Area. Both are gregarious, charming. They hold those Toast of the Town soirees – events you've possibly attended, but no doubt at least heard or read about in a mailer. Stark Insider takes us to many of these sorts of foodie/oenophile events and I will say that ToT is right up there. If you're around Napa you're likely to also run into Adam at top tier auction events such as Premiere Napa Valley.
It's worth noting that California wine critic Steve Heimoff has become a blogging anti-hero in his own right with his of-the-people, open style of writing resulting in a tremendously insightful and enjoyable blog (though sometimes overly curmudgeonly when it comes to social media – maybe he thinks of it as "skeptical" and that might be fair).
Zinio: $12.99 for 13 issues (1 year) (link).
Google Play Store: $12.99 (1 year) with free trial available (link). Back issues $2.99.
iTunes: N/A
Verdict: Wine Enthusiast is the value play of the lot. Any casual or serious wine drinker should definitely pony up and this one to the subscription roster. Between the two services I'd likely go Zinio, only because it's cross-platform. Unlike purchasing from the Google store, that gives me the flexibility to read the magazine on an iPad, or an Android. If you have Nexus 7 though and don't need cross-platform compatibility snag it on Google Play.
Wine Advocate

MORE: Stark Sips Wine Blog
Okay, I was just putting Robert Parker's industry warping newsletter to the test by including it here, merely to see what I could find in the digital space. Besides, no list of wine media could ever be complete without referencing The Wine Advocate. TWA is head and shoulders above the rest in terms of influence. I wonder if a nextgen RP awaits in the wings somewhere?
A search for "Wine Advocate" on iTunes yield no results. Same on Google Play Store. On Zinio, the first result is for Wine Enthusiast. Punk'd!
Sommelier Journal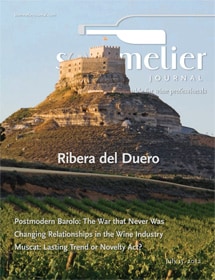 Now we're going deep. Sommelier Journal is definitely not for those simply looking for scores, personality driven exposes, and regional profiles. This is all about canopy management, the fermentation process, terroir, and the sort of in-depth technical stuff that likely 95% of the wine-drinking public doesn't care about. If you're hardcore, or in the industry, or just love to educate yourself about wine, though, it's a most welcome — if occasionally dry and dead serious — resource.
SommJo (ridiculous abbreviation I made up, just to see if it works… I think not) is a small operation, and not surprisingly not available via digital distribution; as far as I can tell at least. In fact you can even only subscribe via check. Yep, these guys are old school Wine Country. Gotta love it. Still they may want to look at the Zinio model. Since I'm assuming they're already laying out the magazine digitally somehow, the upload process to Zinio might be straightforward. But who's asking me for advice. I'll just say this, if you're serious about wine, give Sommelier Journal a once over.
Web Site: Online access for $11.99 per issue. (link)
Decanter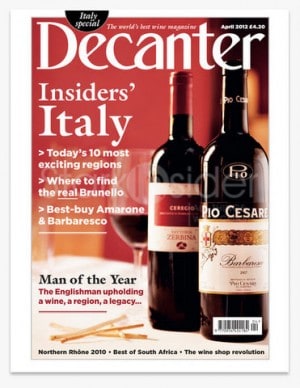 Decanter have it be known is a cheeky one. It's quite simply The Best. The Definitive Source. It's also Authoritative. And even though the London games have wrapped, the spotlight still shines brightly here. Because, this is Decanter. Robbie Williams in a tux with Harlan in one hand, and Nicole Kidman in the other… or something like that.
Zinio: $49.62 for 12 issues (Android/PC), and $54.99 (iPad). (link, or search for it from within the Zinio app)
Google Play Store: N/A
iTunes: N/A
Verdict: Once again, Zinio is the only choice for those looking for some glass-half-full foggy sunshine from our friends across the pond. I'm not sure why it's cheaper on Android, probably the result of a currency conversion difference or perhaps it's because iPad buyers just have deeper pockets in general?
My Wine Magazine Flight
My lineup for 2012 is going to be Wine Spectator (already a print subscriber), Wine Enthusiast (new via Zinio), and Decanter (new, also via Zinio). Also, I will to continue to enjoy cherry-picking the occasional Sommelier Journal article made available on their web site outside of the paywall.
As far as I know, all these digital versions are non-interactive. That means no clickable charts, or dynamic images or charts, etc. like those that you'd find in Popular Science, Car & Driver and Wired. I could be wrong about that, and I'm going to continue my adventures in digital wine magazines so stay tuned for further updates. Meantime, there's always a steady stream of feisty wine blogs to quench one's thirst for all things fermented – however, for that you're on your own, it's a jungle out there. It's all fun and games until someone loses an eye, or a wine blog award.
If I missed any of your favorites, let me know in the comments. Salut, and happy reading!