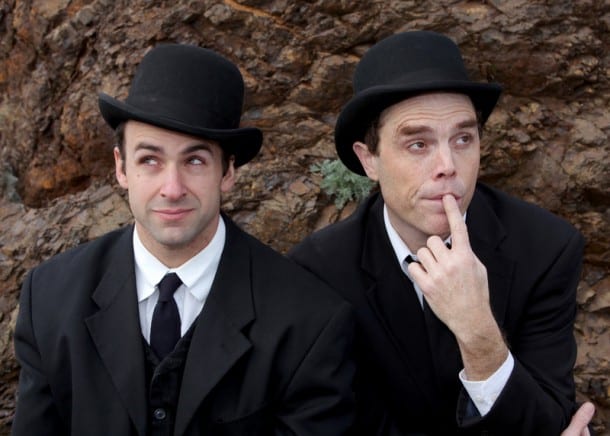 We close out the first month of 2013 with more Bay Area stage – we wouldn't want it any other way. On the Stark Theater Radar this week: openings at Marin Theatre Company, Magic Theatre, and Aurora Theatre:
Waiting for Godot opens January 29 at Marin Theatre Company.
Se Llama Cristina on January 30 at Magic Theatre in San Francisco.
And Our Practical Heaven January 31 at Aurora Theatre in Berkeley.
As we're wont to say around here: let the show begin.
When we started Stark Insider seven years ago our suspicion was there was a growing gap in mainstream coverage of arts and culture, as well as food and wine. Being in Silicon Valley, I figured that there was an opportunity for a site that would mix a few of our favorite things into a fun, inspiring (hopefully), eclectic lifestyle stew. Hence our focus on theater, food/wine and tech. Recently I found myself Instagramming on my Nexus 4 while drinking a Napa Chard at the American Conservatory Theater in San Francisco. Surely, I thought, I'm not alone in this endeavor.
Backstory aside, Team Stark will once again this week be making our way up and down the peninsula, and across the Bay Bridge over to Berkeley (and the Golden Gate this time too for a visit to MTC up in Marin).
So far the the theater season has been, uhh… shall we say, interesting. That the plays are so varied and unpredictable is yet another reason I so enjoy the stage; you never know what's in store when the house lights go down.
Wicked at the SHN Orpheum is a sure-fire hit, a real crowd pleaser. Broadway bubblegum? Probably. But it's a polished, entertaining affair.
4000 Miles at A.C.T. is not one of my favorites – despite sharply drawn characters, in my review I noted the "uneven acting, frumpy pacing, and awkward scene transitions."
Likewise Cy Ashley Webb was less than enamored with TheatreWorks' Somewhere. "Although comic timing of Tony Award-winner Priscilla Lopez (A Chorus Line) elevated this work, speeding it forward, even her phenomenal skills couldn't entirely salvage the weakness of the script," wrote Cy in her review.
Berkeley Rep staged a colorful, inventive new work in Troublemaker, or The Freakin Kick-A Adventures of Bradley Boatright. From the review: "Despite its comic book pretense there's a sharp, no-holds barred edge to the writing. Ultimately we're reminded that we don't necessarily need to flee to French Canada (Poutine, hockey, syrup and all) to find meaning in our lives."
It's an incredible privilege to be surrounded by so much quality theater here in the San Francisco Bay Area. I hope to see you at the show.