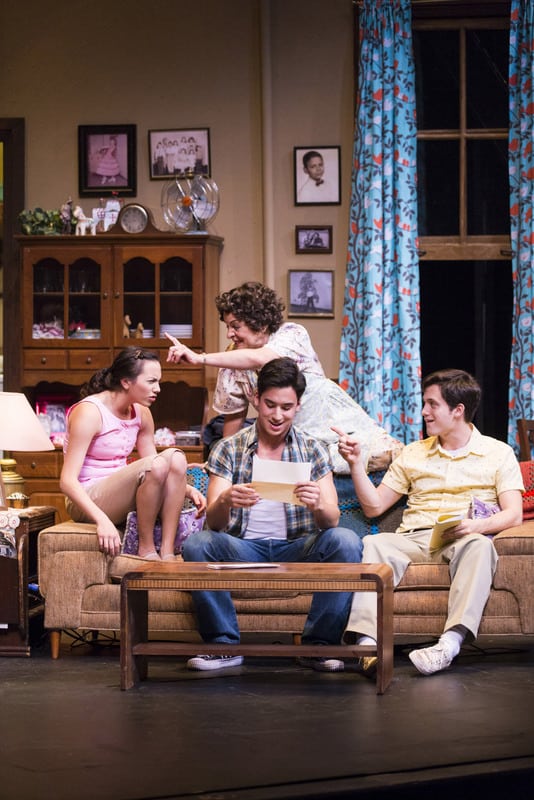 Somewhere stars Eddie Gutierrez, Michael Rosen, Priscilla Lopez, Michelle Cabinian, and Leo Ash Evens. These five bring incredible talent to this play, which offers a window into the world of pre-Lincoln Center Manhattan. Watching them dance across the tiny Candelaria living room on stage at the Mountain View Center for the Performing Arts was one of the better moments in south bay theatre. However, the vehicle for their talent, a lengthy comic drama whose first act alone ran one hour and twenty minutes, had serious flaws.
TheatreWorks prides itself on bringing new works to the stage. The risks of this are enormous, both artistically and financially. They've brought us funny, sensitive works that touch our hearts. Not all risks will pay off – and, unfortunately, the script of Somewhere is not one of their winners.
Somewhere was written by Matthew Lopez. The lengthy story presents the Candelarias, who argue with such passion across the dining room table that they remind me of my own family. En famille, they usher, take acting lessons, dancing lessons, appear (or not) as extras, all in the struggle to appear in the movie version of West Side Story. The script presents a two-dimensional trope that distinguishes the non-dreamer Alejandro (Michael Rosen) from his dreaming mother and siblings. Made to feel second rate for working 80 hour weeks to support his family, Alejandra struggles to balance their hopes with a shot of reality. This idea might be a nice tangential note to a script, but it's inadequate to support a show of this length.
This play premiered in 2011 at The Old Glove in San Diego, and was brought back to TheatreWorks to breath a second life into this work as the script was rewritten and reimagined for the Theatreworks' stage. Although Robert Kelley's notes speak of the constant script changes, substantial editing is still needed, as this work ran long, the whole dreaming vs. not dreaming trope was overstated and oversimplified. Although comic timing of Tony Award-winner Priscilla Lopez (A Chorus Line) elevated this work, speeding it forward, even her phenomenal skills couldn't entirely salvage the weakness of the script.
What I took from this was an appreciation of Eddie Gutierrez, Michael Rosen, and Michelle Cabinian and choreographer Greg Graham who brought the dancing Candelarias to life on such a tiny stage. Rosen's role was perhaps the most difficult because his character Alejandro presents the most tension, as his emotions are tightly controlled. I'll be going out of my way to catch all of these actors in future productions. However, this work did not serve their enormous talent.