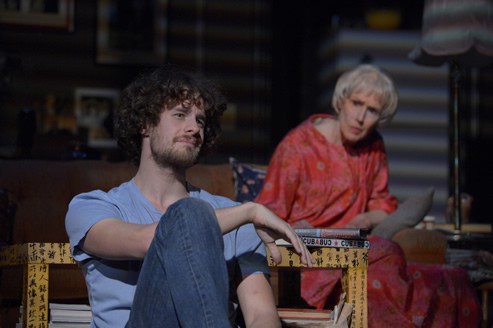 "Being a communist was like recycling."
Leo (Reggie Gowland), a hippie challenged in ways of love, will do anything to bed a girl. Distancing himself from his family's political views is no easy feat; after all, he's living with his acid-tongued grandmother Vera (Susan Blommaert) in a cramped New York City apartment and is surrounded by historical works. So when the 21-year-old downplays his family's political past in hopes of scoring with a flirtatious and drunken firecracker named Amanda (Camille Mana), we realize that his life truly is in a moment of crisis. Then again maybe he's just emblematic of a generation growing up with massive unemployment, meme-driven culture, and endless global instability.
There's two other strong scenes in A.C.T.'s production of 4000 Miles. One involves getting stoned. And the other a beautiful monologue about loss set against streaming moonlight.
4000 Miles opens with Leo's arrival at his grandmother's book-ridden Greenwich apartment. He's suffering in just about every way possible – love, family, friends. Though he's dipped the rear tire of his bike in the Pacific Ocean, there's a secret reason why he hasn't done so in the Atlantic. And so begins a journey of discovery as both he and his grandmother, whom he likes to call Vera, adjust to living together. Inner demons slowly reveal themselves.
Unfortunately, this play never gets off the ground.
Opening night had me wanting for some energy, for something to happen. Instead, we get sharply drawn characters, but uneven acting, frumpy pacing, and awkward scene transitions. Characters randomly appear at the apartment, and significant amounts of dialog relate to off-screen actions and characters which reduces the drama in the here and now.
Atypical of A.C.T., the set is literal. It's certainly well designed and detailed, but aside from that there's little to accentuate the drama. A large couch dominates the room, and can't help but make us think of every major TV sitcom in the last two decades.
I'm not sure if it was case of opening night jitters, but this may well be the first time I can recall such stunted pacing in an A.C.T. production. Hopefully the actors will find their rhythm soon enough, though it could just be that they're doing the best they can with the material.
According to Playwright Amy Herzog, Leo is based on one of her cousins. And there's pretty strong reason to believe that she draws from her experiences with her own grandmother (there's a sweet photo of the two on page 13 of the program) in creating the dialog. On stage it comes across well – there's never a moment that you don't believe these characters are genuine in their actions and words. There's an edginess too. Words like "pussy" (not that cat, sir) and a few f-bombs do well to not only stir up some laughs, but also remind us that these are hardened people, who find relief in navigating life and the aging process in frank ways. But I just wish there was a keener sense of momentum. There are bright moments, but ultimately sparks do not fly.
StarkIn

Bike to the show – in keeping with 4000 Miles' theme of biking, A.C.T. is inviting theater-goers to "bike to the theater" on Jan 17, 24 and 31. Not only will you get discounted tickets, but you'll also enjoy "valet bike parking." Love it!

Playwright Amy Herzog says her grandmother was disappointed she quit acting, and brings it up all the time, "including at my wedding."

Director Mark Rucker directed the cult hit film Die, Mommie, Die! in 2003.

A.C.T. now runs promos and previews on a giant projection screen that floats above the stage while patrons are being seated.