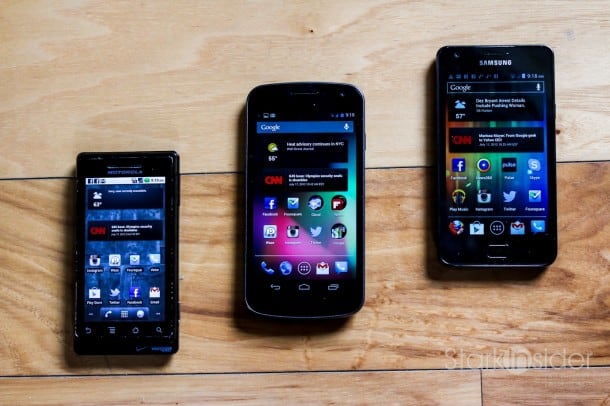 I had high hopes for the Nexus 4. Now that the LG-made flagship Android has landed, and I've had a chance to scrub the specs on the Google Play Store I'm left, well, not entirely impressed.
That's likely because the 2011 Nexus (made by Samsung) — my daily driver since the summer when I ditched Verizon, and went unlocked on T-Mobile —  is still a formidable Android phone. Nexus 4 was supposed to dazzle us, and make the decision to upgrade a slam dunk. Unfortunately, I don't think it's delivered enough sizzle; the one exception being the display which I've heard absolutely astounds (HTC One X or iPhone 5 territory).
Still, there's one of three things happening here: (1) Nexus 4 has fallen short of earning the flagship "Nexus" moniker; (2) my Galaxy Nexus still has legs, and it will take a quantum leap in specs to make an upgrade interesting; or (3) I've overlooked something about the new Nexus that others have not.
Remember this is the "Nexus" brand we're talking about. Us pure Android fans have come to expect greatness. Ground breaking design. Power. Innovative new features. A Nexus should reflect the best of Google, the ultimate embodiment of all its innovation and tech prowess. Sure, we get slightly ornery when, after 12 months, a new Nexus model ships that appears incremental rather than game-changing. That's simply because we expect Google to deliver industry best kit. Once again, I suspect this is an industry wide phenomena.
Regardless of whether or not Nexus 4 is a great device (early reviews suggest that it most definitely is), I jotted down some notes as to why the upgrade for '11 Nexus owners may not make sense (yet):
1. Android 4.2 OTA will also come to the GNex
The great thing about Nexus devices is Google's upgrade commitment. We get the latest and greatest first. That takes any new features in Android off the table in terms of a reason to upgrade to a new model, such as the Nexus 4.
2. The faster processor may not make a big difference in real use
Yes, the Snapdragon S4 Pro is faster. And, yes, of course, I'm sure we'd all want one in our older Nexus models. But I've never (ever) said to myself while using mine, "Geez, this thing is slow," or "Come on, little brother, load that app already!" I find the A9 plenty fast. With Jelly Bean I find swiping across the home screen incredibly smooth. Launching apps, rendering web sites, playing videos. All fast, fast, fast. Amazingly so, actually, considering this phone is coming up on its 1 year birthday. No doubt I like to hyper-focus on specs like everyone else, but let me suggest it not be a primary reason to consider dumping your Galaxy Nexus.
3. You'll take an unnecessary hit on the trade-in ($200+ loss)
If you plan to get a Nexus 4, then you'll likely want to unload your older Nexus. I checked Gazelle, and $137 is what you'll get for a trade-in. I paid $349 via Google Play for a 16GB unlocked model. That's a $200+ hit in a short time. Sure, I could wade the scrublands known as Craigslist or eBay and eek out a few dollars more. But I do have better things to do with my time, like create posts like this.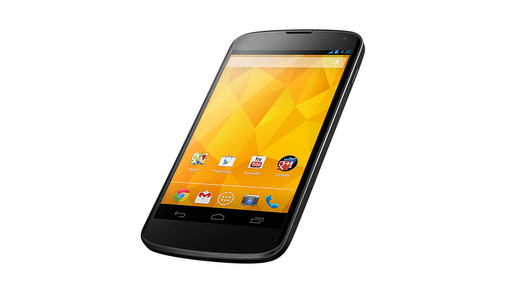 4. Headphone placement on Nexus 4 is not ideal for in-car use
I use the Galaxy Nexus in my car all the time. It's great for streaming Pandora (and Songza, check it out), navigating with Waze, and checking in on social networks/email, etc. Incredibly I bought a car mount for only $5 including shipping (yep, China). My phone sits in vertical orientation. The nice thing about the Samsung Nexus is that the headphone and micro-USB connectors are both at the bottom. That's convenient for running wires. On the Nexus 4, they're split; the headphone is up top, and the micro-USB is at bottom. Not a big deal, but it could make for a spidery look when docked.
Nexus 4 Specs

$299 / 8GB
$349 / 16GB

SCREEN

4.7″ diagonal
1280 x 768 pixel resolution (320 ppi)
WXGA IPS
Corning(R) Gorilla(R) Glass 2

CPU

Qualcomm Snapdragon S4 Pro

SIZE

133.9 x 68.7 x 9.1 mm

WEIGHT

139g

CAMERAS

8 MP (main)
1.3 MP (front)

NETWORK

Unlocked GSM/UMTS/HSPA+
GSM/EDGE/GPRS (850, 900, 1800, 1900 MHz)
3G (850, 900, 1700, 1900, 2100 MHz)
HSPA+ 42

MEMORY

16 GB internal storage (actual formatted capacity will be less)
2 GB RAM

CONNECTIVITY

Micro USB
SlimPort HDMI
3.5mm headphone jack

WIRELESS

Wireless charging
WiFi 802.11 b/g/n
NFC (Android Beam)
Bluetooth

BATTERY

2,100 mAh Lithium polymer

OS

Android 4.2 (Jelly Bean)

SENSORS

Microphone
Accelerometer
Compass
Ambient light
Gyroscope
Barometer
GPS
 5. Nexus 4 doesn't have a removable battery
Shame that. For those who are away from power outlets for extended periods, this could be problematic. The ability to carry a spare battery, or to pop in an uber extended one, is a real plus on the current Nexus.
On the up side…
There are definite pluses with Nexus 4. They include: wireless charging (thumbs up – and Google's wireless charging orb looks sweet), a better camera (8MP), much improved screen (IPS 320ppi), and an HDMI port (meaningless to me). One or many of these features may tip your decision in favor of a Nexus 4 upgrade. But not so for me – well, not unless someone offers me $250 for my Nexus that is.
… but I'm not upgrading (yet)
For now I'm holding the line, and going to ride the Galaxy Nexus for another few months and see what comes down the pipe. I was hoping we would see unlocked offerings from Sony and/or Motorola. Perhaps that's wishful thinking. Despite the gorgeous looking glass with the Matrix-like sparkle, I've never been a fan of LG smartphone design.
Still, it could make sense if you want to break free from AT&T or Verizon
For those of you on an older pre-2011 Nexus, or for those of you on an older Android looking to break free of carrier contracts, then the Nexus 4 could be a tantalizing option. I'd take it over a contract-based Samsung Galaxy S III or iPhone 5 any day of the week.
But the story doesn't end there…
UPDATE 11.04.2012

I admit it: I'm clearly a geeky early early adopter (especially when it comes to Android and as I'm discovering possibly Windows RT too). Of course I couldn't resist the calling of a new, faster phone.

I sold my GNex on eBay, where it fetched $289 (I bought it new from Google in July); far more than I was anticipating. So I'll be among the many hitting up the Google Play Store next week, ready to place an order for a $349 LG Android.

Stay tuned, I'll weigh in on the Nexus 4 and whether it's as great (or bad?) as some are suggesting. Keep in mind, I'm on T-Mobile so the lack of LTE is a non-factor for me. One downside: no more Pogo pins… which means my bedside dock will also be listed on eBay shortly. Tell me, is there a cure for this?