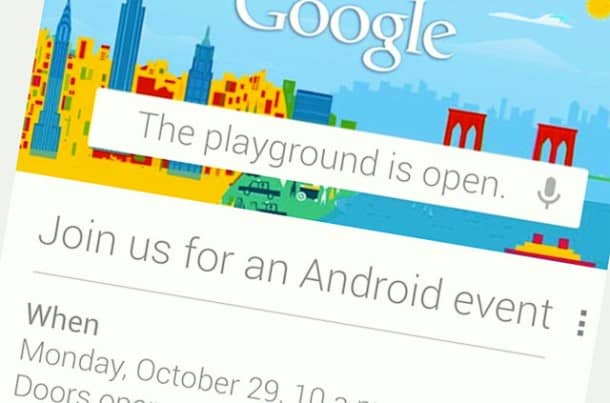 Google and Microsoft will fight for the mic on October 29. That is the day we already know Windows Phone 8 will be announced by Microsoft, and–just hours ago–we learned that Google will use the same date to make an Android-related announcement. Never one to shy away from the limelight, Apple is widely expected to take the wraps off the iPad Mini (I guarantee it) next week. October: call it the Mobile Reboot (Microsoft) vs. the Mobile Incumbent (Google) vs. the Mobile Darling (Apple). It's going to get bloody.
From what we (think we) know, Google will likely announce the next version of the Nexus smartphone, its Android flagship that has been launched about this time every year since its first iteration in 2009.
We've seen leaks of an LG-designed version of the Nexus so there's a strong probability LG will be one of the brands on hand in New York for the unveil. Already a challenged maker of Android smartphones, this would mark mark the South Korean consumer conglomerate's first time to be blessed by Google with the "Nexus" moniker. Based on the past, that would mean a handset running "pure" Android; unadulterated, and not hampered by bloatware or those dreaded skins (HTC Sense, MotoBlur, TouchWiz). It would also mean a phone that receive timely software updates, a rarity it seems these days in the world of Android for anyone but those running Nexus devices.
As we've also heard throughout much of the year, Google may (for the first time) unveil a line-up of Nexus smartphones.
In the past only one vendor has been the anointed the Nexus Golden Child: HTC in 2009 (Nexus), Samsung in 2010 (Nexus S), and Samsung again last year in 2011 (Galaxy Nexus). It wouln't be far-fetched to see Google offer a complete range of Nexus devices in hopes of wooing starry-eyed customers lustily stumbling towards the nearest Apple store in search of an iPhone 5, iPad, and/or iPod Touch (and a $50 sync cable). LG, Samsung and even Sony have been tipped as possible players in this expanded Nexus line-up.
Meanwhile, on the same day Microsoft will launch the highly anticipated Windows Phone 8 platform. Nokia and HTC both have announced new handsets that support the new mobile OS. But I'm hearing Phone 8 isn't so much of a re-imaging of 7 as it is an incremental upgrade. Regardless, expect Microsoft to continue to make inroads in the mobile space, and eventually entrench itself as a solid alternative to Google Android and Apple iOS. And in the enterprise space, Windows Phone 8, Windows 8, and the Surface tablet could make for a powerful trifecta that could please many IT organizations.
I will be most interested in the Nexus device(s) Google reveals on October 29. Over the summer I (finally!) upgraded my 2009 OG Droid to an unlocked Google Galaxy Nexus (HSPA+) which I purchased direct from the Google Play Store. Android on Nexus is an experience not to be underestimated, especially thanks to the "butter" smooth Jelly Bean update which fully delivers the goods. Every glowing review or comment you've read about Jelly Bean is right on the money.
LG doesn't excite me a whole lot when it comes to design. Sony could be a wildcard, and I'd readily welcome their participation as a Nexus player. HTC, too, despite financial headwind, has proven itself a worthy maker of high performance Androids, and a Nexus variant devoid of the overwrought Sense skin would be most welcome (please, give me pure Android). Oddly, even though Motorola Mobility is owned by Google, I'm suspecting it to be a Nexus non-show once again. Shame that. Kevlar, slim body, long battery life … RAZR, I dig you.
My plan: keep an eye on Gazelle and eBay for Galaxy Nexus values so I can begin to plan my upgrade. Not that I feel compelled to upgrade, mind you. The 2011 Nexus is still a beaut and can go toe-to-toe even with the mighty Galaxy S III. Because I'm "unlocked" I'm inclined to try the next great thing in the blink of an eye. Being contract-free does have its advantages. Think of it as rapid-fire date night. I can chit-chat with Sony, with HTC, with LG; and go home with the most well-endowed–burning off guilt, btw, is what gyms are for.
October 2012 is shaping up to be mobile devices month extraordinaire. Google and the Nexus. Apple and the iPad Mini. And Microsoft with Windows Phone 8 (and Surface Tablet now open for pre-order). The Nexus most interests me, but I'm not above saying that for us geeks it's open season.