If you're looking for the very best Android apps, here's 10 that should find your way onto your Nexus 7 tablet, Nexus smartphone (my unlocked Android of choice) or any whatever devices you own that rock the little green robot.
Okay, so these might not be the absolute best apps out there for Android. If they really, truly were I'd have to include pragmatic choices such as Gmail, Calendar, and even the Play Store (it's an app, after all, and a vastly improved one at that). Let's not include those lest this become predictable and staid.
You should know I'm all in when it comes to Android having doubled down on the operating system; a lot of this has to do with the reviews and testing we do on Stark Insider. My current lineup includes an international Samsung Galaxy S II (stellar, running ICS via Cyanogenmod 9), Samsung Galaxy Tab 10.1 (solid, and I prefer its lighter feel in the hand compared to iPad), Samsung Galaxy Tab 7 (ideal size for on-the-go, and reading), Asus Transformer Prime (possibly not as great as many think), and, the most recent addition, a Google Galaxy Nexus (unlocked on T-Mo $30/mo unlimited, and running the brilliant Jelly Bean OS). More on the Nexus here, plus my thoughts on how it compares to the Galaxy S III.
Enough of the pre-amble, here are the top 10 Android apps available today on the Google Play Store.
10. Sigfig (free)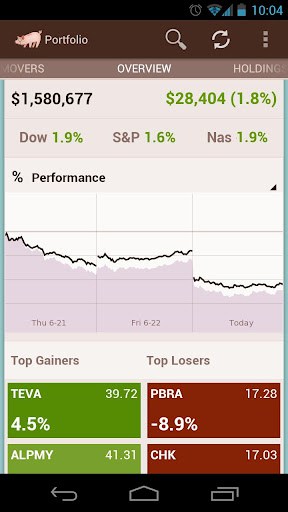 Don't ask me how they came up with the name. Regardless, SigFig (previously WikiInvest) is great for tracking investments on the go. What I like about this app is its support for horizontal swiping (always a plus) for accessing various informative screens: overview, holdings, analytics, movers and advice. It gravitates towards simplicity so don't look to SigFig for performing transactions, like you'll find with eTrade, Bank of America, etc. But for fast, easy-to-read tracking it impresses.
[Download SigFig via Google Play Store]
9. HD Widgets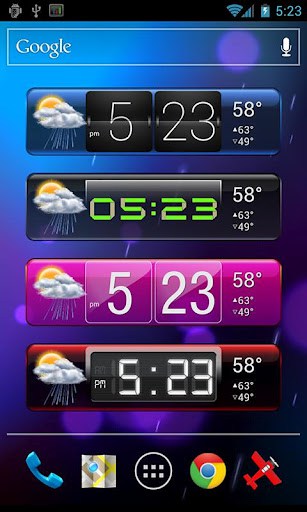 This is a tough call. Widget apps (and launcher home replacements) are a virtual cottage industry. There's a tonne of choice. After testing many over the years, I've narrowed it down to this one and Beautiful Widgets. Both have deep customization and provide several widget sizes, themes, and layouts. What tips my choice in HD Widgets favor are the larger format support for tablets, weather service integration (all the majors are available including WeatherBug, AccuWeather, Google Weather, and Weather Underground). Note that is not my Android home screen above (what's with the red plane?!) – read my full review of HD Widgets to see my Google Galaxy Nexus setup.
[Download HD Widgets via Google Play Store]
8.Flipboard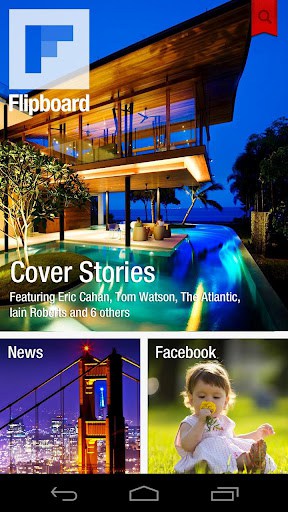 Flipboard is an essential. So handy and beautiful is this newsreader, that it should just auto-install whenever you power on a new Android device. Some of my favorite channels: The New Yorker, Photography Tips, Gear & Gaddgets, Wired, and The Economist. Google Currents, a Flipboard wannabe, is quite good too, but ultimately falls short of greatness.
[Download Flipboard via Google Play Store]
7. News360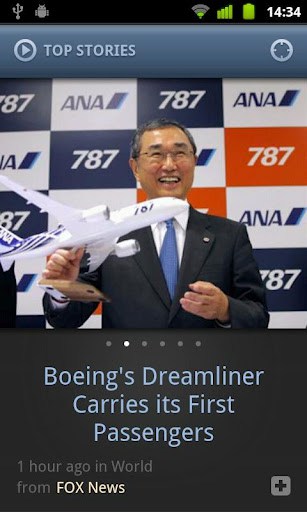 For hardcore news junkies, News360 is the pick of the litter. You'll find all the major sources here including CNN, BusinessWeek, Bloomberg, in addition to blogs. Requisite sharing is readily available by clicking the menu button – I especially like sending stories to Pocket where I can read them at the end of the day. The widget is terrific, and makes for an informative home screen addition. Available in phone and tablet editions.
[Download News360 via Google Play Store: Phone | Tablet]
6. Pocket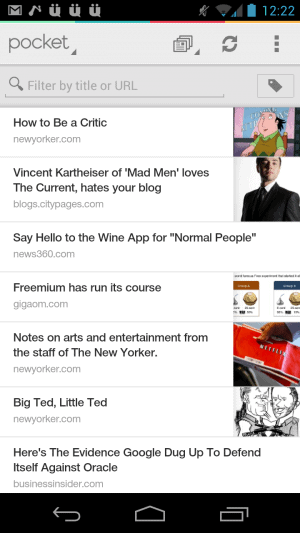 Pocket is tremendously useful. Find a story you're interested in – be it on a web site, a news app such as News360 or Flipboard – but are too busy to read, and click share and send it off to Pocket. I find stories on Pocket ideally formatted. They look great, and rendering is accurate and fast. Google Chrome has a useful Pocket plugin that enables you to send any web page to Pocket with one click.
[Download Pocket via Google Play Store]
5. Waze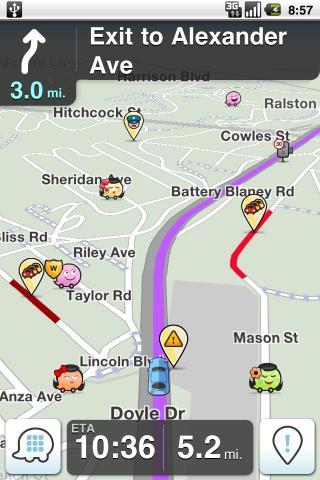 Who knew commutes could be this entertaining? Crowd sourcing has been an unstoppable source over the past few years. Kickstarter, Yelp, Amazon reviews… and so many more all benefit from the "wisdom of the crowd." Waze has applied the concept to GPS-based navigation, and the results are great. I use it almost everyday. I particularly like the alerts for traffic slowdowns, accidents, and police cars (crowd-sourced radar detection!). "Outsmarting traffic, together." You betcha.
[Download Waze via Google Play Store]
4. UberSocial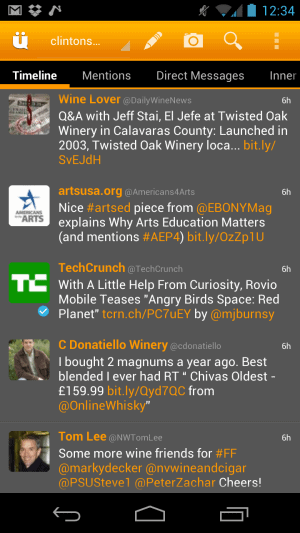 Testing Twitter clients is a favorite past time of mine. Each tends to have at least one strong point. Yet not one of them seems to do it all. UberSocial is as close to perfection as I can find. It supports horizontal swiping (like TweetDeck), multiple accounts, trends, Facebook integration, and all the usual features you'd expect. I particularly like the "inner circle" feature. Use it to enter your favorite users, and follow them noise-free (sometimes I find this column slow to load however). UberSocial is ad-driven but I don't find the ads at the bottom too distracting. One thing I don't like: the pricing model. It's subscription based, granted the cost is only $4.99 per year. Others though are free, or offer a one-time payment for a Pro version. Also, this will be an interesting space to follow what with Twitter's API shenanigans. Also watch for: Carbon for Android. (Yes I really do like that "Tangerine Whip" theme as seen in above screenshot)
[Download UberSocial via Google Play Store]
3. Songza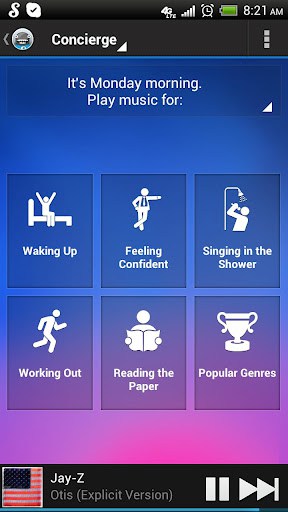 Songaz is the new kid on the block, and joins all the established players such as Pandora, Slacker, Spotify, in the crowded space of streaming music services. Currently, Songza is my go-to music source. I use it all the time in the car, and also at home where I stream it via Sonos. What's a lot of fun about Songza is its "Concierge" feature. Based on time, and day of week, Songza will predict your mood and tee up some tunes. Whether you need "An Energy Boost" or "Unwinding After a Long Day" there's a lot of rich, hand-curated playlists. Look for some fun weekend ones like "Looking at Pictures of My Ex" and "Getting High with Friends." Full Songza review here.
[Download Songza via Google Play Store]
2. Pinball Arcade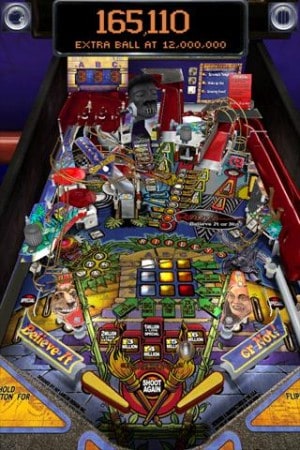 There had to be at least one game on this list. For some of you, I'm guessing there'd be far more entertainment choices – maybe Netflix for example. And given the state of the video console game market, more of are gaming outside the living room. Whenever I want to blow of steam I turn to this pinball app. It's bar none the most perfect simulation of the classic tables you remember from the arcades. They are dead on renditions, from sound effects, scoring graphics, and bonuses. Black Hole is a nasty bugger, Ripley's Believe it or Not a hoot. And Cirqus Voltaire a frenzy. If you really want to the pure experience, however, be sure to add some cigarette burns to the lower corners of your phone.
[Download Pinball Arcade via Google Play Store]
1. ESPN Scorecenter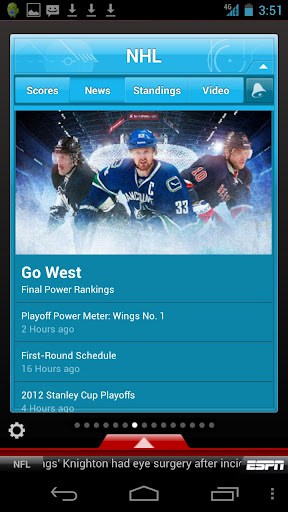 I doesn't get much better. Scorecenter is a must-have for sports fans. I spend a lot of my evenings on the road, covering various events for Stark Insider such as a play, or wine event. I turn to this app to keep me connected. Sharks, and 49ers. That's the dish. Runner ups: ScoreMobile, SportsTap.