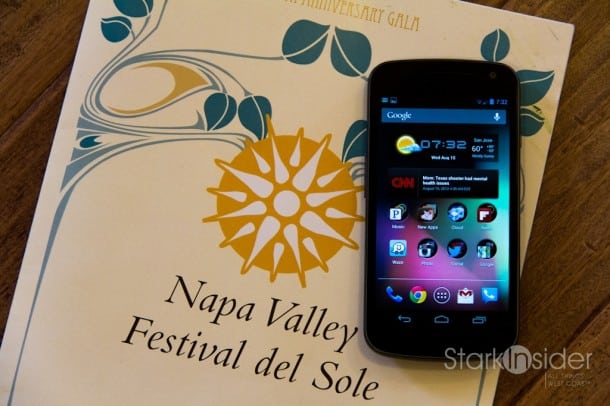 I get asked this a lot lately: should I pull the trigger on a Samsung Galaxy Nexus, or wait? Usually the waiting idea has to do with seeing what Google has up its sleeve with its next flagship "pure Android" Nexus smartphone.
If history is any indication we'll see a new Nexus before the year's out.
Recall past releases: Nexus One (Jan 2010), Nexus S (Dec 2010), Galaxy Nexus (Nov 2011). Wouldn't it be something if Google released a 5-inch Nexus this December running Key Lime Pie (Android 5?) with a quad-core processor? Sign me up. Merry Christmas. I'm not so sure that will happen, but I do know this: it will have "Nexus" in its name, and it will be good, possibly the greatest Android ever. Well, one can speculate.
One interesting point about 2012 in general is the slowdown in the number of Android models. I talked about this earlier this week, and you can get my perspective here.
Ok, about that question then. Do you go ahead and buy a Galaxy Nexus or wait?
For the casual user who doesn't mind Running with the Devil for another two years, then by all means sign on the dotted line with T-Mobile, Verizon or AT&T. You can get a Nexus free if you're willing to commit. Just be aware if you go with the LTE version you'll most definitely need an extended battery, or constant access to a charger.
I'd still go with the Nexus over the HTC One or even the Galaxy S III. I much prefer the capacitive onscreen buttons as opposed to their physical counterpart. And Google finally got it right, there are three simple icons: back, home, apps. Perfect. Gone be the days of wild variation. If you like HTC Sense or the somewhat well received (as far as skins go) updated TouchWiz, then by all means these phones are good choices.
For the power Android guy, or the person that just be on the leading edge, the decision is a little trickier – or fun, it just depends on your perspective on life.
First, here's what we think we know about the rest of the year when it comes to major Android handset releases:
Samsung – probably nothing significant. The S III is a bonafide hit. Sales-wise that should get them through until 2013.
Motorola – the big news here is of course the Droid HD.
HTC – facing financial headwinds, and with the HTC One lauch I wouldn't expect anything new – rumor mill seems to be dead wrt new models out of Taiwain.
Others? Maybe. Sony could have something, though I've been hugely underwhelmed by its existing Androids.  There's always LG. But I suspect most of us short list the big 3, and when it comes to Android that's Samsung, HTC, and Motorola.
I'd be remiss not to at least mention Apple and the iPhone 5. There you go. Mentioned.
But then there's Google.
Word is we'll see a stable of Nexus devices come Thanksgiving. I'm not sure yet if they'll be made by Samsung, as has generally been the case (though Asus was tapped for the Nexus 7 tablet), or if Google will finally turn in-house to its Motorola unit. Regardless, the prospect of a fresh line-up of Nexus smartphones this fall is a tantalizing proposition.
Here's what I did.
My trusty OG Droid (2009) had all but become a senior citizen. A nice one at that. Respectable even. But not about to take down Usain in the 100m anytime soon. I had to upgrade. It was long overdue. I'm partial to Motorola (made in America!) so the Droid HD is definitely on my radar. As is the impending 2012 Nexus, whatever that looks like.
Clint's Nexus home screens

For some reason I get DMs and emails asking what my home screens look like. So here they are. All 5 from my Nexus. I didn't realize this stuff was really that interesting. But, then again, I'm curious too what widgets/apps others are running.

(3) Home, sweet, home. I use my phone mostly for work, but stream a lot of music in the car – check out Songza if you're looking for a good alternative to Pandora or Spotify. The concierge feature is sweet.

(1) My Dad and I. In front of his restored 1967 Mustang. I wish there was a way to rotate photos. There's probably an app for that…

(2) News360. And photo of some unknown actress.

Google Calendar. Of course.

(5) I don't know why I need the weather forecast. And, yes, I'm a lucky guy and keep winning all sorts of cash from Best Buy. No wonder they're struggling financially. (and thanks T-Mobile for opening the spam floodgates on my new line)
Decision: unlocked Google Galaxy Nexus. Unlocked. For $350 I was free and clear. Running on T-Mobile with unlimited data for $30 per month has been surprisingly decent. No complaints here.
So here's my recommendation…
If you're contemplating a carrier Nexus (i.e. not unlocked) versus waiting for the new one, I'd wait. The nextgen Nexus is just around the corner. I don't think you'll be disappointed with the current Nexus (2011). It's a phenomenal phone (though the camera is a sore spot for some). But if you're going to lock down for 2 more years, you might as well wait just a few more months for the new, new Nexus – it will surely be the new king of Android.
For the hardcore guys like myself, just go buy an unlocked Nexus already. Get with the Jelly Bean. In fact, you probably already have done just that and here I am preaching to the choir. If I want to swap out my SIM for the next Nexus, I can easily do just that; selling my Nexus will result in say a $100 loss or so, but being on the bleeding edge with Google's flagship, and being contract free are the way forward in my books. Meantime I can dig through the forums, and see how that Droid HD and nextgen Nexus are shaping up.