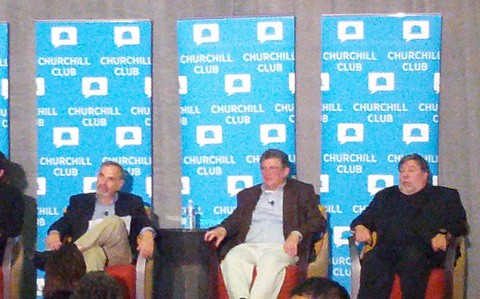 Oh no, not Smell-O-Vision again. Brace yourself, it may be coming to a pocket near you, if a certain legendary inventor come prognosticator is correct.
Steve Wozniak who tonight participated in a Silicon Valley panel suggests that future technology in mobile devices needs to "watch our faces, watch our expressions." Context, he explains, matters. And, "I think smell will eventually be important … eventually."
As we all know, what the other Steve says has become headline-grabbing stuff (on cloud computing: "problems ahead"). So when he spoke at this Churchill Club-hosted event in Palo Alto, everyone in the room leaned forward, listened intently, and Tweeted their favorite moments.
The modern-day GUI as we know it — the mouse, keyboard and icons — has taken us this far, and now voice technology is on the verge of becoming the next big thing. Call it the humanization of computing. Or as New York Times moderator Quentin Hardy eloquently puts it, "In the days of the punchcard we acted like machines. With voice, now machines act like us."
Other panelists included futurist Sheryl Connelly of Ford, scientist Ron Kaplan of Nuance (and former team lead for Bing at Microsoft), and analyst Don Miller of Opus.
Apparently the idea that computers needed to be easier and more approachable was already on the minds of both Steve Jobs and Steve Wozniak in the early days when they were famously working on the Apple prototype (the Apple II that resulted ultimately helped create — along with the IBM PC in 1981 — the personal computer category and revolutionize an entire industry).
"Jef Raskin in the early days told us right in the garage that some extra software can help make the computer easier for others to use… it's that personal feeling. Things are the way we want."
Pandora is too good. I can't use it. I'd be listening to new music all night, and buying songs. I wouldn't get any sleep.
"We called the screen a desktop, because that's what people had in their real lives."
On the idea that our mobile devices are understanding us better:
"My iPhone has hearing – that's something a normal human being has. Also, I can touch it. And wake it up."
Then there was a trademark Siri rant.
"I asked Siri: what are the 5 largest lakes in California?"
"It came back to me with property listings. How did that happen?!"
Other interesting thoughts from the panel:

"Technology is a device we use to escape loneliness." – Sheryl Connelly

"Perfection is not required. The technology just needs to be good enough to get the effect you want. I mean I only understand about 80% of what my wife needs. At 80% the garbage still gets taken out… eventually." – Ron Kaplan
On his perspective on the future of mobile design:
"Everything we build in technology should save us from saying things, remembering things."
"A lot of my friends turned off iAds. I don't want ads! they tell me. But I like context, and we gave up privacy a long time ago."
"It's got to watch our faces, our expressions… It think smell will eventually be important. Eventually."
And, of course, Woz couldn't leave the cloud alone. He wrestled with the idea, denying that he bashed it just weeks earlier (I think it's a love/hate thing like it is for many of us), before launching into a favorite example involving trying to make a successful phone call to his wife Janet. The call fails miserably because of an intermittent Internet connection.
Google also received a love letter.
"Even Google Calendar disappeared on me! It doesn't work like a trusted friend."
And regarding streaming music service Pandora, don't get him started, "It's too good. I can't use it. I'd be listening to new music all night, and buying songs. I wouldn't get any sleep."
But the best line of the night was when Wozniak admitted, "I'm kind of an early adopter."
I'll let Steve beta test that smell technology first.
On scoring the event…

Attending a Churchill Club is not exactly like tasting wine, or seeing a live stage production, two things we've been known to do here on Stark Insider. Though, in some ways it is performance art, it is entertainment — and these events do stimulate the senses and neurons about as well as a 2004 Silver Oak Cab or a play at Berkeley Rep. After all, assembling a diverse panel, and having them go at it on any number of topics can be entertaining thanks to the spontaneity of the exchanges.

If you're in Silicon Valley you should look up these events. There's a great mix of personalities, topics. Years ago, Carly Fiorina's session was highly personal, even at times confessional. James Cameron made a high profile rock-star like  appearance. The Google guys let their guard down long enough for us to learn how they think about search and porn. And Geoffrey Moore nursed a craft beer while moderating a discussion with VC Bill Davidow on the emergence of an "overconnected" society.

As an aside it must be somewhat challenging to be on a panel with a prolific figure such as Steve Wozniak. On that count, the other panelists acquitted themselves extremely well, gently sparring with each other at times, and at others moving ideas forward.

I won't score tonight's panel. But I will say I didn't come away with the Big Idea – to paraphrase from Donny Deutsch. Yes, mobile devices — including cars — are now computing platforms; and cloud devices. And natural language and voice are huge opportunities. That's why Google introduced Google Now with Android 4.1 ("Jelly Bean") this summer and Apple launched Siri last year with the iPhone 4S. Quentin Hardy framed the transformational shift before us elegantly in his opening as he described the evolution of human and machine relations. But what about Project Glass (Google's Big Idea)? How does that fit into the equation? What about the global opportunities — is there a cultural revolution awaiting societies who have been hamstrung thus far by the computing revolution? And should we speaking English or Chinese? Or maybe we should all just get with the program and speak Chinglish…