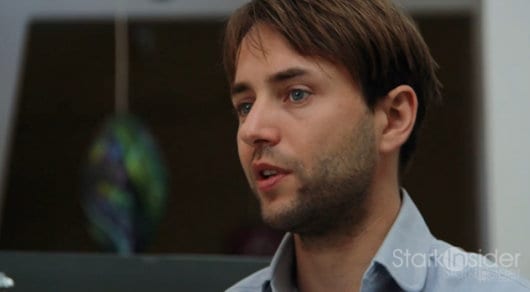 UPDATE: After you've watched these outtakes, be sure to check out the full interview with Vincent Kartheiser where he talks more about Mad Men, his return to stage, and… his favorite drink (you could probably guess this one!).
Vincent Kartheiser, best known as Pete Campbell from the hit television show Mad Men, is set for a star turn on stage at the San Jose Repertory Theatre. In Jonathan Marc Feldman's new play The Death of the Novel, Kartheiser plays Sebastien, a depressed agoraphobic holed up in a Manhattan apartment, quick to rant on anything from global warming to tennis. And wouldn't you know it, as seen in these never-before-seen outtakes, the Minnesota native who plays the lead is not one to hold back his opinion either.
We met up with Vincent at the SJ Rep where he's been spotted without Brylcreem and razor. In this clip he talks about the differences between his character Pete Campbell from Mad Men and Sebastien from The Death of the Novel, Social Media, Canada, his favorite spots for Thai food in Los Angeles. It's true: I've finally met someone who has managed to out-Canada me. Find out why in the video (Regina!?).
Bucking the trend — led by the likes of Ashton Kutcher, Shaq, Lady Gaga  — he eschews social media. Facebook, he says, is like "a bunch of people on their soapbox in the park, screaming that they're having a taco on Third Street."
"Before you'd make the two hour flight to wherever your friend lived to see the child in person," he says explaining how social media is possibly making us less connected. "Now you might not see the child until they're five, because you can see them on Facebook. So it allows you to have a less personal, less intimate relationship with people."
After we wrapped Vincent declared that In-N-Out Burger would be the best option for "breakfast" (it was just past noon).
Look for the full interview shortly.
Plus we have the scoop from co-star Vaishnavi Sharma on what it's like to play his love interest, and how she managed to pass the auditions in front of a casting panel that featured Kartheiser and artistic director Rick Lombardo (who directs the play). And don't miss: host Loni taps into the Fifty Shades of Grey meme, and asks Sharma her tips on the art of seduction.
MORE Stark Insider TV

Napa Valley Festival del Sole Gala featuring Minnie Driver

Inside the Loreto Food and Wine Festival

San Francisco Black & White Ball featuring The Wallflowers, Janelle Monáe, Cyndi Lauper
Here's my Vincent Kartheiser-inspired sign-off:
"Remember the Alamo!"
"Don't do drugs!"
(insert butt slap here)
The Death of the Novel opens September 5th at the San Jose Repertory Theatre.
WATCH: Mad Men star Vincent Kartheiser talks about new play