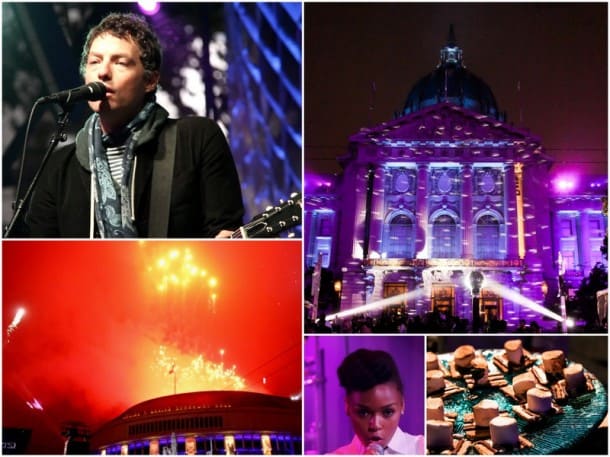 I've been to a few street parties in my time, but my perspective of what constitutes a real street party changed this past weekend when Stark Insider was invited to attend the annual Black & White Ball in San Francisco.
Let me tell you: this one went to eleven.
Celebrating 100 years, the San Francisco Symphony pulled out all the stops. Paul Simon, Cyndi Lauper and The Wallflowers headined, and ten other acts took to various stages in and around Van Ness which was partially closed for the evening.
An astonishing amount of gourmet food (there had to have been a massive amount of leftovers) kept thousands of Ball goers energized… and we needed it too; the dancing, celebrating and galavanting was non-stop. And, given this is San Francisco, there was a — shall we say — interesting culmination of personalities, outfits, and wanton displays of public affection. Did I mention that oh-so-special aroma wafting in the air?
What especially struck me — in addition to a performance by Janelle Monáe that won't soon be forgotten — is how great this city looks when decked out in its best concert getup. We've seen City Hall awash in Orange when the Giants won the World Series, but I can assure you that when it comes to spectacle this was that times ten. A giant disco ball was lit up with spots hanging from just about everywhere: City Hall, Davies Symphony Hall, the supreme court. Everything was glowing orange and purple as you can tell from this video and photos.
The Wallflowers, it must be said, are a great live band (many of you are way ahead of me and already know that I'm sure…). Front-man Jakob Dylan casually interacted with the crowd, and introduced some new songs that were absolutely tight. Isn't it refreshing to see a classic organ and real piano on stage instead of walls of synthesizers and auto-tune rigged computers?
Though I only caught Paul Simon in concert with the SF Symphony on the simulcast screens located across several outdoor locations, he appeared to be in fine form, predictably impressing a sold-out crowd inside the Davies Symphony Hall.
Note that we're talking about a century of… symphony. This is the San Francisco Symphony. And yet, how hip is it that this organization invites the likes of DJL!, Notorious, Avance, and DJ Masonic in addition to the aforementioned performers? It's likely no surprise to those that have followed SFS through the years. I'll always remember their incredible live performance of the Psycho soundtrack while the film screened.
Best of all this was a party with a purpose. Those in attendance were supporting the San Francisco Symphony's music education programs, which server more than 75,000 students in Bay Area elementary, middle, and high schools each year.
In case you missed the event, and just want to re-visit that special (though tad chilly!) evening downtown in my quirky re-imaging, here's a video highlights package and some photos.
WATCH: Black & White Ball featuring The Wallflowers, Janelle Monáe, Cyndi Lauper
IN PHOTOS: San Francisco Symphony Black & White Ball 2012