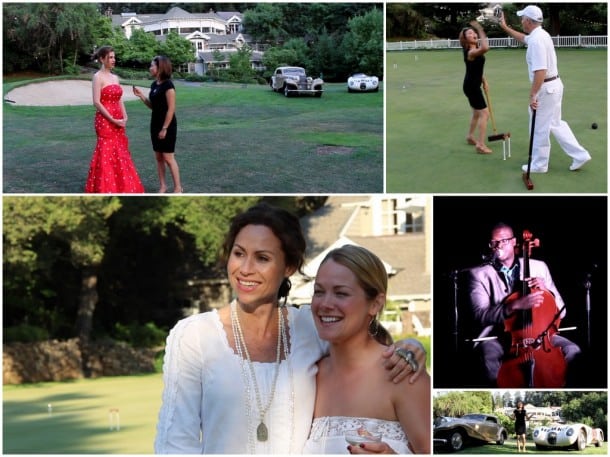 I've been to a fair number of wine events, wineries, and concerts in Napa and Sonoma over the years, but this one may very well top them all. This summer evening up at Meadowood was one for the ages.
Team Stark headed to the gorgeous grounds for the opening gala of the Festival del Sole. Before I get to that, let me go ahead and admit that, yes, that's me, a black swan among so many white angels. Someone who shall go unnamed did not relay the memo – though I admit I should've known better, this is all about the "Wimbledon tradition." And this is the first time I've found myself learning how to master … croquet. Or, at least just get one shot through the wicket at least! But we roll with it, and thanks to an extremely camera-ready pro in the form of Meadowood's Mike McDonnell good times ensued.
Yes, there al fresco dining (menu by Chef Christopher Kostow) and fine wine (Caymus, poor us). But what I especially enjoy about this festival is its emphasis on the arts and culture.
Co-founder, and director Richard Walker told me, "The idea was to bring together – in this beautiful, beautiful Napa Valley – some of the greatest artists."
That's of particular interest for us. We've spent 3 years now investing in arts coverage on Stark Insider, and can appreciate its unique place in our lives and communities. If you've ever been to a live concert in the valley (Chris Isaak at Mondavi, or Jan Shrem's performance series at Clos Pegase are a few that come to mind) you'll know that wonderful feeling that live instruments and singing rolling throughout the valleys and hills can induce.
WATCH: Napa Valley Festival del Sole at Meadowood
Appearing in this Stark Insider TV segment:

Richard Walker who co-founded the festival, now in its seventh year.

Meadowood Croquet Pro Mike McDonnell who proves to be quite the entertainer!

Jazz vocalist Antoniette Costa who became an iTunes star thanks to her hit "Void of a Legend" which caught the attention of hip-hop group The Roots (Jimmy Fallon's house band). You can't miss that striking red dress.

Cellist/beatboxer Kevin "K.O." Olusola who brings one of the most unique fusions of music, not to mention a live performance you can see here that was terrific.

Iranian pianist/violinist Tara Kamangar who performed some breathtaking pieces after dark.

Also we get a word in with Athena Blackburn who is quite well known around the Napa Valley, and had so many stories that I think we could produce an entire video just of her interview.

Earlier in the festival, an event called 24 Hour Plays took place. Film and theater actors had to create, learn and perform, four short plays in the space of a day. Michael Keaton, Chris Noth, Amy Povich and Minnie Driver, seen briefly in this video discussing her play/performance, were among those in attendance.
Our summer festival season continues, with a surprise location coming up. There's a clue involving the classic doors-don't-open!? Jaguar seen in this video. Plus we have more film, wine, and theater. Join us as the all things West Coast adventure continues.