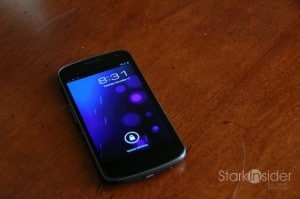 Google is giving the direct "Pure Google" model another go around, this time with its flagship Android smartphone. Starting today, you can buy the Samsung Galaxy Nexus with a 4.65-inch screen, running Android 4 (aka Ice Cream Sandwich) direct from Google for $399. That's for an unlocked version that will run on T-Mobile or AT&T (and over 200 providers worldwide) at LTE/4G speeds sans contract. Sadly, those of us on Verizon, a CDMA-based network, will still need to buy under contract via the carrier.
Better still, especially for those who are contemplating an upgrade (me, from a 30-month old OG Droid) this version of the Nexus comes with Google Wallet – a feature notably absent on the Verizon version.
It's a bit of deja vu. About two years ago we saw this experiment flop with the original Nexus One (my interview with a Canadian newspaper on Google's strategy). A lot has changed since then. Google now has a legitimate marketplace, fully stocked with content. The Android OS has improved substantially. And the brand is now established as a leading alternative to iOS and the Apple iPhone. Or, is that vice-versa?
I like the Nexus, but had major issues with its battery life. Still, if I weren't grandfathered for unlimited data on Verizon (not going to give that one up!) I'd likely be all over this offer. Unlocked handsets are the ultimate path to rooting and upgrading glory. Thanks to its open foundation, Android has a strong community of supporters and developers who are building amazing ROMS and applications.
One interesting option could be to get the unlocked Nexus for $399 and go with a prepaid monthly plan from T-Mobile. You can get unlimited data for only $30 month. I'm assuming the sim card would work in the unlocked Nexus under this arrangement, but can't be 100% sure.
But the bigger story here is Google selling direct to the consumer.
Will it negatively impact carriers?
Unlikely. This is for a device that is twice the price of comparable handsets available under contract. I suspect most consumers will go for the $199 offerings at their local AT&T and T-Mobile stores.
Could we see a direct-to-consumer Google Tablet?
Yes, absolutely. My guess is this is the first in a series of announcements Google will be making to try to compete against Apple's tightly integrated ecosystem. First, Google expanded its offerings last year to include music, movies and books. Then it re-branded Android Market to the Play Store. Now devices are on-boarding with the goal that consumers enjoy the whole experience. A one-stop shop. So, yes, expect an Asus made, Google branded tablet to join the Nexus in a matter of months.