What tablet apps do you use to get your morning news fix?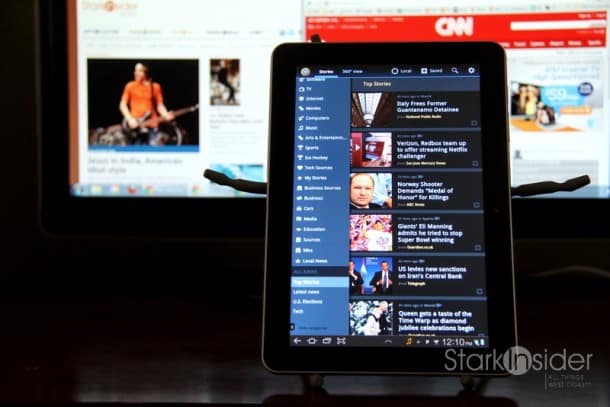 I have a love-hate relationship with Android tablets. We've got a bunch in the Stark labs and we've been using them daily over the past year or so. Honeycomb, the tablet OS soon that Google will soon replace with Ice Cream Sandwich (Android 4.0), is a quasi-step in the right direction, and continues to frustrate. It can't be replaced soon enough.
Testing alongside an Apple iPad 2 virtually every single app I loaded: (1) looks better on iOS; (2) crashes and freezes less frequently (despite reports to the contrary); and (3) runs faster. Yet, oddly, I find myself always picking up the Samsung Galaxy Tab 10.1 when I head out the door. On the plane, it's an incredible content machine. On a recent ORD-SFO run, I finished reading the Steve Jobs bio (excellent), watched Moneyball (thumbs up for Pitt and the script), scanned the news, and caught up on my inbox. When we landed there was still well over 50% battery life. iPad can do all that, of course, and has far better touch sensitivity. I've written before that gestures on the iPad are akin to cutting the glassy surface of a still lake with a racing kayak. Android Honeycomb: a chunky rowboat.
I'm a huge Android guy. I still push my OG Droid (Nov 2009) to the limit. I'm amazed that it can still run Google Nav, Google Music, Gmail all at the same time with decent responsiveness. Not that it's as fast as it once was. Having recently passed on the Samsung Galaxy Nexus (guess I didn't get Samsunged… yet – find out why) I'm awaiting the quads at MWC. If I'm going to live with an Android for 2 years, I want the latest and greatest. Being pro Android on my smartphone, is probably one reason why I gravitate towards Android tablets.
After testing bucket loads of RSS, news aggregation, and social apps, I've narrrowed down my morning read to two:
1. News360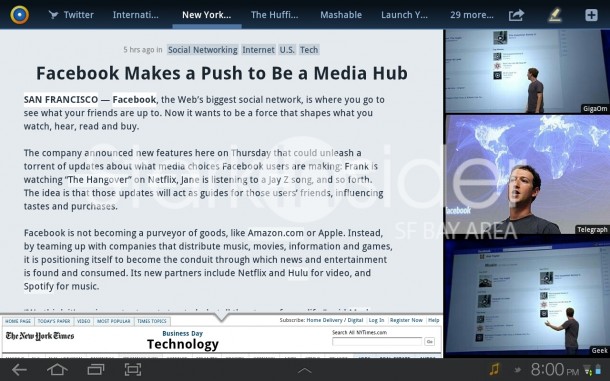 This is the best overall app for getting your regular news fix. By regular I mean the biggest headlines, and stories coming out of mainstream media. You can read my full review here. It's available for Android and iOS. What I like best is that you can not only scan topics quickly via the left hand nav bar, but also read various perspectives on the same story thanks to the way News360 clusters links (and photos, videos). The News360 widget is also one of the best.
2. Pulse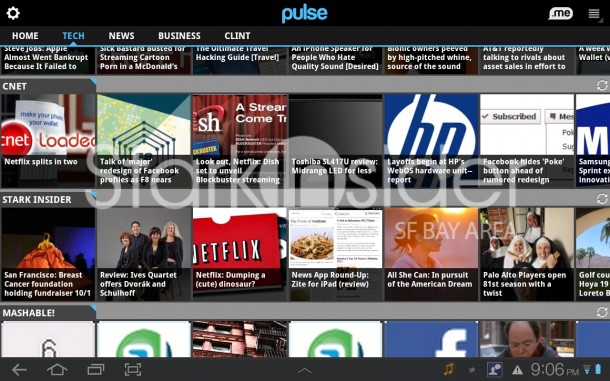 After I've made the rounds with News360, I catch up on some of my favorite blogs, RSS feeds. Pulse is king when it comes to that (full review). It's fast, and easy to scan. A grid like layout makes for quick scanning. Click on a story and you can read almost all sources completely within the app. Like News360 you can sync across devices, and sharing is a breeze.
These two apps are a powerful one-two punch. Over espresso in the morning, I find them indispensable, and by the time I get to the office I'm well caught up on the latest news, stories, and… Super Bowl ad ratings.
What about Flipboard?
Love it. Mike McCue: Please bring it to Android already! I've noticed I'm more likely to use this killer app after a long day at the office. Flipboard is perfect for sitting back with an evening Chardonnay and surfing through photo sites like Popular Photography, getting my car fix on Jalopnik and Autoblog, and reading lengthy, more in-depth articles from places like Wired, Vanity Fair, and The New Yorker. Aesthetically pleasing, it's probably the most powerful app of the lot. But, it doesn't lend itself well to quick headline scans. Pulse and News360 are both better in that regard.
I should note that Twitter can be hit or miss for news stories and updates. It's a smorgasbord. Think of it like clicking Google's "I'm feeling lucky" button. You might find useful stuff, you might not. Still, I stumble across interesting content all the time – it's a matter of controlling and curating your follow list. When a big story breaks that I want to follow, Twitter is the first place I go.
There you have it. Get your Android news fix. Download News360 and Pulse. You'll have a powerful duo ready to help get your day started.
Did I miss any of your favorites… suggestions?