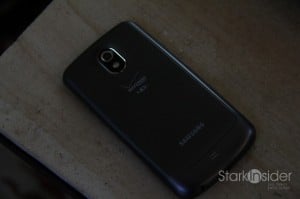 Competition is heating up for Android smartphone supremacy and we have the January rankings for our favorites – racked and stacked to help you make the right buy.
The end of last year was a gravy train for us Android fans. Ice Cream Sandwich (ICS – Android 4 – was the biggest news, of course, and landed on the deservedly hyped  Samsung Galaxy Nexus (though it featured one of the oddest product "launches" in recent memory).
Earlier both the HTC Rezound and Motorola Droid RAZR stole some of the spotlight with strong entries.
It was a tough choice: Rezound vs. RAZR vs. Nexus.
My biggest beef with Android, and smartphones in general including the iPhone 4S, is battery life. It's just flat out atrocious. If you tell me that's the price of running with the pack, that you can't have it all, I'd quickly point out the new RAZR Maxx which we saw at CES (see Android Dilemma: Maxx or Nexus). Turns out they are listening to us battery depleted mortals. That's a good thing. I still believe the day will come when we can go days – without having to shut off bluetooth, wi-fi, 4G… – on a single charge. After all, at the end of the day, these are just phones. They should jump through hoops for us, not vice versa. Are you with me?!
One side note related to something we heard at CES: Motorola will slow down Android product cycles.
Let's face it, 2011 was insane. Trying to keep track of all the handsets, the carriers, the launch windows was just about as hard as keeping up with Robert Scobble. Motorola CEO Sanjay said, ""Over-choice hasn't helped drive the marketplace." He might be right. I put off upgrading my OG Droid knowing that new models were just around the corner. The smart  money said to wait for Quadcores we'd no doubt see at CES. Turns out I was wrong. Maybe I should've upgraded to the Nexus?
But therein lies the problem. Unlike Apple's annual mega iPhone launch, us Androids have hundreds of launches to sort through. I wonder, is choice in this case good for consumers or is it confusing buyers making them delay purchases or – worse – capitulate and go iPhone?
Stark Stuff: Android Smartphone Rankings – January 2012

1. Samsung Galaxy Nexus (Verizon) 

Nexus earns bragging rights as our top pick for one simple reason: Ice Cream Sandwich. It's a significant upgrade to the Android experience. Read the full Nexus review.

2. Motorola Droid RAZR Maxx (Verizon)

This is still in, though it comes at a price if you value battery life. Thankfully Motorola gives us choice: if you're away from chargers during the day, and need to power through a lot of tasks, Maxx is your workhorse of choice. And it's still the best designed Android out there. Pretty, pretty.

3. Sony Xperia Ion (AT&T)

Welcome Sony, so long Ericsson. Android could use some fresh, inspired designs. Known for their superb hardware, Sony is just what the doctor ordered. Ion features a category-leading (for Android) 12MP camera. Note that Ion won't be available until Q2.

4. Motorola Droid RAZR (Verizon)

Give sexy. Like sexy. You sexy.

5. Motorola Droid 4 (Verizon)

Can't live without a physical keyboard? This slider should do the job.

6. HTC Rezound (Verizon)

Dr. Dre beats help this under-appreciated Android stand out from the crowd. Well built, but not as sexy as some of the others here, it's been a popular model among Android die-hards.

7. Samsung Galaxy Note (AT&T)

Two questions: do buyers want a huge 5.3-inch smartphone? It seems to us that you might as well just go all in, and get a 4G 7-inch tablet instead. And, didn't we bid adieu to the stylus in the 90's? Still, there was a lot of hype around this Android – and hype and products at CES are often a recipe for disaster – and we consider it an experiment in process.