Which is the better phone, the Samsung Galaxy Nexus or Motorola Droid RAZR Maxx?
It likely depends if you prefer to run the latest and greatest OS (Android 4, aka Ice Cream Sandwich on Nexys) or value impressively long battery life (2x the talk time of the "original" on Maxx).
For any Android upgraders out there, this is a tough call.
At the end of 2011 hundreds of thousands of us OG Droid owners (November 2009) came off Verizon contracts. Then the three top runners for upgrades were the HTC Rezound, Motorola DROID Razr and Samsung Galaxy Nexus (for the patient… it finally landed in December). I flirted with Nexus, a fine handset by Samsung, but ultimately sacked it because of what I called atrocious battery life. I wasn't alone. Scores of others returned the handset. It was love, hate. We love ICS, and the fast performance. But that battery life – woe! I'm not one to carry multiple chargers, and constantly babysit my Android's energy use; so unfortunately I had to look for another option.
CES was a disappointment. There are far bigger issues at play that I'll cover in the coming days and weeks. The short form: it's dead, dead, dead. Irrelevant. Keynotes were dull reenactments of press releases. What happened to the glory days of surprises, vision? And when it came to Androids, I admit to be being way off the mark in predicting that quad-core would be a big deal. It wasn't. Although there were some quad-core based tablets here and there, Android smartphone news was lackluster (though the Sony Xperias and Huawei Ascend are welcome additions). Instead, look to Mobile World Conference (MWC). My suggestion: combine CES and NAIAS. Cars are morphing into smartphones anyways and are the hottest consumer gadgets out there.
Since quad-core was a no show, my plan to skip Nexus and wait a few months before upgrading my trusty, but severely slow OG Droid has backfired. There's nothing compelling and new.
Now I find myself back in the upgrade game: Samsung Galaxy Nexus or Motorola Droid RAZR Maxx? (I could throw the Droid 4 into the mix, but I hardly every use the slider on my Droid, so it's time to go full-time virtual keyboard). To the tape:
4.65-inch Super AMOLED
Dual-core 1.2 GHz Cortex-A9
720 x 1280
1.5 MP / 5 MP cameras
1,750 mAh battery
Android 4 (ICS)
Key advantages: runs the latest and greatest.
Tip: don't buy it from retailer, you can get a Nexus for only $220 via Amazon Wireless.
Maxx
4.3-inch Super AMOLED
Dual-core 1.2 GHz
540 x 960
1.3 MP / 8 MP cameras
3,300 mAh battery
Android 2.3.5 (Gingerbread)
Key advantages: thin (but at 8.9mm not as thin as original), stylish, kevlar, Google Wallet, battery life!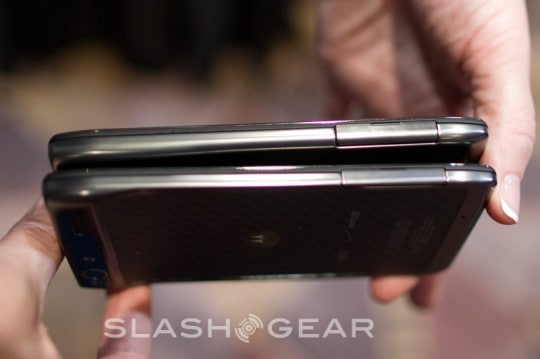 I'm starting to believe that Maxx may be the best Android on the market right now – though I lament that it means sacrificing the original's sublime thin design. Can't we have it all?!
I don't see much advantage to Nexus. If you want it and need it now – ICS that is – then no doubt it's your smartphone of choice. But, man, that dreaded battery life is a real (mobile) burn; to be fair, I should point out that many out there claim to go for days on a charge (read the comments here for the he said/she said drama) – power to them, my test unit would go dead in a matter of hours, not even coming close to making it through 8 hours away from a charger.
The other option is to keep waiting. MWC is just around the corner, and surely quad-core will be landing.