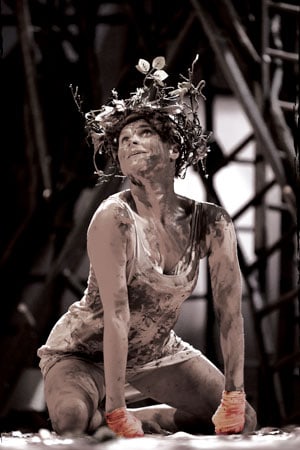 A little girl's hands are chopped off with an axe. A motherly oil painting gouges the eyes out of a helpless fawn. And a banjo-toting devil manipulates an innocent, hardworking farmer into selling his soul. Ho, ho, ho! Merry Christmas from Berkeley Rep!
With a little help from the innovative Kneehigh Theatre Company (the team behind the astounding smash Brief Encounter seen last year at A.C.T.), the holiday season around these parts is decidedly and appreciatively non-traditional. The Wild Bride, a fantastical, feminist folk tale about bad bargains, premiered this week and simultaneously managed to delight, revolt, and ultimately thrill the packed Roda on Addison.
After the show ended, I attempted to sort my thoughts. How to describe such a spectacle?
Over the years I've seen many unique, outrageously creative gems on this stage. One thing I've learned: Caroling is verboten come the holidays. Thankfully, this has made for envelope-pushing theatre experiences, most recently at shows such as The Composer is Dead (2010), and the dazzling Aurelia's Oratorio (2009). They are as memorable as they are challenging, especially to mainstream audiences who might be expecting the conventional (this is Berkeley folks).
The Wild Bride continues this tradition. It's theater as seen through the eyes of Tim Burton, sans 50s kitsch. There's an Edward Scissor Hands-like quality to the proceedings, which include a large, looming tree throwing off interesting shadows across the set. And–be still my horror film-loving heart–did we just witness an homage to Nightmare on Elm Street? I don't think so. But a little girl wielding an iron claw and machete for hands? Wild indeed. Freddy Krueger would approve.
Director Emma Rice writes ('On Making a Kneehigh Show') that "there is no formula to the way we make theatre." I submit that The Wild Bride is a glowing example of that philosophy.
About a daughter who grows up in a most unusual way and enduring romance against all odds, the two act fable opens innocently enough on a farm where a little girl (Audrey Brisson) and her loving father (Stuart Goodwin) live a simple life. The money's not exactly flowing ("I'm so broke I can't even pay attention"). When The Devil (Stuart McLoughlin) saunters onto the scene and makes a deal too good to be true, fortunes soon change, both for the better and for the worse.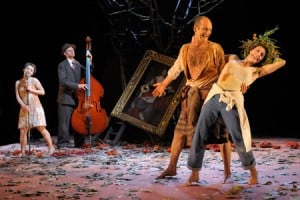 The little girl soon finds herself lost in the woods, surviving by reaching for pears high overhead (A fruit crime!). Blood, mud, and at least one or two artistic dances transform her into The Wild (Patrycja Kujawska). Meanwhile the father finds himself in the throws of war–in a scene a little too War Music for my taste. Letters maintain long distance love, and over the years The Woman (Éva Magyar) tries desperately to maintain the semblance of a normal family life.
While the story is predictable, its presentation is anything but. This is what propels The Wild Bride. These are six highly skilled actor/musicians (including on-stage musician Ian Ross who plays drums, guitars, and other instruments) performing, dancing, singing with such conviction it's impossible not to be mesmerized, captivated by their artistic spell. That they're all on stage for the entire two hour show is remarkable.
Berkeley Repertory Theatre Coverage:
Almost a character in itself, live on-stage music–blues, gospel, folk–adds rich depth, with occasional modern backing tracks used to dramatic effect. More than once I felt transported to Skyrim, the expansive medieval world featured in the hit video game now topping the charts for PS3 and Xbox360. It wouldn't be entirely out of place to see this show performed at The Bannered Mare in Whiterun. Just pull up a chair, grab some mead, and enjoy a rollicking time mate.
I'm not convinced all the disparate elements work as well as they did in Kneehigh's equally artistic but more compelling Brief Encounter. Also, the ending is a bit of a let down, unfortunately. If earlier there was grit and Shakespearean overtones, it was replaced by a climax far less memorable, if even a tad Disney. However this is a fairy tale after all, in the Kneehigh imaginative world of love, life and lore, it's the journey that ultimately counts. And The Wild Bride is a wild one at that.
The Wild Bride

Berkeley Repertory Theatre

By Kneehigh Theatre

3 out of 5 stars, Recommended
Adapted & Directed by Emma Rice
Starring Audrey Brisson, Stuart Goodwin, Patrycja Kujawska, Éva Magyar, Stuart McLoughlin, Ian Ross
Roda Theatre – Limited Season
Through January 1, 2012
[Photos: Steve Tanner, Kevin Byrne]