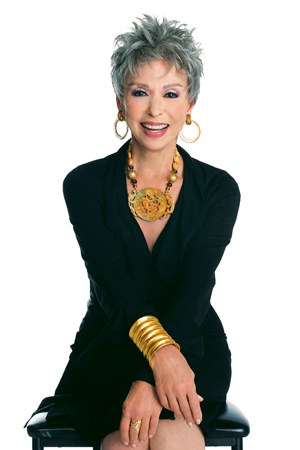 Seems like people still love Rita Moreno. Her hit biographical show, Life Without Makeup, has been extended and will play an additional 24 performances at the Berkeley Rep Theatre — an astonishing feat considering Moreno, a native of Puerto Rico, is now enjoying her 80th year on planet earth.
Perhaps best known for her star turn as the rough and tumble Anita in West Side Story, Moreno went on to be the first actress (and the first Hispanic) to win an Emmy (1977), a Grammy (1972), an Oscar (1962) and a Tony (1975).
"I was relieved to hear the show was extended and that I will not increase the unemployment numbers," Moreno said. "I am so grateful for the amazing work of everyone at Berkeley Rep. It will be wonderful to see even more friends and patrons at the Theatre."
From the Stark Insider review:
"At the expense of sounding crass, it still must be said: Rita Moreno looks absolutely remarkable, those legs! If anyone has discovered the fountain of youth, it would be this Puerto Rican legend. With or without the makeup, she is a true inspiration, and fans of Broadway and musicals will be floating on a golden cloud high above a Hollywood thankfully not yet lost in time."
The show was written by Artistic Director Tony Taccone, developed by Rita Moreno and Tony Taccone, and staged and directed by David Galligan.
[Photo: Michael LaMonica]