According to this report, theatre–along with sex and exercise–are the three things that make people happiest (working, commuting and waiting in line came in bottom). Add the holiday season into the mix here in the Bay Area and we have a winning formula. There are lots of quality options if you're looking to enjoy a Christmas play or two. We've rounded up some of our favorites in this special Bay Area Stages round-up.
A Christmas Carol (review)
American Conservatory Theatre, San Francisco
Through December 24
Starring James Carpenter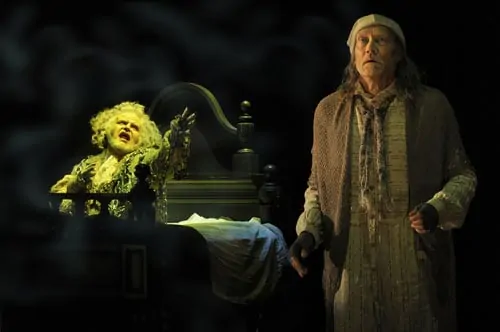 Featuring a lively cast of dozens, gorgeous costumes, and those deliciously spooky ghosts, the Bay Area's favorite holiday tradition returns with a sparkling, music-infused production of A Christmas Carol. As ACT reminds us, "bring your family, bring your friends, and check your "humbugs" at the door!"
Don't miss the Stark Insider interview with James Carpenter, beloved, veteran stage actor and star of A Christmas Carol:
Every Christmas Story Ever Told (review)
San Jose Stage
Through December 18
This fast-moving, irreverent comedy returns to The Stage for another round of extreme holiday cheer. Every Christmas Story Ever Told is a fond and furious look at the holiday classics and traditions we all remember. From Frosty to Rudolph and the Grinch to It's A Wonderful Life, no pop culture holiday icon is spared in this whirlwind of holiday merriment.
The Secret Garden
TheatreWorks, Palo Alto
Directed by Robert Kelley
Through December 31

Winner of 3 Tony Awards. In this enchanting Broadway hit, the delightful novel springs to life in a soaring musical about the healing power of love. This holiday treat weaves mystery, magic, and a melodic score into the quest of an orphaned English girl to revive a once glorious Victorian garden. In the process, she rekindles lost hopes and weary spirits, dispelling the ghosts of a troubled past with an indomitable joy of life.
The Wild Bride
Berkeley Repertory Theatre
American Premiere
By Kneehigh Theatre
Through January 1, 2012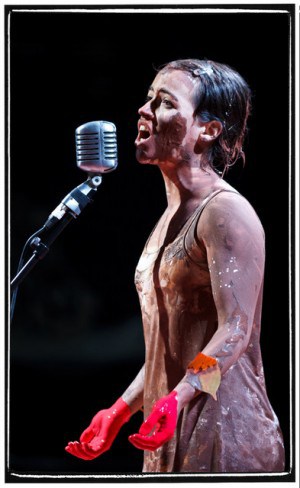 After triumphing on Broadway and in the Bay Area with Brief Encounter, Kneehigh is back. Britain's extraordinary theatrical troupe returns for the holidays with another stunning show. Adapted and directed by Emma Rice, The Wild Bride is a grown-up fairy tale that follows a girl's journey through a visual wonderland. What happens when your father accidentally sells you to the devil? What do you do when your prince goes off to war? Hearts break, hearts heal, and happily ever after still may be possible. Expect vivid storytelling, devilish humor and a heady mix of live and found music when Kneehigh unveils The Wild Bride.
A Christmas Carol
San Jose Repertory Theatre
adapted for the stage by Rick Lombardo
Through December 24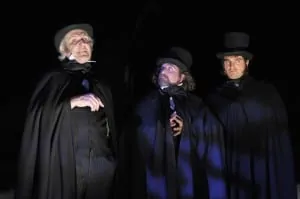 The miser, Ebenezer Scrooge, is isolated from his community and the spirit of Christmas. With visits from Jacob Marley, and the ghosts of Christmas Past, Present and Future, we follow Scrooge on his transformational journey to rejoin the world, find redemption and discover what it means to be fully human. Rick Lombardo's adaptation of Dickens' classic holiday story is a feast for the senses full of traditional Victorian carols, lavish period costumes and actors playing over a dozen traditional instruments.
The Glass Managerie
Marin Theatre Company
Starring Anna Bullard
Through December 18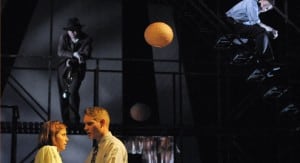 Awarded Best Play in 1945 by the New York Drama Critics' Circle and acclaimed as Williams's first great Broadway success, this emotionally devastating portrait of hope is a memory of Saint Louis during the 1930s. Aspiring poet Tom Wingfield reluctantly works in a warehouse to support his overbearing mother and debilitatingly shy sister, Laura. Pushed by his mother, he finds Laura a gentleman caller to try to coax her from her fragile private world. Don't miss this beautifully reimagined modern classic from award-winning director Jasson Minadakis (2010 San Francisco Bay Area Theater Critics Award for Director, Equivocation).