Now I know what a French earthquake would look like at the Roda Theatre in Berkeley.
Last night when the majestic red drapes start swaying back and forth, the entire rig threatens to collapse. We hold our collective breath. Meanwhile high above, acrobatic illusionist Aurélia Thierrée scurries across matching deep red ropes and long scarves in an attempt to escape to safety. She jumps, climbs and contorts. Any moment it appears she will fall to the stage three stories below. The dramatic aesthetic is as artistic as it is startling.
Part Cirque and part Blue Man Group, with a dash of Edith Piaf and even Amargosa, Aurélia's Oratorio dazzles with quirky charm. It's unlikely you'll see anything as unique in the Bay Area over the holiday season. And you should thank the Berkeley Rep for staging something this unique and unconventional for the holiday season.
The star of the show is of course Aurélia Thierrée. It won't take more than a few minutes into the show to realize she grew up with the circus and is extremely flexible.
In the opening scene, we see only her legs and arms appearing in dresser drawers, playfully passing a candle. The demur setting fades, and we're taken on a visually breathtaking journey of acrobatics, illusion and dance.
Often, it's hard to tell which is which; what is real, what is imagined?
Cold becomes hot. The head oscillates instead of the fan. Humans perform for puppets. A shadow trades places. And a kite flies a person.
All is presented with vivid imagination.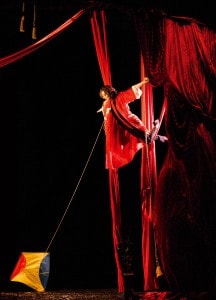 Music plays an integral role, and it's perfectly suited for the eccentric exhibition. It thumps dramatically, then subsides into a romantic waltz or jazz fusion as Aurélia dances with partner Jaime Martinez.
I'm probably not alone in using the word surreal to describe this show. And like experimental art, some of it will resonate. Other times, not. More often, though, the material is clever and often brilliant. That vibration you feel in your head is your right brain dancing with joy.
We see Aurélia in a fantastical jungle that looks something like a stage version of Where the Wild Things Are. Large, dangerous, paper animals are on the prowl. In one encounter she shockingly appears to lose her foot to the mouth of a wild beast. Not matter, as quickly as she loses her entire leg, she reassembles it with some quick needlework. C'est incroyable!
At only 70 minutes the evening flies by quickly. Walking out of the Rhoda I felt mesmerized. Perhaps though the impact is mostly artistic, visual, acrobatic. One criticism is the lack of a connection with any of the characters. You don't get to know any of them. Aside from the main storyline which has Jaime searching in desperation for Aurélia, there is no real driving emotion. Then again, with the visuals and astonishing displays, I'm not sure I could handle it anyways.
After all, as the Berk magazine describes it, this is "nonverbal storytelling on stage." I suspect, much like a Cirque du Soleil show, the art itself speaks to us and tells each of us a different story.
Pour moi, c'était un palpitant, le cœur battant traiter. Joyeux Noël!
Aurelia's Oratorio
4 out of 5 stars
Berkeley Repertory Theatre
Starring Aurélia Thierrée and Jaime Martinez
Written and Directed by Victoria Thierrée Chaplin
To January 24, 2010