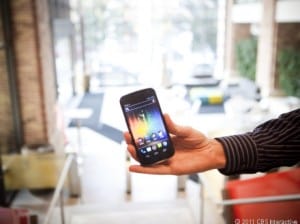 Is the Samsung Galaxy Nexus Google's version of the iPhone 4S: a buggy, over-hyped, middling update?
The early signs all point to yes, yes, and yes.
iPhone 4S has the widely reported battery issue. Nexus has issues regarding volume. iPhone 4S was supposed to be an uber update–many, including us, predicted an iPhone 5. Nexus is supposed to be the flagship Android smartphone, proudly demonstrating the power of Google's next-gen mobile OS, Ice Cream Sandwich (Android 4.0). iPhone 4s introduced the world to Siri, a gimmick that dominated social networking status updates for about 3 days, before fading to anonymity. Nexus, from what I can tell, doesn't bring anything revolutionary to the table.
Early reviews on Nexus have ranged from glowing ("one of the best smartphones ever made" – The Verge) to the skeptical ("As impressive as it is, Ice Cream Sandwich can be messy, and without it, the Galaxy Nexus is just another Android device." – CNET).
Ars Technica posted a review today, ultimately calling Nexus "a mixed bag."
What's an Android upgrader to do?
A month ago I'd tell anyone who was coming off a 2-year Moto Droid (Nov 2009) contract from Verizon to short-list these three hot Android smartphones: HTC Rezound (Sense), Motorola Droid RAZR (thin), and, of course, the Samsung Galaxy Nexux (ICS).
After being less than impressed with the Rezound (poor battery, bulky) and RAZR (concerns over display) reviews, I ultimately decided Nexus was the one. I'd replace trusty Droid with Google and Samsung's super-slick halo device. But, I know exactly how this goes. Us trail blazers take arrows in the backs. We then watch as a new-new device hits stores come January 2012 with all sorts-of new-year hoopla. Less than two months after we were suckered into the massive hype that is Nexus (again x 2!), the ultimate (and bug free) Android phone lands. 2011 will seem like ancient history, as will Rezound, RAZR, Nexus.
I'll concede this point to iPhone fans: at least your upgrade decision is black and/or white.