Let's forget for a second that Droid Life, a site laser focused on all things Droid–the grey, black and red monster of smartphones–has a fondness for pink; talk about a dichotomy! Regardless, the Android team over there continues to dig out nuggets when it comes to the lastest rumors, news, and tips on Android, most recently the Droid 4 and Droid RAZR from Motorola.
If you're debating between Droid 4 or Droid RAZR this chart, courtesy DL, should help you in your quest for every bit of info.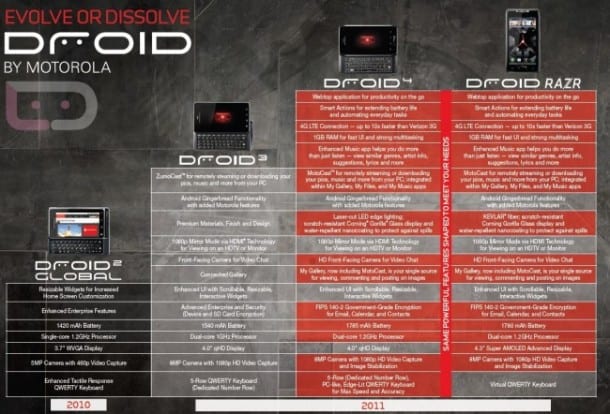 Of course, those that need a physical keyboard, will by default be prepping to go Cuatro in a matter of weeks, compromising on display quality (the 4 is non-AMOLED).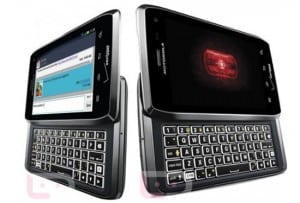 Reading through comments from a post yesterday on Stark Insider, I discovered some are swearing by the decidedly non-svelte HTC Rezound, an upgrade option I had written off weeks ago.
Others are stedfast in their commitment to the Samsung Galaxy Nexus, the most hyped Android phone of 2011.
One concern I have over Nexus (in addition to many reporting about a sub-par display) is its inability to act as a USB mass storage device. It might not seem like a big deal, until you realize that this oversight (?) means you can't use Nexus as an in-car audio drive. Disappointment, that.
This is the largest upgrade cycle in Android's young history. Thousands of us original Moto Droid buyers (Nov 2009) are coming off 2-year Verizon contracts. For Google, it's important to keep us from turning to the dark side, hence the flurry of flagship handsets from Samsung, HTC and Motorola.
As I've written before, I wouldn't be surprised if a new uber-uber Android phone hits in January as part of a massive 2012 campaign. Many have complained that the product cycle for Android is too fast. Apple, by comparison, releases a new iPhone once every year (as it does for iPad, MacBook, iPod) in grand fashion. I wonder if Google too wouldn't be better off amassing all of its vendors into a once-a-year Android launch. Also, Google could simplify the dizzying array of Android variations by rolling out major update at the same time. Consumers appreciate simplicity.
Then again, maybe that annual approach would be a copycat move — and, for the record, my world is not just iPhone black and white.
Meanwhile, what will it be: Droid 4 or Droid RAZR… or something else… how important is it to arm yourself with ICS out of the gate… ?
[Droid Life]