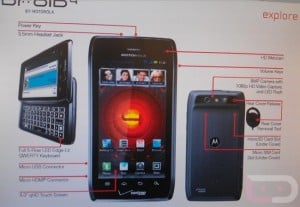 Droid 4 is just around the corner, with the latest reports (there is virtually no such thing as a real "leak" anymore – let's call it what it is: guerrilla marketing) pegging availability on Verizon Dec 8.
With thousands of first-gen Droid customers from 2009 off contract this month (including myself) there is a massive land grab underway for your upgrade dollars. All the majors have unleashed formidable Android offerings including the HTC Rezound, Motorola Droid RAZR, and Samsung Galaxy Nexus (upgrade dilemma). None of those smartphones, however, include a physical keyboard.
Enter the Motorola Droid 4.
Likely the natural choice for those that love the tactile response that only hard keys can provide, it adds yet another decision element into the mix for us would-be upgraders, stuck in paralysis analysis.
Aside from the slider keyboard, what else do we know about Droid 4?
According to our friends over at The Verge, it's rumored to be an LTE world phone, with an "edge-lit" physical keyboard, qHD LCD 4-inch display, and dual-core 1.2GHz processor. Nothing too surprising there, although the backlighting is a bonus for those that love to keep their Google+ streams active during the latest Twilight entry. If the Verizon ads are legit, Droid 4 will feature a 4-inch non-AMOLED display (boo!). No mention of ICS (aka Android 4) which would likely mean it will ship with an earlier rev. of Android, leaving Nexus as the only Android phone to carry the banner in 2012.
My assessment on Droid 4: bleh.
Weak sauce. Yes, the phone is an improvement over the original Droid. But I expect something more than just a backlit keyboard. And what's that: a tool required to remove the back cover?! Moto engineers had over 24-months to hit us with their best shot, and the Droid 4 falls short of expectations. It's as if 90% of the R&D went into the RAZR resurrection, with the leftovers used to add some light rope to the slider on the old Droid.
Then there's the whole hardware keyboard. If you want it you want it. For me, it adds too much heft to the device (0.5″). The specs are just so underwhelming that I'm guessing a small contingent will choose it over the Nexus.
For now, my money is on Samsung's flagship handset. If it comes in at only $199 as many are reporting, than that's icing on the Ice Cream Sandwich.
[via The Verge, Droid Life]