So far Loni's been to Morimoto for sushi, sat down with the mayor to talk about flooding and the state of affairs, stopped by the Oxbow Public Market for yet more sushi, visited with Gordon Huether at his wonderful gallery, and also published her top 10 things to see and do in Napa. Most recently she spoke with Chef Ken "I like anything with a throttle!" Frank (La Toque, Napa), and the tattooed owner of Carpe Diem wine bar.
I have a dream. It starts with a large, outdoor wood burning pizza oven. There I enjoy days upon days, evenings upon evenings making the best kind of home made pizza possible – and, of course, pairing it with a bit of Napa Chardonnay.
Sadly, that time has not yet arrived, but you can't blame one for trying.
Clint rolls his eyes when I bring up the idea. "Maybe when we buy a vineyard in another lifetime…" is something along the lines of the droll response.
But, good news. On my downtown Napa adventure I was fortunate enough to stumble upon Oenotri, conveniently located right across from Robert Huether's gallery. Everyone in town knows about it, so it seemed like I had some catching up to do. In this latest episode I meet up with Chef Curtis Di Fede, and we dive right into the foodie talk.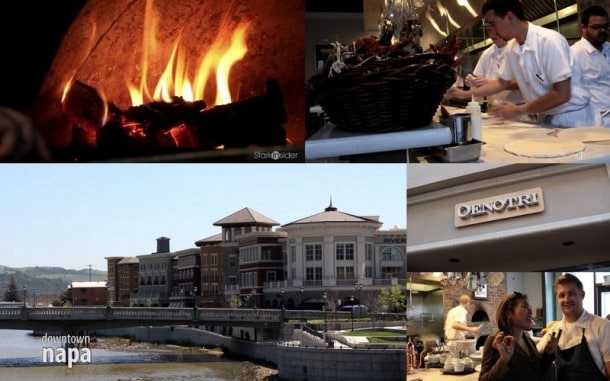 I also discover something about the pig (Curtis has a whole one brought in weekly). I'm told the best part to ask for is the cheek. Tip: to order it, ask for the Guanciale. Viva la cheek!
In this video you'll see the kind of wood burning oven where dreams are born. Curtis also explains why he likes to have his cheese flown in from Italy.
I'd give away everything and tell you what Oenotri means, but I need to leave a little to the imagination (hint: the answer's in the video… you know I'd say that didn't you?). Bon appetite!