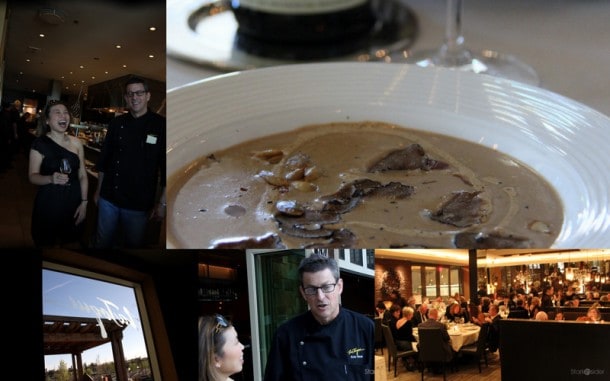 Loni's downtown Napa travels continue. So far she's been to Morimoto for sushi, sat down with the mayor to talk about flooding and the state of affairs, stopped by the Oxbow Public Market for yet more sushi, visited with Gordon Huether at his wonderful gallery, and also published her Top 10 things to see and do in Napa.

"I like anything with a throttle!" Yes, Chef Ken Frank is a bit of a rock 'n roller. After all, he ran a restaurant on the Sunset strip in L.A. dishing extraordinary cuisine to some of the music world's biggest names.
But will he kiss and tell?
"I meet some really big people," he says. "Just a few months ago when B.B. King played the Uptown here I got to make dinner for him. That was a treat."
Recently, I dropped by his relatively new (2008) Napa restaurant, La Toque, to get the latest scoop. The place was bustling. No surprises there. So was his swanky bar located in the Westin lobby. Quick tip: meet your friends here for a cocktail, enjoy a stunning Napa sunset out back, then head over to La Toque (located in the hotel) for a dinner you won't soon forget. If you're lucky you might even find a truffle-based dish or two — surely decadent, but life is short, right?
"This is the nicest kitchen I've ever had," he says about La Toque's new location inside the Napa Westin.
Most will know that his restaurant is Michelin star rated, meaning it is among the cream of the crop when it comes to fine dining here on the west coast… and across the country for that matter.
Stark Insider TV – Chef Ken Frank / La Toque, Napa
"I'm a French chef in a California body."
What I enjoy about Chef Frank's style is the layes of flavor and delicate approach to plating and balance. I recently had the opportunity to enjoy his work, along with other star chefs including David Kinch (Manresa) and Nancy Oakes (Boulevard) as part of the Napa Valley Truffle Festival (Lustworthy: 13 Michelin Star Truffle Dinner).
But why Napa then? Why not, say, Las Vegas or New York, where as he tells me "there's great money"? Find out as we chat about the restaurant business, big name musicians (??), and — yes that wild side — fast boats, fast cars. I'm guessing he doesn't drive a Prius.