Loni's downtown Napa travels continue. So far she's been to Morimoto for sushi, sat down with the mayor to talk about flooding and the state of affairs, stopped by the Oxbow Public Market for yet more sushi, and also published her Top 10 things to see and do in Napa.
How did I ever say that I wanted to be covered in Sushi to one of Napa's most famous and well-known artists?
Well, context is everything and I had Sushi on the brain, once again. To find out why I ended up in another crazy predicament (that Clint so gladly captured once again on camera) read on and be sure not to miss this special Stark Insider TV segment.
Once you've seen a Gordon Huether you don't soon forget it. His large-scale commissioned works – be they an installation, wall mounted piece or sculpture – are dynamic and striking. Glass play prominent roles, as do other industrial and varied materials such as metal, branches, and ink.
As he says, "These materials, translated into works of art, serve as a reminder of the temporal character of man's achievements and the awe-inspiring forces of nature."
Over his thirty year career he has won more than 50 public art awards and completed more than 150 private commissions for airports (Salt Lake, Jacksonville), transportation centers (BART San Bruno), parking garages (Napa Fifth Street), hotels, museums and community services (San Jose Fire Department), among others.
As part of my recent exploration of Napa, I was fortunate enough to spend some time with the artist. We strolled the new ArtWalk sculpture tour, then headed over to his gallery on First Street.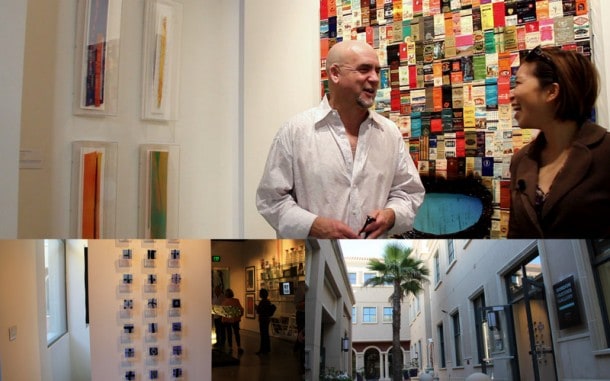 Fitting enough, his work can also be seen in some of the local wine bars. Two of his pieces, for instance, hang at either end of the clean and open John Anthony tasting room (they are expanding too, and got a tour of the new, large space just around the corner). They're available for sale, just make sure your Black Amex has some breathing room before checking the price tags (okay, so maybe they're not that expensive).