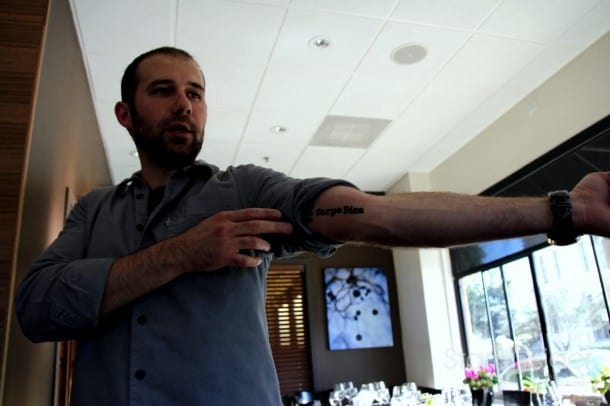 Nothing says commitment quite like a tattoo. Find out what exactly that's all about in this episode of Stark Insider TV as I continue my journey through downtown Napa and across wine country. This time it's Carpe Diem. I stop by the new, popular wine bar to check out some of the bites and sample some of their wines.
Co-owner Steve Distler, a former high school teacher from New York, describes what it's like to make the transition from the classroom to restaurateur.
"I just thought where else in the world would I rather be than Napa Valley?" he says. "I could've gone to Italy, my mother's from there."
And speaking of Italy, Steve also talks about the importance of fostering a culture that celebrates friends and family. "The Italian culture, you know, what they do is drink the wine from the area… they don't sit and analyse for two hours."
He met up with Sonoma natives Scott and Stephanie Kendall, and now the three are enjoying every second by "Seizing the Day" and, in their words, "living out our dreams together."
The Carpe Diem wine bar is modern, with an open concept bar area to the left of the entrance, and relaxed dining area to the right. It's one of several new places opening downtown here in Napa, and helping the area itself become a tourist destination.
Branding 101
Perhaps one of my favorite aspects of this story is Steve's tattoo which you'll get a glimpse of here in this video. Now that's seizing the day!