Here are some ideas if you plan to see a show – of the non-film variety – this weekend. Up and down the peninsula there is lots for everyone: comedies, tragedies, musicals, classics. You name it, and chances are you'll find here in the San Francisco Bay Area, the third (possibly second if you consider LORT count) largest theater market in the U.S.
A few openings of note this weekend: Noel Coward's Blithe Spirit by Palo Alto Players at the beautiful Lucie Stern Theater, and Assassins by Ray of Light Theatre in San Francisco.
A quick reminder to be sure to follow Stark Insider on Facebook for all the latest Bay Area action including theater news, reviews, stories, interviews and behind-the-scenes videos. Cheers! You might even catch a wine story or two in the mix… it's too tempting given that Napa and Sonoma are in our backyards.
Also, as always, we've included a round-up of recent reviews below for shows that are still playing.
Abba fans will not want to miss Mamma Mia! which is still in town at the San Jose Center for the Performing Arts. Another popular musical, Avenue Q, is also playing the South Bay at the San Jose Stage Co. Pat Reardon wrote that the music is "catchy and loaded with cheeky odes to young angst and finding your way in life."
Now, on with the show!
Assassins
Ray of Light Theatre
The Eureka Theatre, San Francisco
Opens: Sat, June 10
Part vaudeville extravaganza, part exposé and wholly electrifying, this most American of musicals (winner of five Tony Awards) lays bare the lives of nine individuals who assassinated or tried to assassinate the President of the United States, in a one-act historical "revusical" that explores the dark side of the American experience. From John Wilkes Booth to Lee Harvey Oswald, Stephen Sondheim and John Weidman bend the rules of time and space, taking us on a nightmarish rollercoaster ride in which assassins and would-be assassins from different historical periods meet, interact and, in an intense final scene, inspire each other to harrowing acts in the name of the American Dream. Hugely resonant in today's celebrity-obsessed society, the story is peopled with desperate characters intent on making their mark.
Blithe Spirit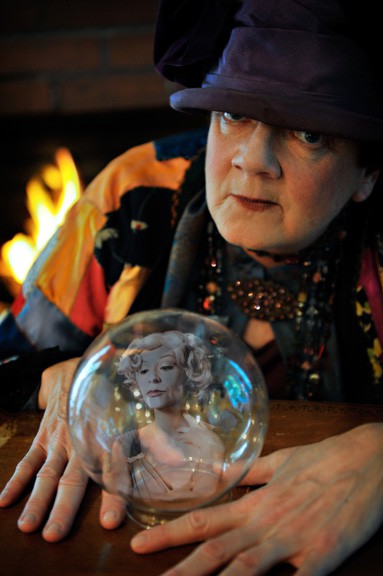 Palo Alto Players
Lucie Stern Theatre, Palo Alto
Opens: Sat, June 10
Good vibrations abound in this revival of Noel Coward's supernaturally delicious comedy of two wives and a happy medium.
When novelist Charles Condomine and his current wife Ruth invite a psychic into their home in order to gather material on the spirit world for his new book, Madame Arcati performs a séance with no discernible results to anyone—with one exception. Suddenly, Charles finds himself caught between wives, one live and one late…but not late enough.
Stark Insider Theater Round-up – Now Playing

Mamma Mia!
Broadway San Jose

"Categorizing this show as predictable and banal would be like criticizing Twinkies for being high-fat chemi-concoctions." – Cy Ashley Webb

[title of show]
TheatreWorks

"These people do more with four random chairs than most of us could do with an entire household of furniture." -Cy Ashley Webb

Avenue Q
San Jose Stage Company

"The Stage's Avenue Q is a very fun sweet production that brings out the grown up kid in all of us." – Patricia Reardon

Mary Ann Singleton (Betsy Wolfe, center, blue shirt) is taken to her first disco by her old friend Connie Bradshaw (Julie Reiber, center, purple dress) in ACT's Tales of the City. Photo by Alessandra Mello.

Tales of the City
A.C.T. San Francisco

"This is a wonderfully edgy, quintessential San Francisco experience, embracing its eccentricity with a singular charm and an irrepressible, incandescent spirit." – Gregory M. Alonzo

Let Me Down Easy
Berkeley Repertory Theatre

"After the two-hour performance, as we made our way through the Roda lobby, and with the raucous standing-O still ringing, I looked at doe-eyed Loni and said, "wow!" – chalk me up, I'm a believer…" – Clinton Stark

Tongue of a Bird
Dragon Theatre

"Kobara's ability to look stunning even as makeup runs down her face is a swift trick that I'd love to pull off." – Cy Ashley Webb

Blue Man Group
SHN San Francisco

"Not having drunk the blue kool-aid, I was ready to dismiss it as a techno version of Gallagher watermelon-smashing. Little did I know that this was merely one step in the BMG experience as the group slowly built the tension." – Robert Jamison
Lead photo: pictured (left to right): Greg Sottolano (as Charles Guiteau), Lisa-Marie Newton (as Sara Jane Moore), Joel Roster (as Leon Czolgosz) and Danny Cozart (as Samuel Byck). Photo by: Jeff McClure.
Thanks: Clinton Stark.