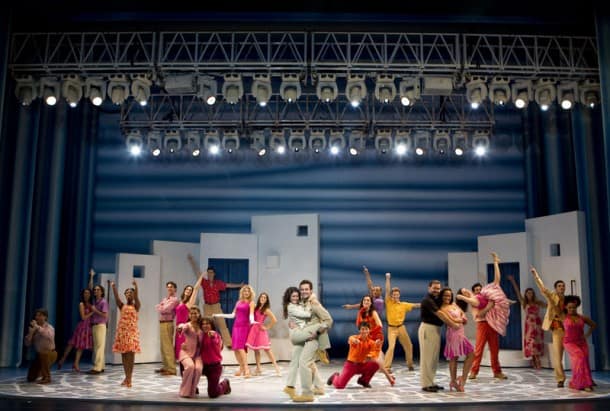 Categorizing Mamma Mia! as predictable and banal would be like criticizing Twinkies for being high-fat chemi-concoctions. Being a vehicle for sugar and fat is the whole Twinkie reason d'etre – and just as Twinkies can be punched up to new heights by deep frying them and adding ever more sugar, a tediously unfunny script can be punched up with a high-energy cast, foot-tapping pop tunes, imaginative costumes, visual gags, excellent vocals and unrelenting silliness. To criticize either as lacking substance would be to miss the point altogether.
A better approach is to look at what this show does right.
The first act is so strong that you can almost suspend judgment about the ridiculousness of the plot. Well cast, Kaye Tuckerman (Donna Sheridan) and Chloe Tucker (Sophie) just don't give out. Alison Ewing (Tanya) and Mary Callanan (Rose) were perfect embodiments of their respective characters as were John-Michael Zuerlein (Bill), understudy Jeff Applegate (Sam) and Paul Deboy (Harry).
Ensemble songs, such as "Money Money Money" were particularly strong, with tight choreography and crisply articulated movements. Ethan LePhong's comic timing (Pepper) was so on the money that his scenes saved otherwise slow moments. His athleticism was striking – and unlike everything else in this play – wasn't an exercise in excess. The first act comes to an electrifying conclusion with another ensemble number, "Voulez, Voulez."
The second act was slower, although it did pick up at the end with a few surprises. Overall however, the punched-up quality makes the incessant ads for Mamma Mia! irresistible was almost altogether absent until the last minutes of the show. This left little to fuel the second act, except for strong vocals and LePhong's acrobatics.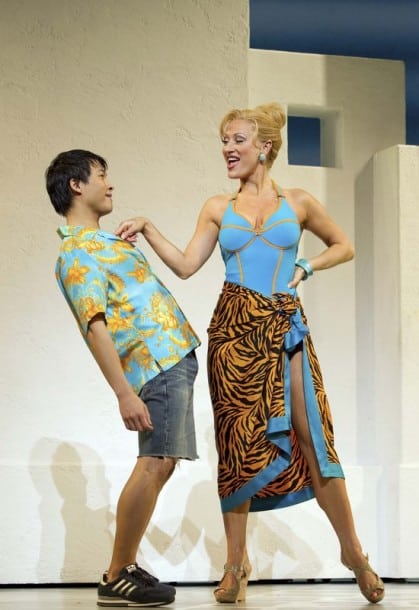 In his essay "Retro: Running out of Past," Michael Bracewell noted that there wasn't any new popular culture in the 1990's, merely a very selective memory of the 1970's. Set sometime in the '90's, characters of Mamma Mia exercise that very selective memory of which Bracewell spoke as they dance and sing tunes made popular by ABBA, the quintessential '70's group.
We've seen this conceit again and again.
Mamma Mia! does it better than most – with moments of genuine laugh-aloud humor – but one still wonders when we're going to stop going back to the trough of recycled culture and why we keep going back to the worst of it. Boob job jokes made one grimace in the '70s – and they haven't improved over time. I suspect this will play better in the distant future, when perhaps we'll be able to see it through the wrong end of the lens, just as we do "Show Boat."
I'm undoubtedly overthinking this. The largely female audience met this play with unabashed enthusiasm, clapping and even singing along. However, next time I need a sugar fix, I'll stick to Twinkies.
Mamma Mia

Broadway San Jose
San Jose Center for the Performing Arts

3 out of 5 stars

Directed by Phyllida Lloyd
Music & Lyrics by Benny Andersson and Björn Ulvaeus
Book by Catherine Johnson
June 7th through 12th
Photo credit: Joan Marcus